18 Small Laundry Room Makeover Ideas
Small laundry rooms can be a daunting space. So much function goes into the room, and yet it feels like there is NEVER enough storage space. And while we would all love a large space complete with farmhouse sink, it just isn't realistic for many of us.
I've selected 18 small laundry areas, designed by bloggers, to share with you today. All of these laundry room ideas have components I am interested in adding to my own later this summer (update: check out our new laundry room here!).
Scroll down for laundry DIY barn doors, creative laundry storage ideas, a variety of backsplashes, decorating ideas, and a mix of stacked washer/dryers and side by side layouts.
---
18 Small Laundry Room Makeover Ideas
DIY the Barn Door | Image Source: House on Longwood LaneThis DIY geometric barn door is stunning, and a barn door is a great solution for narrow hallways.
---
2. Stack Your Laundry Baskets | Image Source: DIY Decor Mom
Stacking laundry baskets on shelves is a genius idea for small laundry rooms. And do you think neutral is the only way to go with paint colors? Check out this room! I love the navy color in this space.
---
3. Pour Detergent in Glass Containers | Image Source: Artsy Chicks Rule
If you have open shelving above your washer & dryer, add detergents and accessories to clear containers for a minimal, fresh look.
---
It is amazing how much you can fit in a small laundry room when you stack the washer & dryer. This space has plenty of laundry room storage and includes an ironing board, baskets, and drawers for sorting laundry!
---
5. Add a Wood Countertop | Image Source: Charleston Crafted
Give yourself space to fold clothes in the laundry room by adding a simple wood countertop over a front-loading washer and dryer.
---
Even the smallest of laundry rooms have a bit of wall space. Make the most of your vertical wall space by adding hooks for clothes or cloth laundry bags.
---
7. Organize the Closet | Image Source: 2 Bees in a Pod
I admire this closet laundry room so much! There is just enough space for a stacked washer and dryer and laundry supply shelving on the side. Great use of space.
---
8. Install Wallpaper | Image Source: The Zhush
Wallpaper will add instant character and texture to a laundry room, and contrasts the industrial look of a washer and dryer.
---
9. Add a Semi-Flush Light | Image Source: Southern Hospitality
Most laundry rooms do not have high ceilings. Adding a semi-flush light makes a laundry room more cozy while staying safely high overhead. This room also shows how much home decor style you can add in a small space.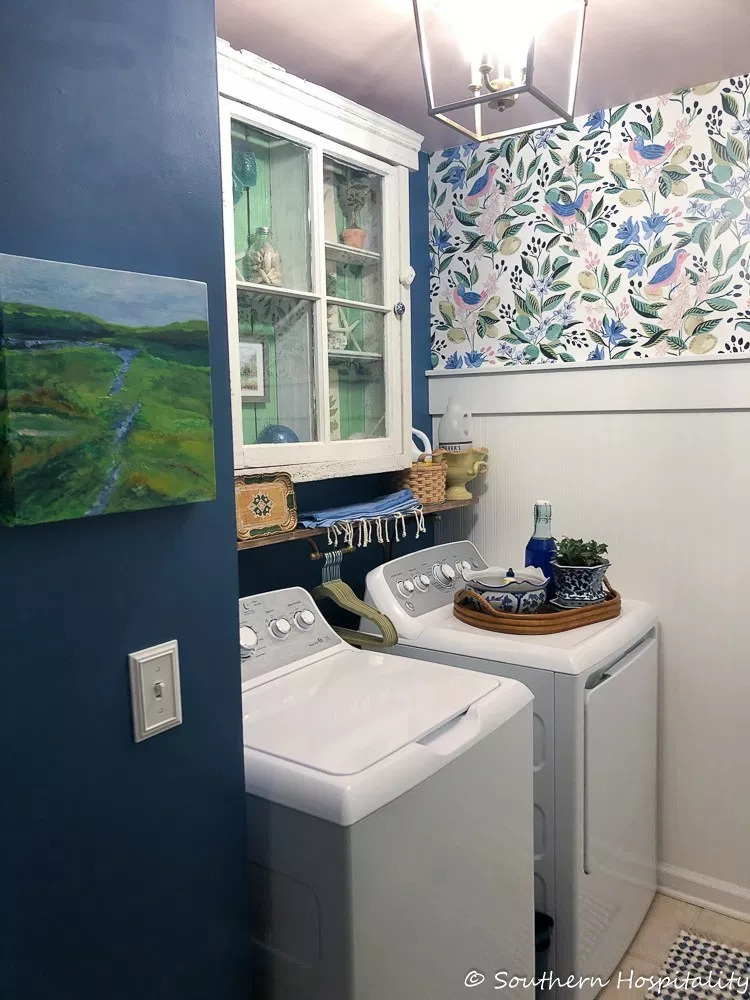 ---
10. Add Raised Storage for Baskets | Image Source: Simply Designing
Make laundry baskets easier to access and off the floor with a storage solution along the wall. This setup will help to sort dirty clothes and will make laundry day so much easier.
---
11. Store More with Vertical Baskets | Image Source: Simplicity in the South
I truly admire all the baskets they fit in this small laundry room by adding vertical shelving. Most tiny laundry rooms will have some vertical space for shelves or baskets.
---
12. Use Colorful Maps as Wallpaper | Image Source: In My Own Style
Wallpaper can be pricey. This closet laundry room got a makeover with colorful maps—small budget friendly and all the impact of wallpaper!
---
Adding a wall-mounted drying rack to a small laundry room makes so much sense. Look for one that closes flush to the wall to save space.
---
14. Add a Textured Wall | Image Source: Making Manzanita
Install a faux brick or plank wall in a small laundry room for added texture on a budget.
---
15. Combine Cabinets with Open Shelving | Image Source: Houseful of Handmade
In small laundry rooms finding space for laundry baskets can be a challenge. She added cabinetry, shelves for baskets, and a space for hanging clothes to this laundry room (and purple is a fun, unexpected color!)
---
Not all small laundry rooms have the space for a countertop, but if you can squeeze it in—it creates a wonderful spot to organize and fold clothes.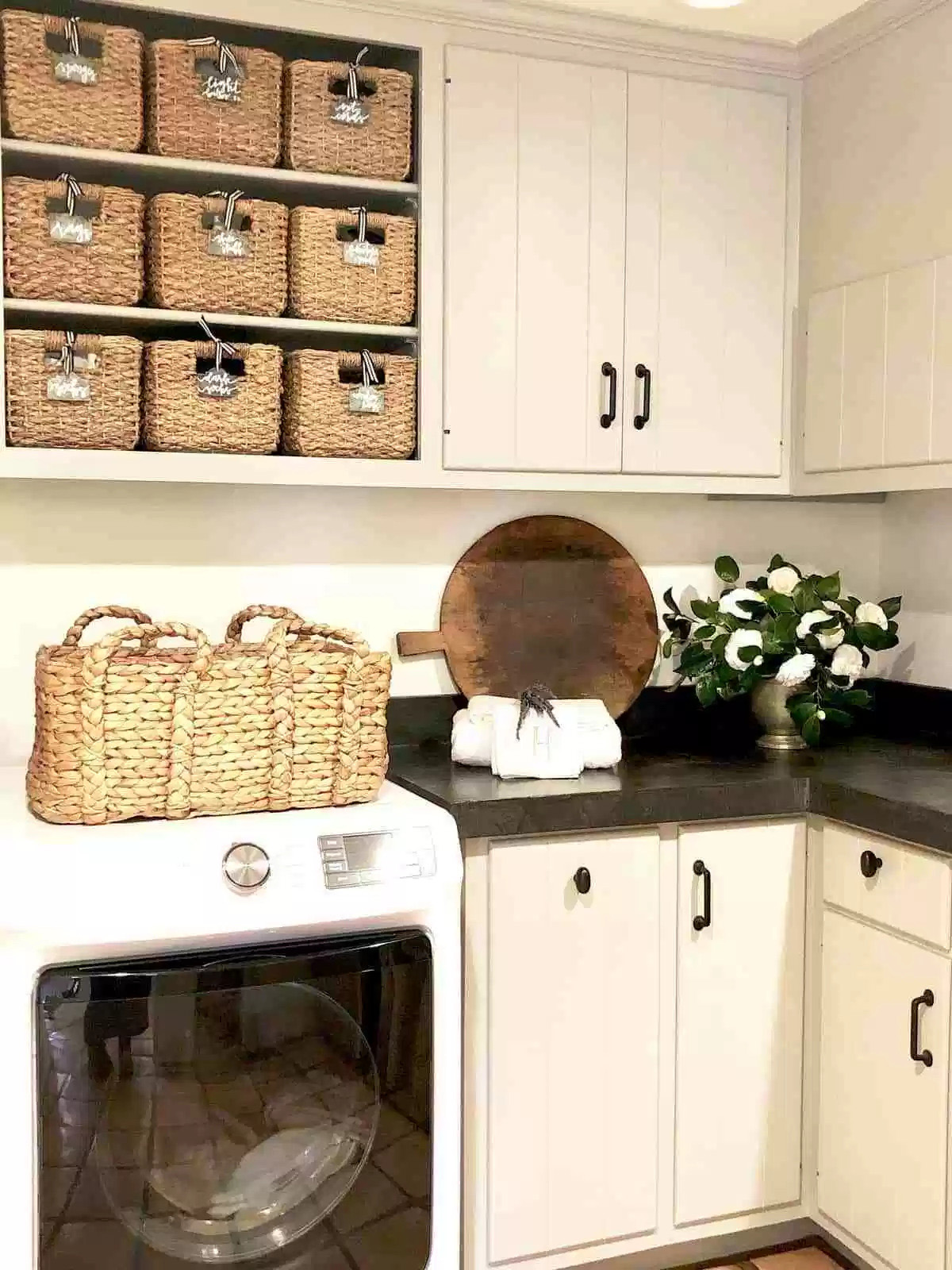 ---
17. Include a Tall Garment Rack | Image Source: Fox Hollow Cottage
Make the most of vertical space in a small laundry room designed with a tall garment rack.
---
18. Install a Backsplash | Image Source: Handmade Haven
Save time and install a peel & stick backsplash behind your washer/dryer for extra personality in a small space.
Each of these 18 laundry room makeovers helped me narrow down what features we should add to our small laundry room. These creative design ideas maximize the functional use of small spaces and show they can still have style.
Which of these small laundry room ideas was your favorite?