Exploring Our Local CORT Furniture Outlet
This is a sponsored post written by me on behalf of CORT Furniture Outlet. All opinions are 100% mine.
Shopping for furniture on a small budget is important to our family: it frees space in our budget to work on DIY home projects and save for the future. My husband and I always check local used shops first, and if we do buy new furniture we make sure the item is a good deal. I was familiar with CORT Furniture as a furniture rental company (they furnished one of my apartments in college), but recently learned they also have an abundance of reasonably-priced, previously rented furniture at their CORT Furniture location.
CORT Furniture Outlet sells new and previously leased furniture that has been used in model homes, movie sets, home staging, short term rentals, and in corporate offices.
I took a tour of my local CORT Furniture Outlet and discovered nicely designed sofas, bookshelves, chairs, and coffee tables! Scroll down for my favorite furniture and accessory pieces from my local store, and learn how baskets I purchased at CORT Furniture Outlet organized my home's entryway.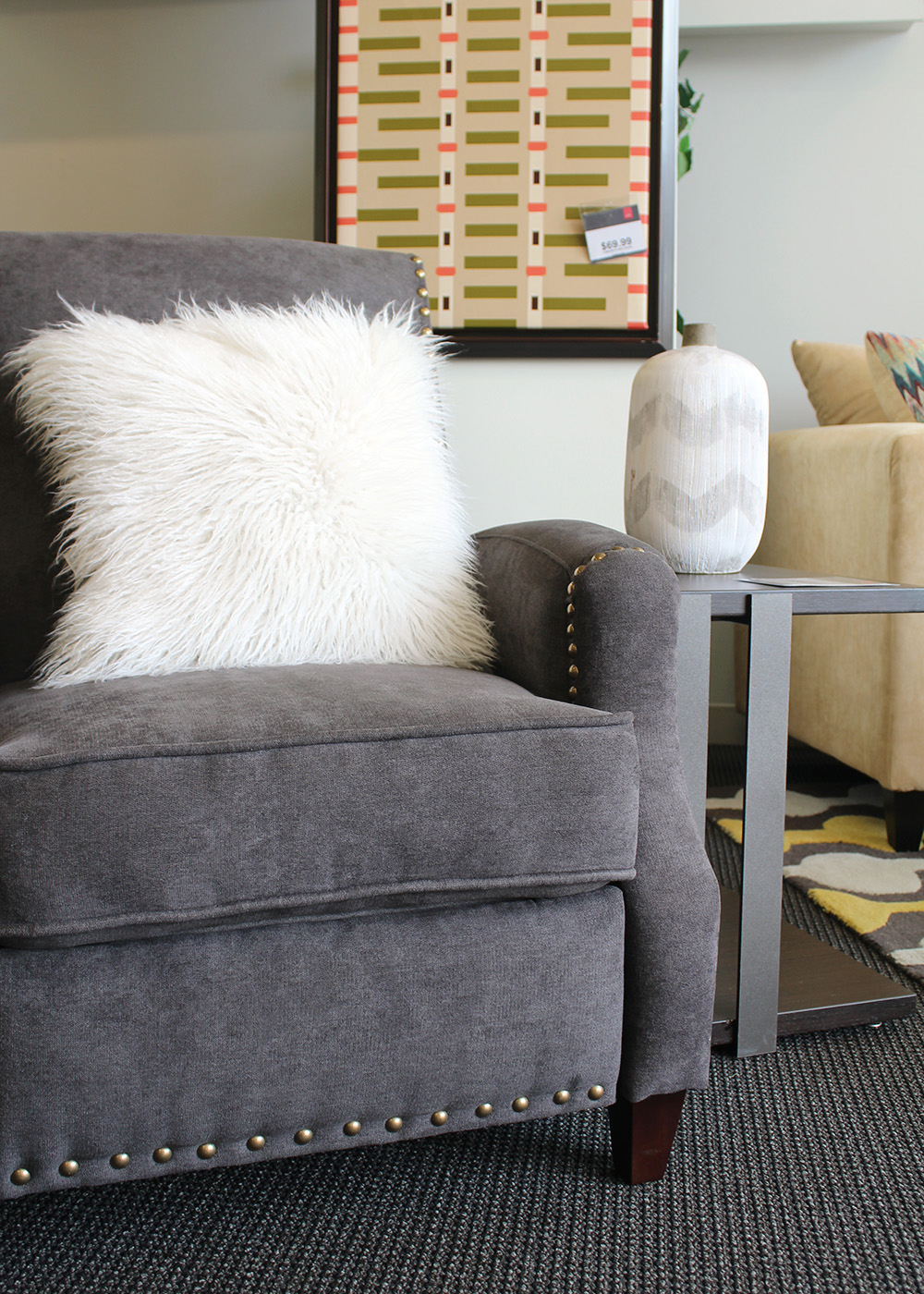 Whether you are moving into a new home, apartment, or are making over a room, CORT Furniture Outlet is a great place to shop. They carry new mattresses and desks, and gently used chairs, bar stools, coffee tables, bed frames, and storage shelving. They even sell outdoor furniture and televisions!
Before you visit your local CORT Furniture Outlet create a list of pieces you are on the hunt for, but keep an open mind on style & color. If you like the style of a coffee table or shelving unit, but not the color–you can easily give the piece a DIY makeover and change the paint or stain!
I am constantly on the lookout for easy storage solutions in our home. We are a family of four and our entryway has library books and shoes everywhere! I discovered a set of three neutral, woven baskets at my local CORT Furniture Outlet.
After purchasing the three woven baskets, I went to work organizing our entryway. Library books went in the medium sized basket on our vintage bench, sneakers in the largest basket, and I am using the smallest one as a catch-all basket. It feels so good to have our entryway more organized!
I hope this article inspires you to go explore and shop at your local CORT Furniture Outlet! Their gently used furniture pieces are nicely designed and are a great way to decorate your home on a small budget. And for more decorating tips and home inspiration be sure to check out the CORT Blog!