10 Best White Paint Colors by Sherwin-Williams
There are hundreds of white paint color choices and it can be overwhelming to narrow down which is right for your home. In this article I will focus on the best white wall paint colors for interiors. Paint is the cheapest/most effective way to make over a room with a big impact.
While I worked hard to capture the swatches' true color, the swatches below will vary some from the actual paint colors. Sheen will impact the color's final look, as well as how much natural light you get in the room. Go to your local paint store and pick up a paint swatch (or 5) before making your final decision!
I collected and researched this paint list for myself, as I am preparing to paint our laundry room and want to remove the cream color currently on the walls and replace it with a bright white. This article is not sponsored by Sherwin-Williams, but they did provide me with a kit and fan deck a few years ago.
I hope this article helps you pick the next color for your home, too!
Quick Tip: I included the RGB and LRV value for each paint color. RGB represents how much Red, Green, and Blue is in the color. On the LRV scale, O absorbs all light (black) and 100 reflects all light (white).
This article contains affiliate links. If you click a link and purchase an item, I get a small commission at no additional cost to you. Full disclosure here.
---
10 Best White Paint Colors by Sherwin-Williams
Sherwin-Williams Alabaster, SW 7008
Alabaster is a very popular color choice and was a pick for Pottery Barn – Fall/Winter 2019 and West Elm – Fall/Winter 2019. It is a warm neutral paint color, almost an off-white.R: 237 G: 234 B: 224 LRV: 82 below image source: Kelleynan
below image source: of SW Alabaster on trim: Tag & Tibby
---
2. Sherwin-Williams Pure White, SW 7005
Pure White lives up to its neutral name, neither a warm or overly cool color and is stunning in this living room. A Pottery Barn Fall/Winter 2019 choice.
R: 237 G: 236 B: 230 LRV: 84 below image source: City Farmhouse
---
3. Sherwin-Williams Dover White, SW 6385
Dover White is one of the best creamy whites and is a popular choice for kitchen cabinetry. In this room the color gives a good contrast to the white trim and wood dining table.
R: 240 G: 234 B: 220 LRV: 83 below image source: Painted Nonsense
---
4. Sherwin-Williams Snowbound, SW 7004
Snowbound is a light cool white with some greige. We painted our kitchen Snowbound and have been pleased with its true white look. Part of the Pottery Barn – Fall/Winter 2019 collection.
R: 237 G: 234 B: 229 LRV: 83 below image source: Before & After Breakfast Nook
---
5. Sherwin-Williams Eider White, SW 7014
Eider White is an interesting choice. The color has some grey in it, and can go grayish-pink depending on lighting.
R: 226 G: 222 B: 216 LRV: 73 below image source: eva ennis creative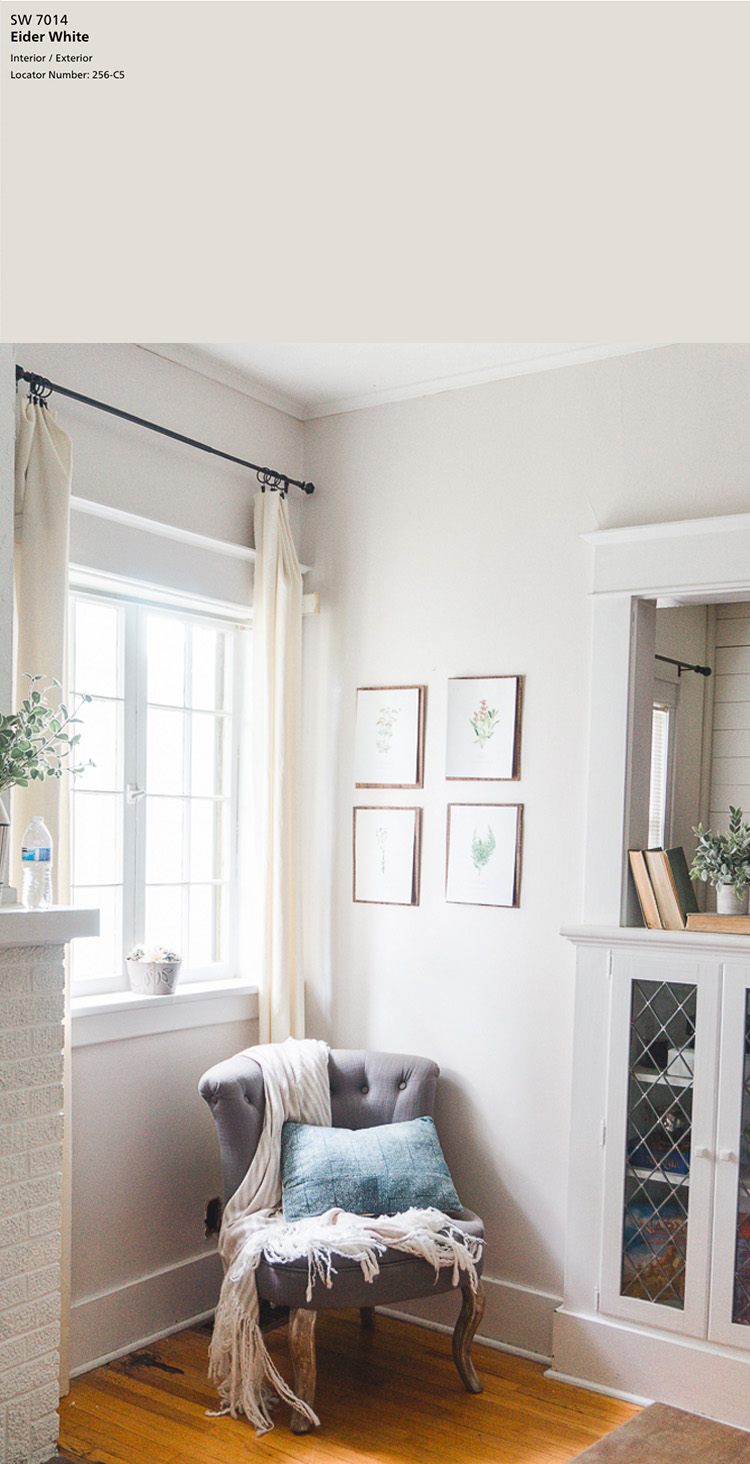 below image source: Small Organized Laundry Room
---
6. Sherwin-Williams Aesthetic White, SW 7035
Aesthetic white is an off white on walls, it has some warmth but also has a touch of gray. The bit of gray in this paint makes it a great choice for bedrooms, and shows contrast against bright white trim.
R: 227 G: 221 B: 211 LRV: 73 below image credit: Room for Tuesday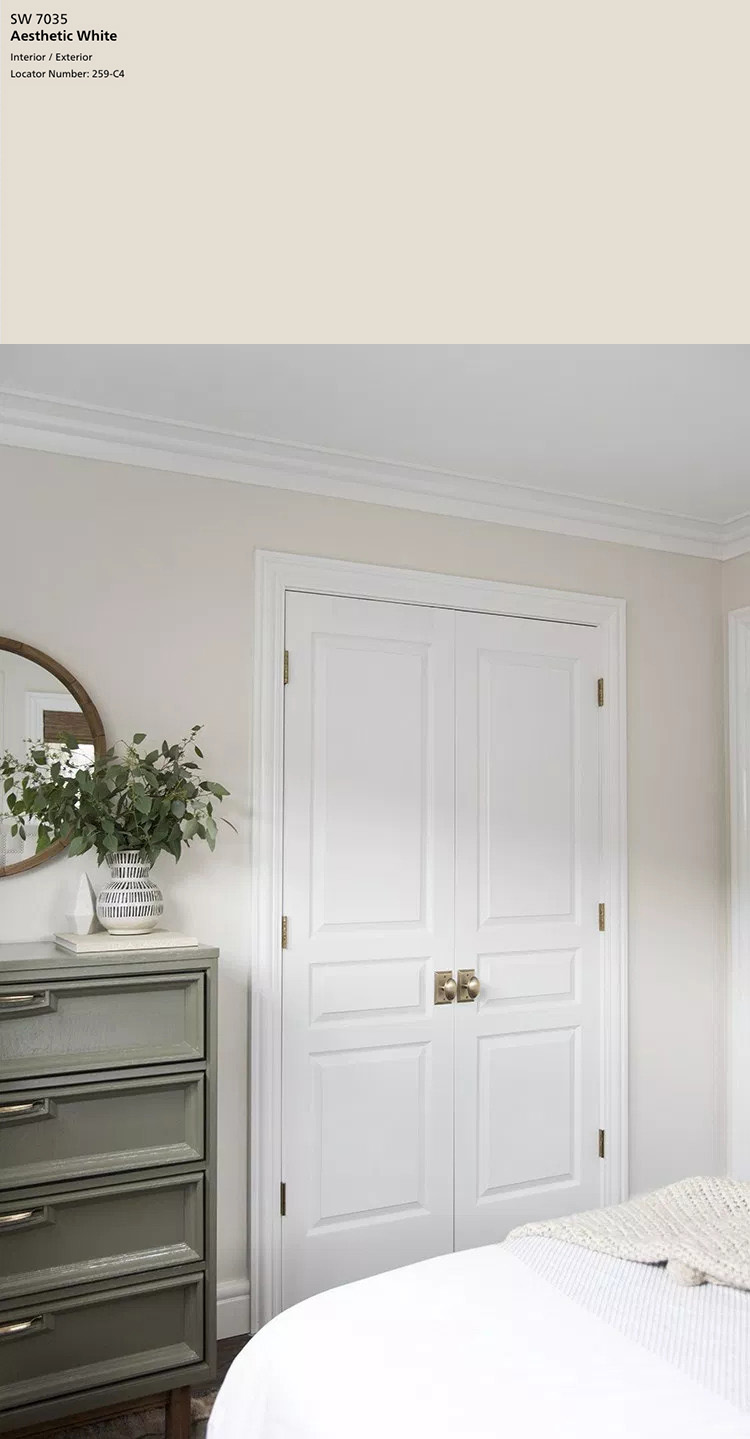 ---
7. Sherwin-Williams Marshmallow, SW 7001
Marshmallow is a white with a slight red tone, it can give off a pink-white tone in some lighting.
R: 238 G: 233 B: 224 LRV: 82 below image credit: A Beautiful Mess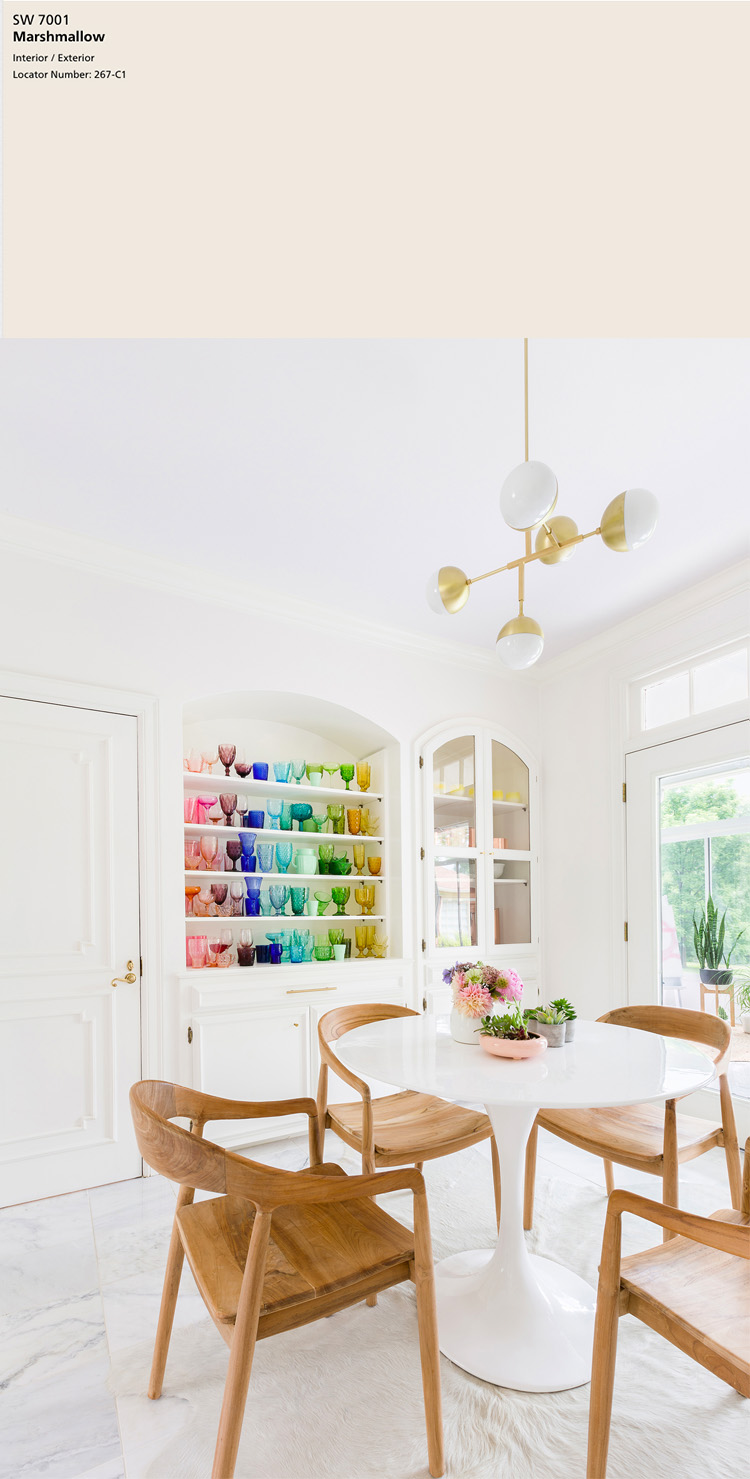 ---
8. Sherwin-Williams Spare White, SW 6203
Spare White is a cool white and has a very light gray undertone. Part of the PBteen Fall/Winter 2019 collection.
R: 228 G: 228 B: 221 LRV: 77 below image source: Young House Love
---
9. Sherwin-Williams White Flour, SW 7102
White Flour is a warm white with yellow undertones. The camel colored sofa, blue dresser, and gold accents go well together with White Flour in this bedroom.
R: 244 G: 239 B: 229 LRV: 87 below image source: Studio McGee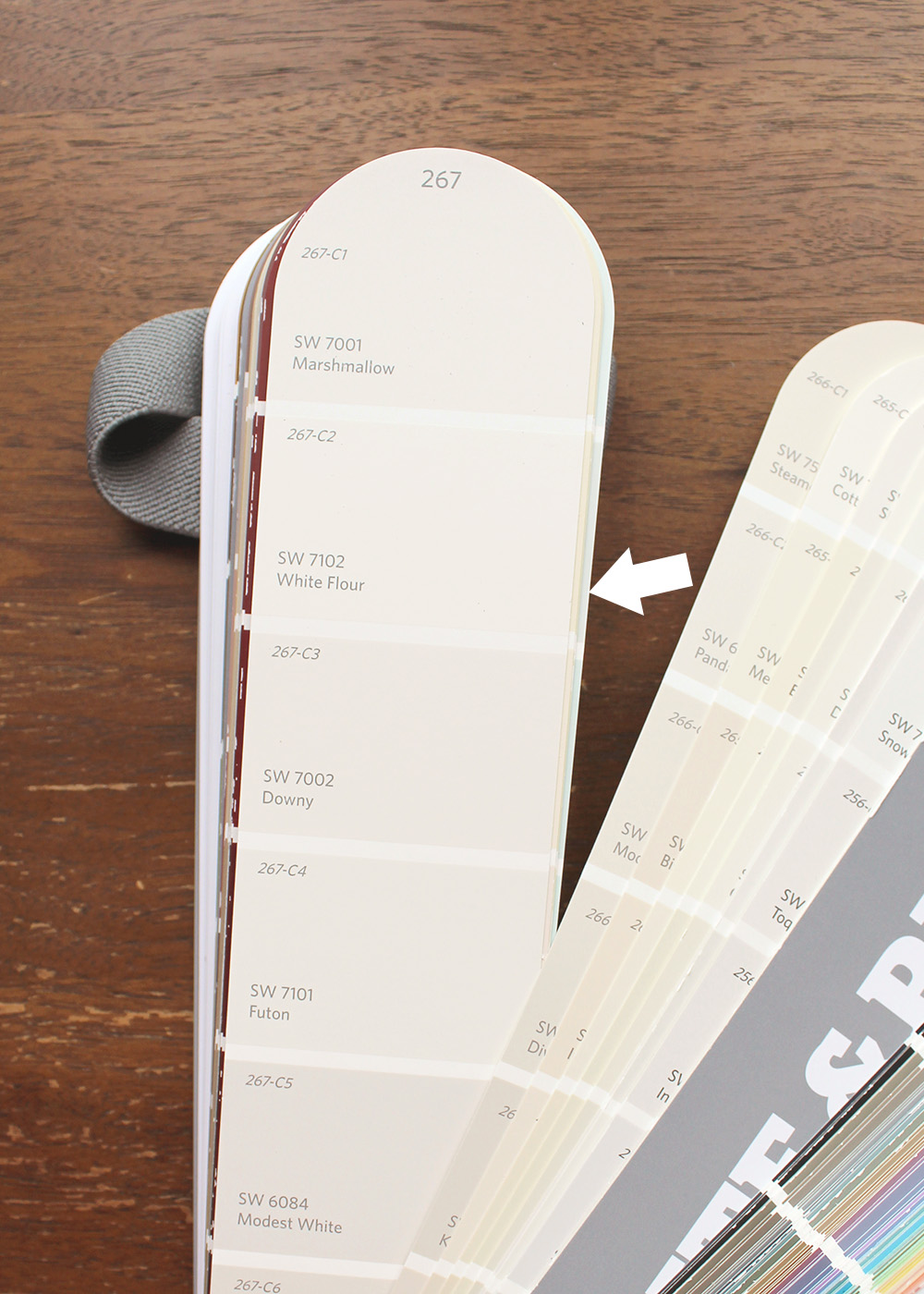 ---
10. Sherwin-Williams Pearly White, SW 7009
Pearly White is a solid creamy white choice and pairs well with wood furniture.
R: 232 G: 227 B: 217 LRV: 77 below image source: Ballard Designs
Samplize offers 12" x 12" peel and stick paint samples for Benjamin Moore, Sherwin-Williams, and Farrow & Ball colors. It is a fun way to test paint colors, and the material is flexible so you can wrap it around corners. I've ordered from Samplize for clients in the past, and we found the paint samples really helpful!
---
White paint in a home will give rooms a bright, airy feel. White paint typically goes toward cool tones, warm tones, and occasionally you can find a true neutral white. A warmer white will make a space feel cozy, and cool tones will make a small space feel larger. If you are looking for a true neutral shade of white try SW Pure White.
Did this article help you find a favorite color for your home?
---