The Best 5 Blue Gray Paint Colors
Blue gray paint is tricky to get right. The wrong paint shade can look all blue, gray, or mint. I am working on my kids' bedrooms and they are interested in the color blue for their walls.
Finding a good bluish gray paint is important. I want the color to show neutral and give our kids the color they want in their bedrooms.
I used my Sherwin-Williams fan deck and swatches to narrow down our favorite colors, received great suggestions from friends on Instagram, and researched colors online to see how the paint colors look in rooms. Scroll down for pictures of my top 5 picks for blue gray paint and 4 more to check out, too.
This article contains affiliate links. If you click a link and purchase an item, I get a small commission at no additional cost to you. Full disclosure here.
---
The 5 Best Blue Grey Paint Colors
#1: Sherwin-Williams Rock Candy, SW 6231
Rock Candy is a pale gray blue in the white & pastel family. It is a soft, refreshing color and would look great in a nursery or bathroom.
R: 222 G: 225 B: 223 below image source: Inspired by Charm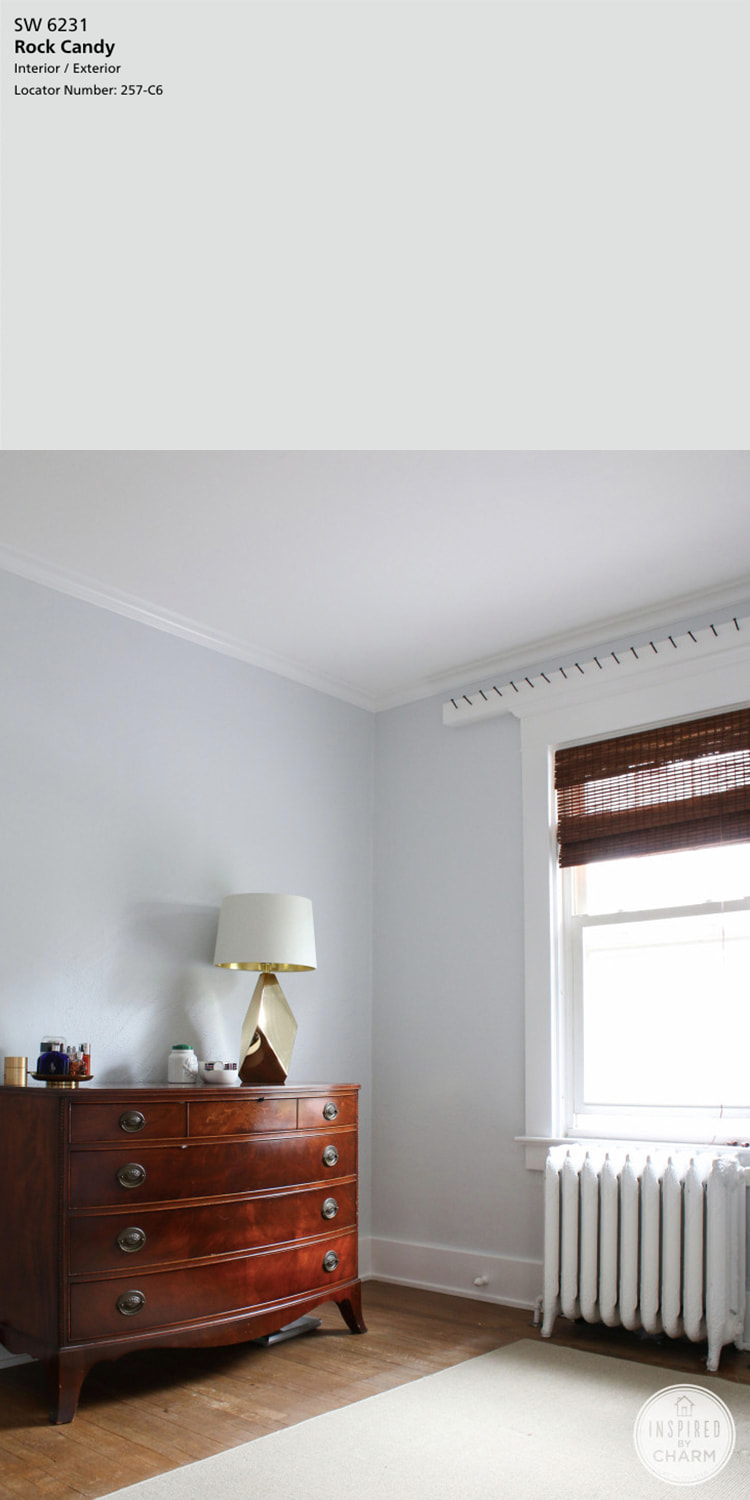 ---
#2: Sherwin-Williams Misty, SW 6232
Misty is in the neutral family and is my favorite pick for kids' rooms. The color feels like a light blue with gray undertones, and is one shade lighter than Samovar Silver.
R: 205 G: 210 B: 210 below image source: Duke Manor Farm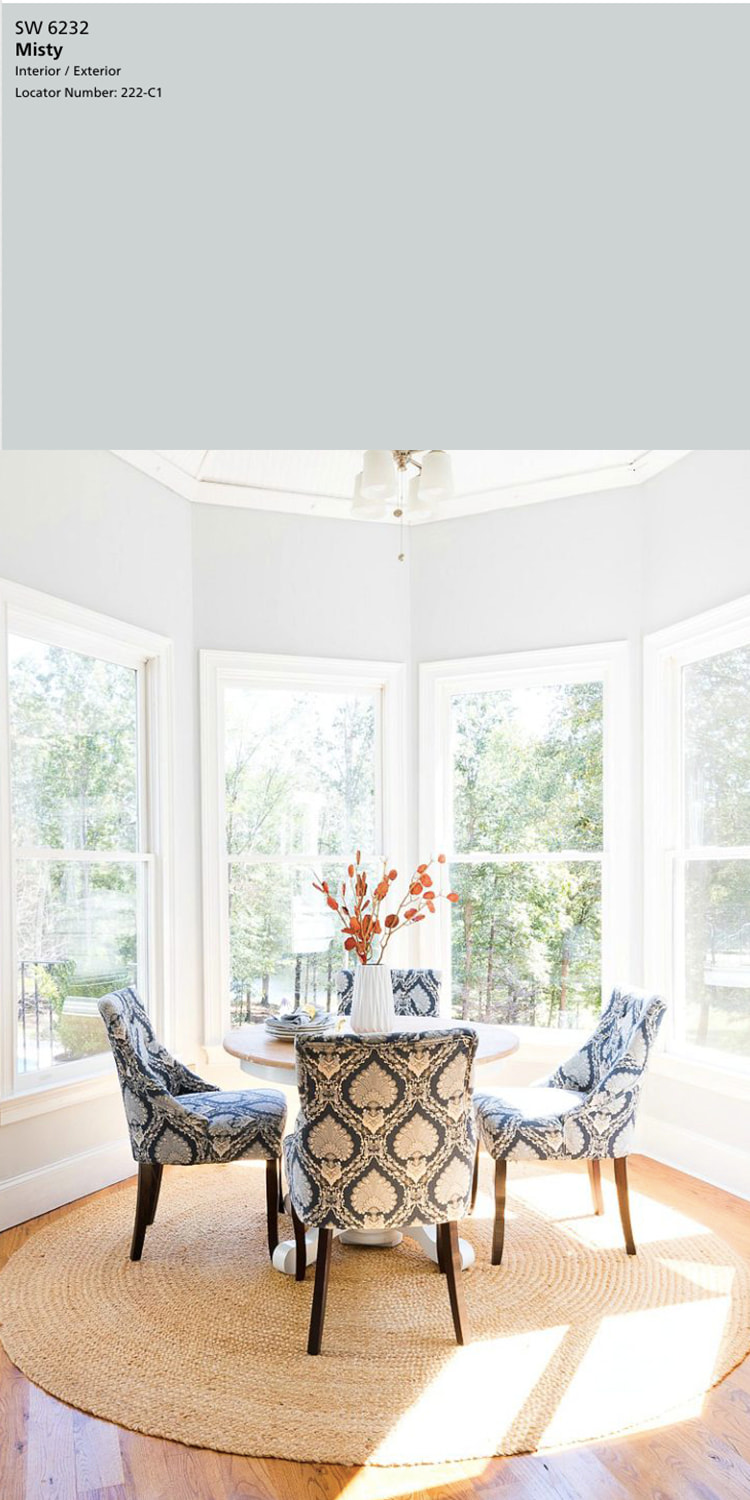 below image source: A Tween Boy Bedroom Makeover
---
#3: Sherwin-Williams Krypton, SW 6247
If you are looking to go a bit darker, Krypton is a great blue-gray color choice. Krypton is in the Neutral family and is a shade darker than North Star. It leans more toward a cool gray than warm gray.
R: 184 G: 192 B: 195 below image source: Thrifty Decor Chick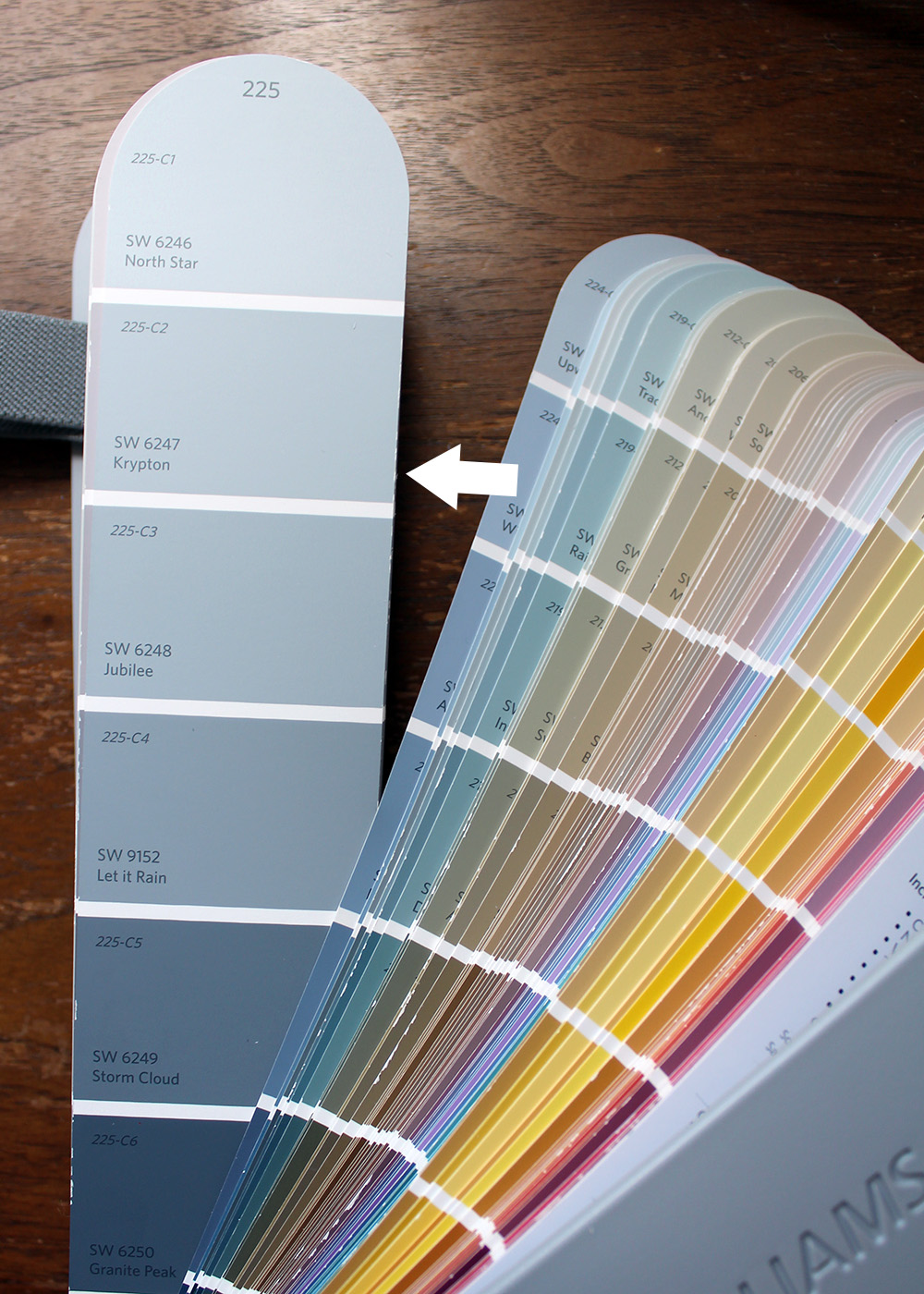 ---
#4: Sherwin-Williams Online, SW 7072
Online shows like a light grey paint on the swatch but has a nice blue tone to it on walls. This color would go well in a living room or bedroom. It is in the Pottery Barn Spring/Summer 2018 collection.
R: 176 G: 181 B: 181 below image source: Welcome to the Mouse House
#5: Sherwin-Williams Upward, SW 6239
Upward is light and fresh, and leans more toward blue than gray on the swatch. This color would go well in a dining room or bedroom. Upward is in the Pottery Barn Kids Spring/Summer 2018 collection.
R: 191 G: 201 B: 208 below image source: The House of Smiths
Samplize offers 12" x 12" peel and stick paint samples for Benjamin Moore, Sherwin-Williams, and Farrow & Ball colors. It is a fun way to test paint colors, and the material is flexible so you can wrap it around corners. I've ordered from Samplize for clients in the past, and we found the paint samples really helpful!
---
Looking For More Blue Gray Paint Color Options? Check out these colors:
SW 6217 Topsail
SW 6246 North Star
SW 9138 Stardew
SW 6255 Morning Fog
I hope this article helped your home decorating process and you can narrow down the right blue gray for your living room, bedroom, nursery, or bathroom. The look of your new paint color on the wall will vary depending on how much natural vs. artificial light you get in the room each day.
---