Master Bathroom Update on a $300 Budget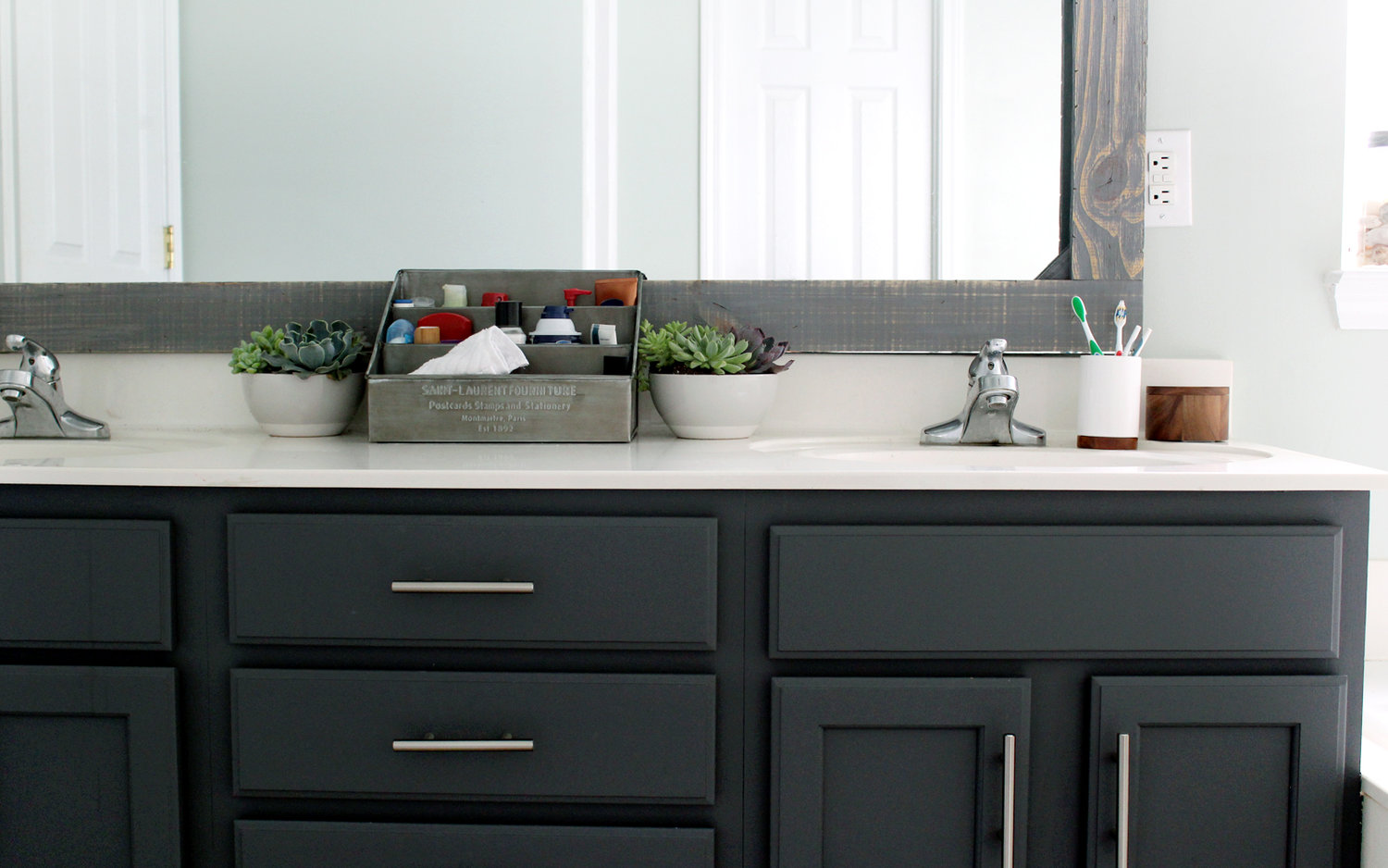 We are working to bring our home out of 1997. We ALWAYS work on a tight budget, and we just updated our master bathroom for $300! The biggest challenge to updating a bathroom on a budget is deciding what to keep and what to update.
In our master bathroom we kept the original tile flooring, tub, vanity cabinet, and faucets and updated the room with paint, new hardware, a mirror frame, and a new light fixture.
Scroll down to learn more about how we updated our master bathroom on a budget, along with 3 tips for staging your bathroom.
This article contains affiliate links, please read my full disclosure here.
---
A Dark Grey Painted Vanity
Our vanity countertop looked yellow/beige, so we painted our vanity cabinet a strong, dark grey–Sherwin-Williams Peppercorn (leftover paint from our dining room). The new dark grey on the cabinets contrasts with our original countertops, and now our countertops appear more white/neutral!
Sea Salt Wall Color
I wanted a soft, ocean-inspired color on the walls to give the space a tranquil feeling. After researching our options, I painted over our beige walls with the color Sherwin-Williams Sea Salt.
A New, Affordable Light Fixture
Replacing the original brass bar light with this $60 Galvanized Steel Bathroom Vanity Light made a huge difference in updating the bathroom.
DIY Mirror Frame
Adding a wood mirror frame to the large mirror gave the room much needed rustic character (and prevents the dark grey vanity cabinet from feeling too modern).
Chrome Accessories Match the Original Faucets
To save money, instead of replacing the original faucets I matched the chrome to our new cabinet handles, light fixture, and towel hook.
3 tips for staging your bathroom
When you update your bathroom here are a few tips for purchasing supplies:
1. Don't just shop the bathroom sections. I found our countertop organizer in the office supply section of World Market. The wood charger holding our candles came from the kitchen supply section. And I used a rug instead of a bath mat.
2. Take photos with your phone before you go. Snap a few pictures of the room with your smart phone before you head to the store. It will help you recall colors and scale, and overall what you want to accomplish in your space!
3. Add a little greenery. I threw some fresh succulents into cereal bowls on our countertop. Plants add texture and color to a space, just remember to give them the light + water they need! If you are worried you can't keep up with live plants, there are many attractive faux succulent options.
How We Spent $300 in the Master Bathroom
Supplies
-Cabinet Paint + Primer (free: leftover from other projects), Sherwin Williams Peppercorn
–Galvanized Steel Bathroom Vanity Light
-Wall Paint + Brushes ($65), Sherwin Williams Sea Salt
-3″ Chrome Bar Pulls, similar here ($35)
-Mirror Frame + Hardware ($30)–framed mirror blog post here!
-Quart of Oil Stain for Mirror Frame ($20)
Decor
-Metal St. Laurent Desk Organizer ($40)
-Stag Metal Towel Hook from Homegoods ($8)
-Set of 3 Pillar Candles ($25)
-Wall Frame+Photo (owned/repurposed)
–Wooden Bark Charger ($20)
Total: $297
---
A glimpse of our DIY process
We removed the oak cabinet doors, sanded, primed and painted using this process. Then we replaced the dated bar light fixture. My husband Lee made a wood frame for the mirror (read the tutorial for the framed mirror here!) and I said goodbye to beige with a fresh coat of Sea Salt paint.
---
---
After months of having our master bathroom in pieces (DIY projects have a way of taking longer than you expect). I am thrilled to have our master bathroom back together with a lot of added character. The 1990s oak is completely gone from the room and it feels much more modern.
How have you updated your bathrooms on a budget?