How to Frame a Mirror with Wood, a DIY Mirror Frame
We recently built a rustic mirror frame to go around our existing primary bathroom mirror. The wood frame is made from pine boards. I stained the frame Rustic Gray and roughed it up a bit with a sanding block, nails, and a rough gloss treatment. Scroll down for a supply list, an illustration overview, and process pictures for how frame a mirror!
Our frame size ended up being 66″ x 42." I give dimensions as a guideline below, but please measure your own mirror and adjust your measurements accordingly!
This article contains affiliate links, you can read my full disclosure here.
---
Rustic Mirror Frame, How to Frame a Mirror
Supplies
Basic pine boards (1″x4″)::
-Cut 2 boards 66″ long
-Cut 2 boards 35″ long.
-Cut 4 pieces at 45 degrees, about 12″ long
*measurements for our mirror to be used as a general guideline. Please measure your mirror and adjust measurements accordingly!
1.25″ wood screws
2 L-angle Joist Hangers (similar here)
Sherwin-Williams Wood Classic Oil Stain (Rustic Gray, 1 quart)
Hammer and nail
Minwax Polycrylic Protective Finish, 1 quart and brush
Water-Resistant Command Strips
---
Step 1: Build the frame rough sides of wood out (will look more rustic). Use 4 wood screws per corner.
---
Step 2: Test the wood structure to make sure measurements are correct (optional but recommended!).
---
Step 3: Stain the frame according to stain directions. Dry, then sand with sanding block to show woodgrain.
---
Step 4: Carefully hammer the edge of a nail into the frame to add weathered, rustic look.
---
Step 5: Brush on a clear coat of protective finish with a rough brush to add texture.
---
Step 6: Attach 2 L-angle joist hangers to top of wood frame (near mirror hooks) and slide joist hanger behind mirror.
On bottom two corners apply command strips so wood frame is flush to mirror.
Stand back and enjoy your new custom wood mirror!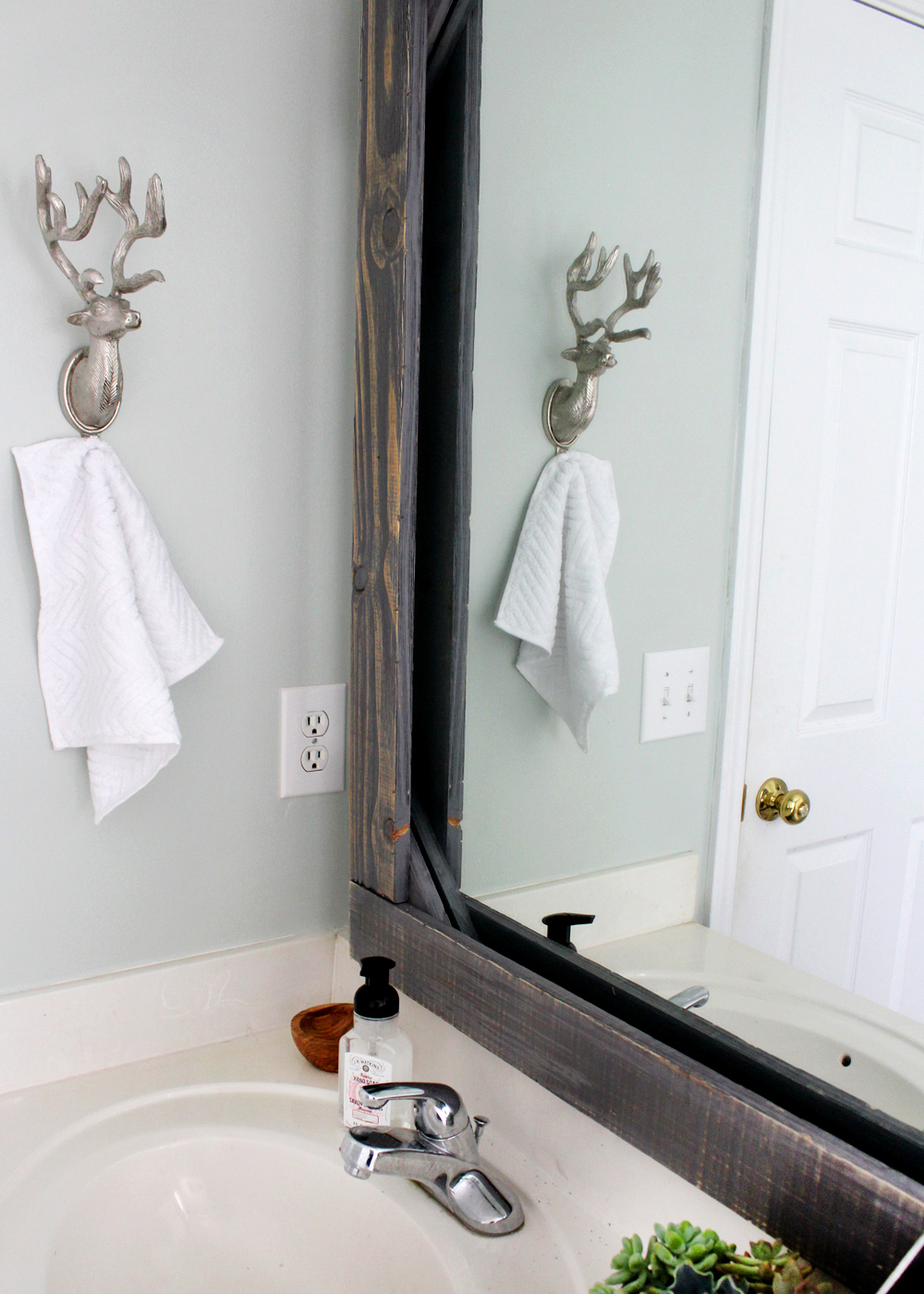 This DIY mirror frame was much less expensive than replacing our large existing mirror. And you can easily customize the look with your choice in stain. It was a rewarding DIY project and we are really happy with how the rustic frame turned out!
For another mirror frame tutorial, check out my friend Melissa's framed floor mirror DIY with how to video!
Pin for Later: