How to Make a Mirror Gallery Wall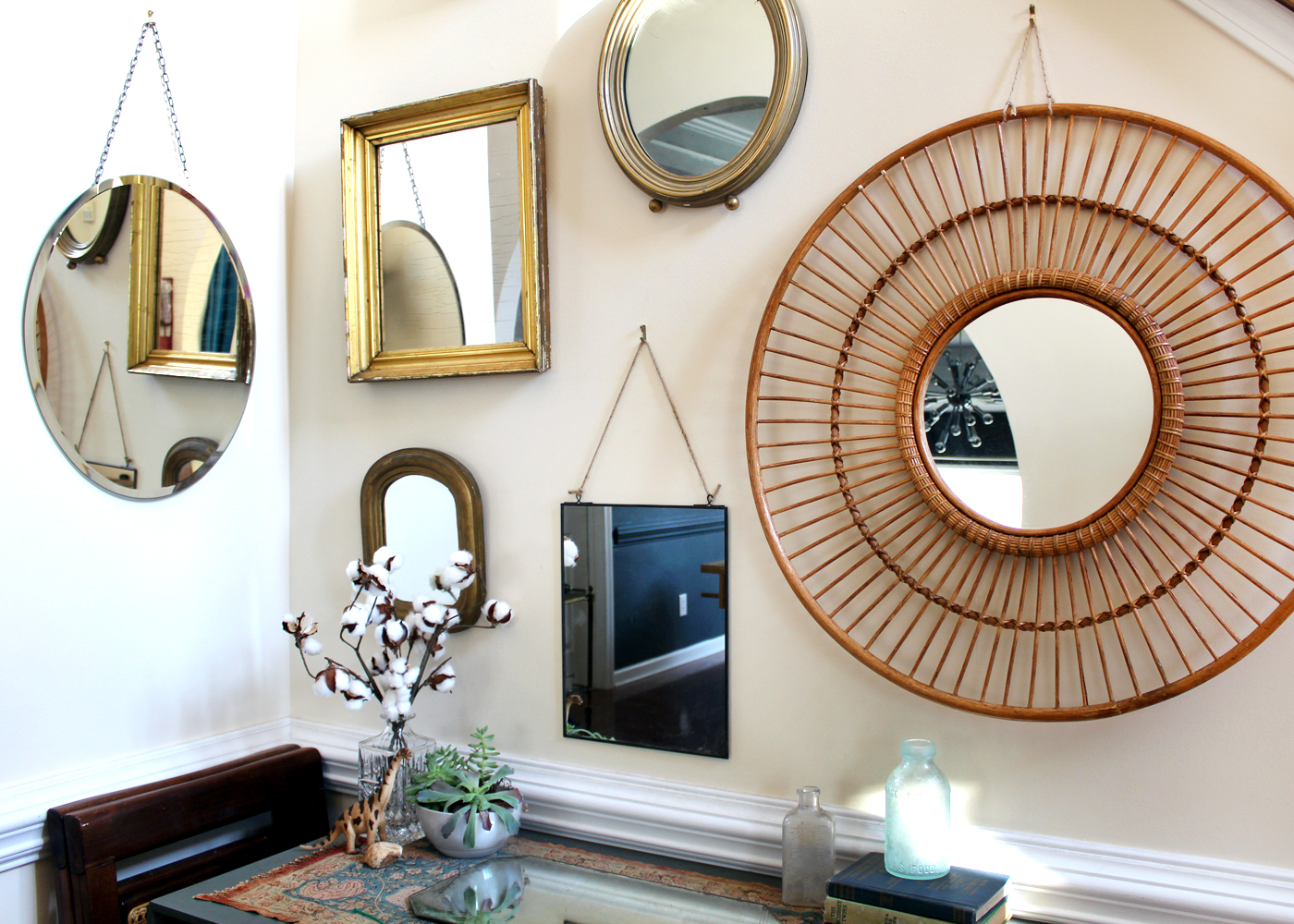 The entryway in our home is one of my favorite spots. Typically we have library books and papers stacked on our grey cabinet, but I decided to tidy up a little for you before I took pictures!
If you are like me, I find gallery walls a little intimidating. But this mirror gallery wall was easy to design, and with the 5 tips below you can learn to make your own!
This article contains affiliate links, you can read my full disclosure here.
---
Tip 1
To start with collect some mirrors! Personally I love a few antique mirrors with patina and wear. They add a lot of texture to the space, and its easy to mix in new mirrors like this antique-style zinc World Market mirror. The mirrors should vary in scale, texture, and shape.
Tip 2
Find a good wall to hang your mirrors on. I found the perfect spot under our staircase that is small enough to feel cozy. I also picked that spot because the wood-tone in some of the mirrors compliments our staircase color. If you are starting with a few mirrors, pick a small wall. If you have 10-20, use a large wall (for example going up a staircase)!
Tip 3
Remember that this gallery wall is made of mirrors! Some will be high and some will be low, but make sure a few are at eye level. And if you have children at home lower a few for them too. Our kids love to look in these mirrors before they head off to school.
Tip 4
From time to time I look at real estate listings in our area, and I've noticed that staged homes often feel impersonal. While its important to simplify your designed space, leave out a few pieces (like our friendly plastic dinosaur). It will make the room more inviting and friendly.
Tip 5
If you have a console table or cabinet under your mirrors wall, add some texture! Try a plant or two, cotton, vintage vases, and antique books. Step back and enjoy!