12 Rental Friendly Amazon Home Purchases for Under $40
I recently moved to a new house and thought it would be fun to share items I purchased from Amazon that I recommend. Each of these products are rental friendly, cost under $40, and are items I use in my home.
Scroll down for home organization ideas, electronics, drapes, wallpaper and more Amazon home must haves.
This article contains affiliate links, full disclosure here.
---
Amazon Home Products for Under $40
Grocery Bag Dispenser, $12.99I LOVE this bag dispenser. It holds a ton of grocery bags, fits in a small space, and comes in 6 fabric patterns. I keep mine in my laundry closet but it would also be useful in the garage or kitchen.
My new house doesn't have a linen closet so my extra sheets and blankets were chilling in a cardboard box in my bedroom closet. I am far from being a professional organizer and love to find products that are easily accessible and useful. I purchased the underbed storage containers on impulse (I needed to get my order to $25 for overnight shipping) and am so glad I did.
These storage containers are made of a fabric material so there is some give with pushing them under the bed and they have several handles. The clear front is a nice feature, too. It is nice to make the most of my storage space under the bed.
How do you charge your phone at night? Prior to this product I used a basic power strip that took up a lot of space on my nightstand. I started researching smaller power strips, and came across this one.
I love that it includes a USB C Port for charging my phone more quickly, and the gray and white color blends in well with room decor.
This is a genius curtain for renters who are looking to cover a door window. I have installed several curtains rods and panels since moving into my home, and this product was by far the easiest.
It took me less than a minute to attach the adhesive strip along the top of the door and then the curtain fabric. The curtain is easy to tie up, provides privacy, and is very affordable. The curtain is available in several sizes and colors.
Have you ever had a junk drawer or cabinet that will not stay closed? There are ways to fix it with adjusting glides and tracks, but the easiest solution I found was attaching a thin magnetic drawer latch.
This set of 4 came with adhesive, but I found the adhesive wasn't strong enough and screwed the small metal pieces to either side of the drawer. The drawer now stays shut and the magnets are so small that I don't see a gap when it is shut.
Pocket closet organizers make good use of unused vertical space. Whether it is for baby gear, pet items, or winter gear—this pocket organizer fits over my small closet door and the clear windows help winter items like gloves not get lost.
I was so nervous to work with wallpaper because I'd read horror stories of difficult installs. But peel and stick wallpaper really is relatively easy to install and is an affordable way to add style to a rental home or apartment.
I installed this paper a few months ago in my laundry closet and it makes such a difference to the space. Will share more photos of the room soon!
This is a solid design solution for rooms where the doors have been removed. I removed my laundry closet doors because there was a door "roadblock" with an outer door and bathroom door, and I wanted easier access to my washer & dryer.
I looked high and low for an attractive and temporary solution to covering where the hinges were, and this was the best find. Amazon sells the hinge blanks in satin nickel, antique brass, oil rubbed bronze, and polished chrome.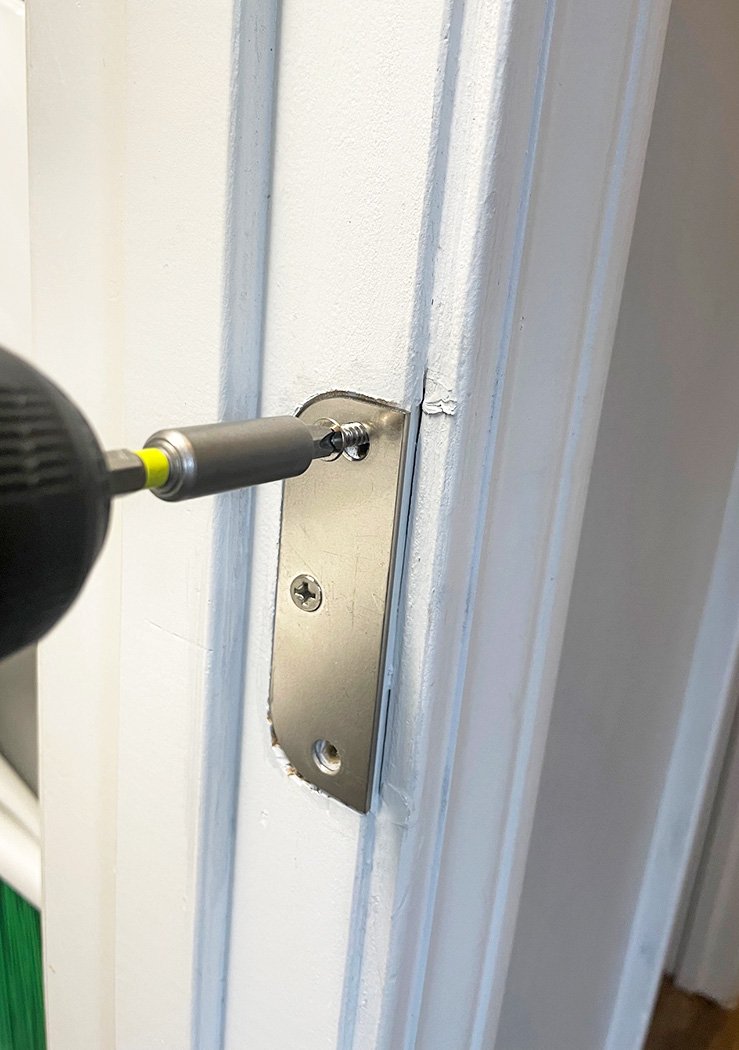 When I think of a sound machine, I think of baby products used in nurseries. This sound machine has a modern look and is quite small (under 3" cube). I like how small it is on my nightstand, gives me the white noise I need to sleep, and its small size is travel friendly.
I can't explain technically how this antenna functions, but I can tell you that I plugged it into my TV and now I get all the basic channels (like the nightly news when my parents come to visit).
I use my Firestick for streaming most of our shows, but this TV antenna gives me a lot of local channels to click through. Because sometimes it is nice to watch old episodes of Antiques Roadshow.
If you need basic bookends these are perfect and sturdy! You could DIY something and cover up the metal, but I personally like the industrial library look.
I bought these bookends because my bookcases are metal & glass and don't have a sidewall for the books to lean on. Now my books stand up and feel like a more organized space.
I purchased this jewelry organizer to hang my necklaces on my dresser. Prior to this I had a mess of tangled necklaces on my bathroom countertop. Now it is clutter free!
I like the organizer's simple design: 3 metal tiers with a wood base. And I really like that the highest tier is adjustable in height for long necklaces.
Do you own any of these Amazon home decor or organization items? Many of these help to add space in your home. These products are all rental and apartment friendly, and cost under $40 each!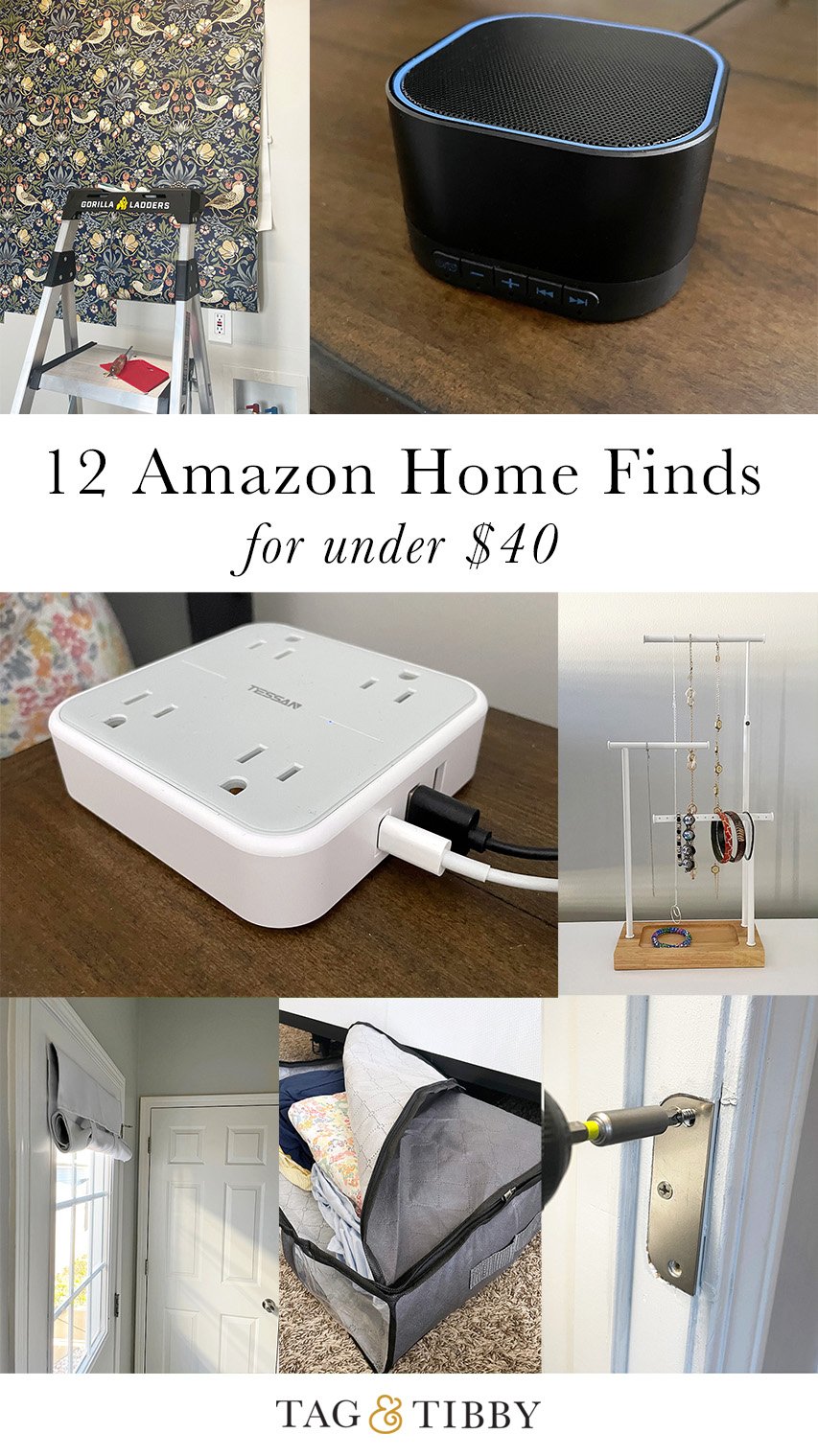 Pin this article for later: