Outdoor Side Tables for Under $100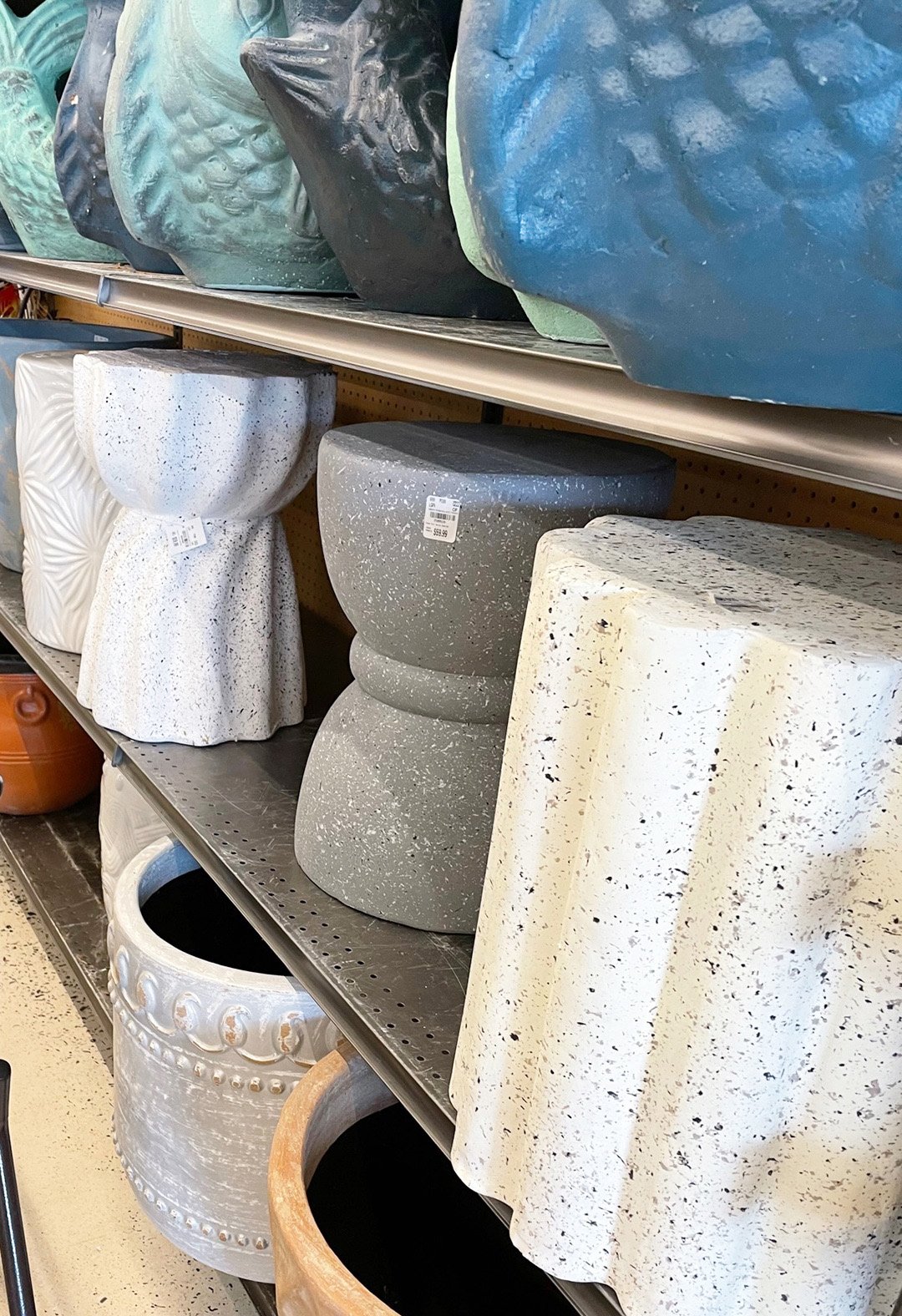 patio drum tables spotted in store at Tuesday Morning
Hi! It has been a while. I have been busy working with design clients, but also really miss blogging. Thank you for your patience!
I recently decided to update the brick patio area of our home with a few chairs, umbrella and table. I want to spend more time outside reading and relaxing. And this led me to research a patio side table. Unlike dining tables, side tables have small table tops and are designed to hold books, drinks, or a small plant.
Often patio tables are labeled rust or water resistant. But that can mean a lot of things—are the tables designed for a covered porch or can they be left in the rain?
I narrowed my search to a few categories: metal outdoor side tables, mosaic patio tables, plastic tables, outdoor side tables with storage, and concrete outdoor side tables. I will also describe each category and why it might be a good fit for your pool patio, or porch. Scroll down for 15 of my favorite tables for under $100!
updated the brick patio area with blue adirondack chairs and a side table
This article contains affiliate links, full disclosure here.
---
Metal Outdoor Side Tables
Metal tables can be a good option for patio furniture. Check the tag or description to make sure they are rust resistant. I'd recommend a table without a lip/edge if it is left outside to prevent standing water. Drum tables are aesthetically beautiful and will hold a few drinks, but are typically smaller than a traditional side table.

Small Round Patio Table in deep sky blue, $38 Amazon (available in 9 colors)
Opalhouse Gold Drum Table, $70 Target (check for sale prices)
Demetrios Outdoor Accent Table in blue, $80 World Market
Opalhouse Gold Drum Table and Faux Stone Studio McGee Table in store at my local Target
---
Concrete Patio Tables
Concrete tables are durable and will blend in well outdoors especially as they age and have some patina. They are more expensive than plastic patio tables, but are also much heavier and less likely to tip over in a storm.

Lightweight Concrete Accent Table, $73 Home Depot
Studio McGee Faux Stone Drum Table, $100 Target (check for sale prices)
Concrete Hexagon Modern Table, $100 Amazon
---
Mosaic Style Side Tables
Mosaic tables add personality, texture and color to a space. They are outdoor friendly, but may need to be resealed. These tables would work well as an outdoor end table.
Better Homes & Gardens Bistro Table with Tile Top, $97 Walmart
Blue Ceramic Christopher Knight Tile Side Table, $45 Amazon
Gray Cadiz Outdoor Accent Table, $56 World Market (also available in Aqua and Coral Red)
---
Plastic Outdoor Side Tables
Plastic tables are an affordable option and have come a long way in appearance.They are more lightweight than metal or concrete, and can be picked up and moved easily. Resin is a natural material and environmentally friendly, but less durable than plastic.
Blue Resin Side Table, $74 Wayfair (also available in white)
Black Round Plastic Lightweight End Table, $68 Home Depot (also available in blue, green, orange, and white)
Charcoal Adirondack Folding Side Table, $18 Amazon
---
Side Tables with Hidden Storage
I love furniture pieces that have multiple purposes. These patio tables have hidden storage perfect for pool towels, and one you can use a cooler for drinks!
Set of 2 Blue Storage Accent Table with Wood Lid, $89 Home Depot (also available in red, black, gray, and green)
Dark Brown Resin Convertible Cooler/Table, $82 Wayfair (also available in dark gray)
Resin Rattan Side Table with Storage, $59 Amazon
---
There are so many styles and materials available for outdoor tables! Whether you like the traditional look of a mosaic outdoor side table, or a modern concrete drum table–I hope these help you narrow down options for your outdoor space. While these tables are outdoor friendly, they can be used indoor or outdoor.