8 of the Best Greige Paint Colors
Greige is a popular, neutral paint color for interiors and exteriors. This article highlights eight of the most popular Sherwin-Williams and Benjamin Moore greige paints.
I narrowed this list to 4 Benjamin Moore paint colors and 4 Sherwin-Williams paint colors. In this article I share information about each color with swatches and examples in rooms. But first, what exactly is the color greige?
Defining the color greige
According to Merriam-Webster, greige is a variable color that blends gray and beige. Greige is popular for its neutrality and ability to look cool gray in some light, and warm gray in others. Typically a greige color will have a warm undertone.
It is a neutral color that works well as a wall color or on exteriors and will compliment pops of color .
The goal of this article is to help you narrow down which paint color would work well in your home. The photos of swatches below may vary from the actual paint colors. Please look at paint samples before making your final decision.
Quick Tip: This article includes the RGB and LRV value for each paint color. RGB represents how much Red, Green, and Blue is in each paint color. On the LRV scale, O absorbs all light (black) and 100 reflects all light (white). The greige colors below are organized from lightest to darkest.
This article contains affiliate links. If you click a link and purchase an item, I get a small commission at no additional cost to you. Full disclosure here.
---
8 of the Best Greige Paint Colors
1. Benjamin Moore Pale Oak OC-20
BM Pale Oak is the lightest color included in this list with an LRV of almost 70. It is a popular light warm greige that can look off-white if you have a lot of natural light. If you are looking for an even lighter greige color look into BM Classic Gray.
R: 222 G: 218 B: 207 LRV: 69.89
below image source of BM Pale Oak on bedroom walls: A Thoughtful Place
---
2. Benjamin Moore Balboa Mist OC-27
BM Balboa Mist is in the off-white color collection. It is a versatile color that contrasts well with white trim. This light greige can have a pink or purple undertone depending on lighting.
R: 219 G: 215 B: 205 LRV: 67.37
below image source of BM Balboa Mist on living room walls: DIY Decor Mom
below image source of BM Balboa Mist on mudroom walls: Sand Dollar Lane
---
3. Benjamin Moore Edgecomb Gray HC-173
According to Benjamin Moore, Edgecomb Gray is an earthy, organic neutral. If you compare colors side by side, Edgecomb is slightly warmer and lighter than SW Agreeable Gray and can read beige and gray depending on lighting.
R: 218 G: 212 B: 197 LRV: 63.88
below image source of BM Edgecomb Gray on trim and doors: Making it in the Mountains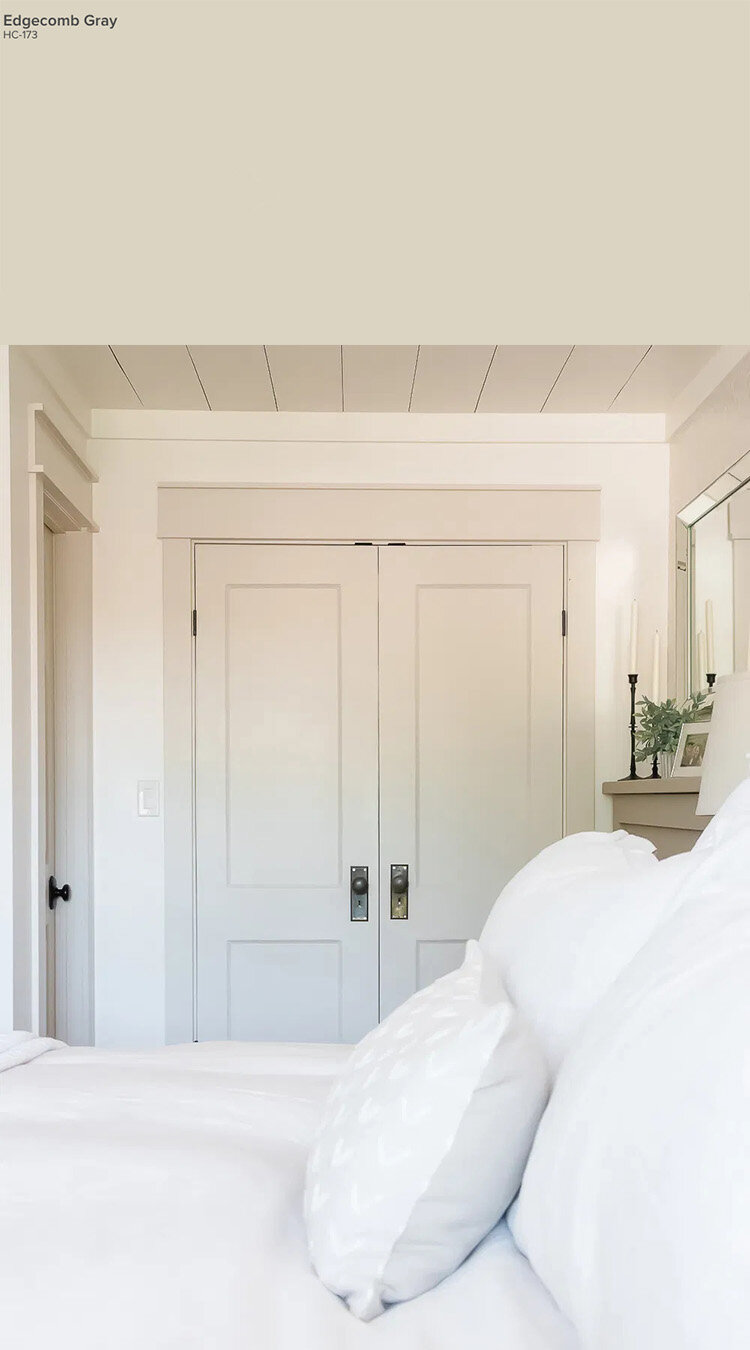 ---
4. Sherwin-Williams Agreeable Gray 7029
SW Agreeable Gray is a very popular color choice and part of the Pottery Barn Fall/Winter 2020 collection. This is a subtle, neutral greige that usually looks warm, but can look cool depending on the wall & room. Check out the examples below to see how the same color can look in different rooms.
R: 209 G: 203 B: 193 LRV: 60
below image source of SW Agreeable Gray on bedroom walls: Charleston Crafted
below image source of SW Agreeable Gray on nursery walls: Living Letter Home
---
5. Sherwin-Williams Alpaca 7022
SW Alpaca is a cooler greige. It has a slight taupe-purple undertone, and might look gray in some rooms. While still a light color, it is darker than Agreeable Gray and Edgecomb Gray.
R: 204 G: 197 B: 189 LRV: 57
below image source of SW Alpaca on nursery walls: Table + Hearth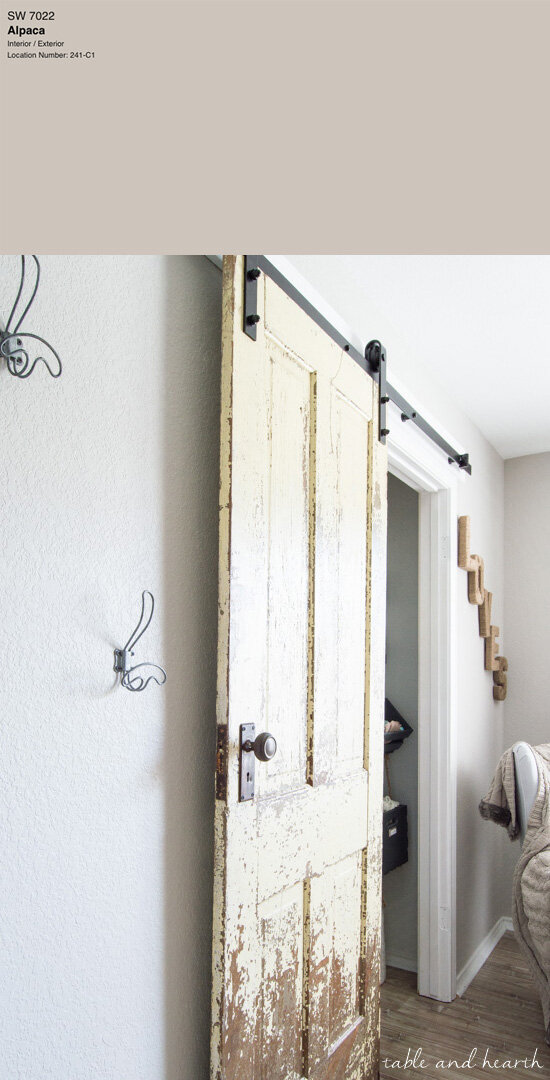 ---
6. Benjamin Moore Revere Pewter HC-172
BM Revere Pewter is a popular classic, versatile color. It has a touch of green undertone. If you are looking for a similar color from Sherwin-Williams, check out Colonnade Gray.
R: 204 G: 199 B: 185 LRV: 55.51
below image source of BM Revere Pewter on living room upper walls: Create and Find
---
7. Sherwin-Williams Colonnade Gray 7641
Colonnade Gray is another good classic greige choice. The color is dark enough to give good contrast to white trim, and with an LRV of 53 it is a good light-medium choice. Similar to Revere Pewter, Colonnade Gray can have a slight green undertone.
R: 198 G: 192 B: 182 LRV: 53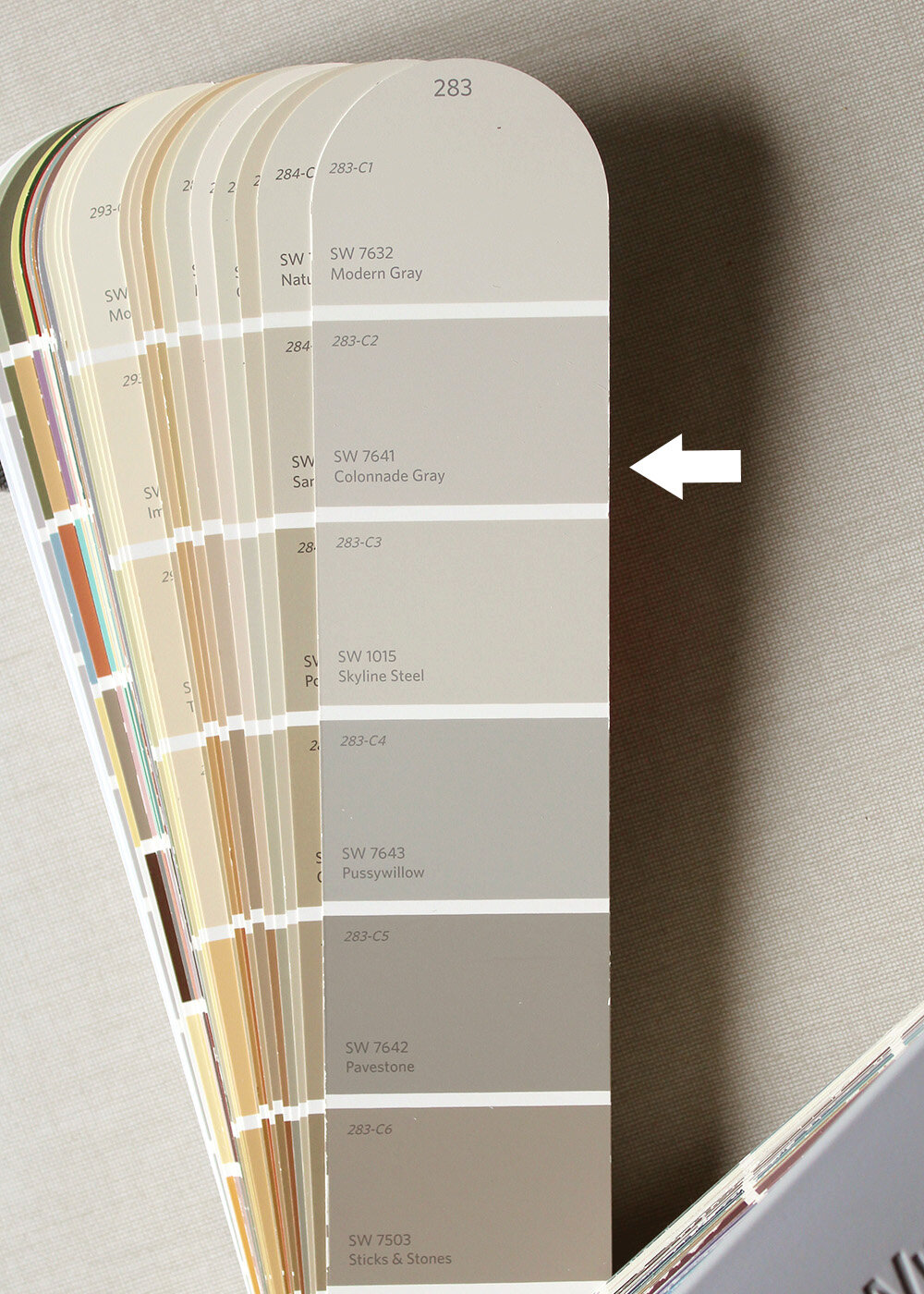 below image source of SW Colonnade Gray on office walls inside quatrefoils: Meme Hill
---
8. Sherwin-Williams Mindful Gray 7016
SW Mindful Gray is the darkest color of the eight shown here, and is a great neutral medium greige option. Depending on lighting, it can look slightly blue-green. If you want a darker greige, check out SW Dorian Gray.
R: 188 G: 183 B: 173 LRV: 48
below image source of SW Mindful Gray on garage walls: At Home with the Barkers
Samplize offers 12" x 12" peel and stick paint samples for Benjamin Moore, Sherwin-Williams, and Farrow & Ball colors. It is a fun way to test paint colors, and the material is flexible so you can wrap it around corners. I've ordered from Samplize for clients in the past, and we found the paint samples really helpful!
---
This article was written to help you to narrow down the right color choice for your home. Greiges have a range of undertones, and even when very neutral it will reflect colors in the room and lighting. I hope this article helps you find the perfect greige for your home!