before & after: my home office reveal
This post was written in partnership with World Market and Sherwin-Williams. Thank you for making this space possible!
Hey friends! Today is the day I get to share my home office with you! I spend the majority of my day here working on a mix of freelance work. The home office is also where our two kids do their homework in the evening (photos below of the kids' table). And our grey couch doubles as an extra bed when guests are visiting.
My office was a room that was reasonably functional: with a vintage desk and couch–but the beige walls, bare accessories, and dated ceiling fan made the space feel blah. Below I'll show you what you can do with fresh paint and a few new accessories!
A Fresh New Paint Color
After mulling over a few favorite pink paint colors, I ended up painting the the walls Sherwin-Williams Romance. And I'm so happy with the result!
The color feels like a true light pink in natural light, and a soft coral-peach later in the day. Sherwin-Williams Romance is the lightest shade of its set: 1 shade lighter than Mellow Coral. It goes really well with our new carpet (which shows up beige-grey depending on lighting) and offsets the dark grey desk and couch.
I am a dedicated DIY painter. This was the first room I ALMOST hired painters. The ceilings are high– 1.5 stories at its peak, but I found a way! I attached a paint edger to an extension pole and was able to reach the highest spots, then filling in with a roller brush on extension pole. I included a few photos of the DIY process at the end of this post if you'd like to see a picture of that.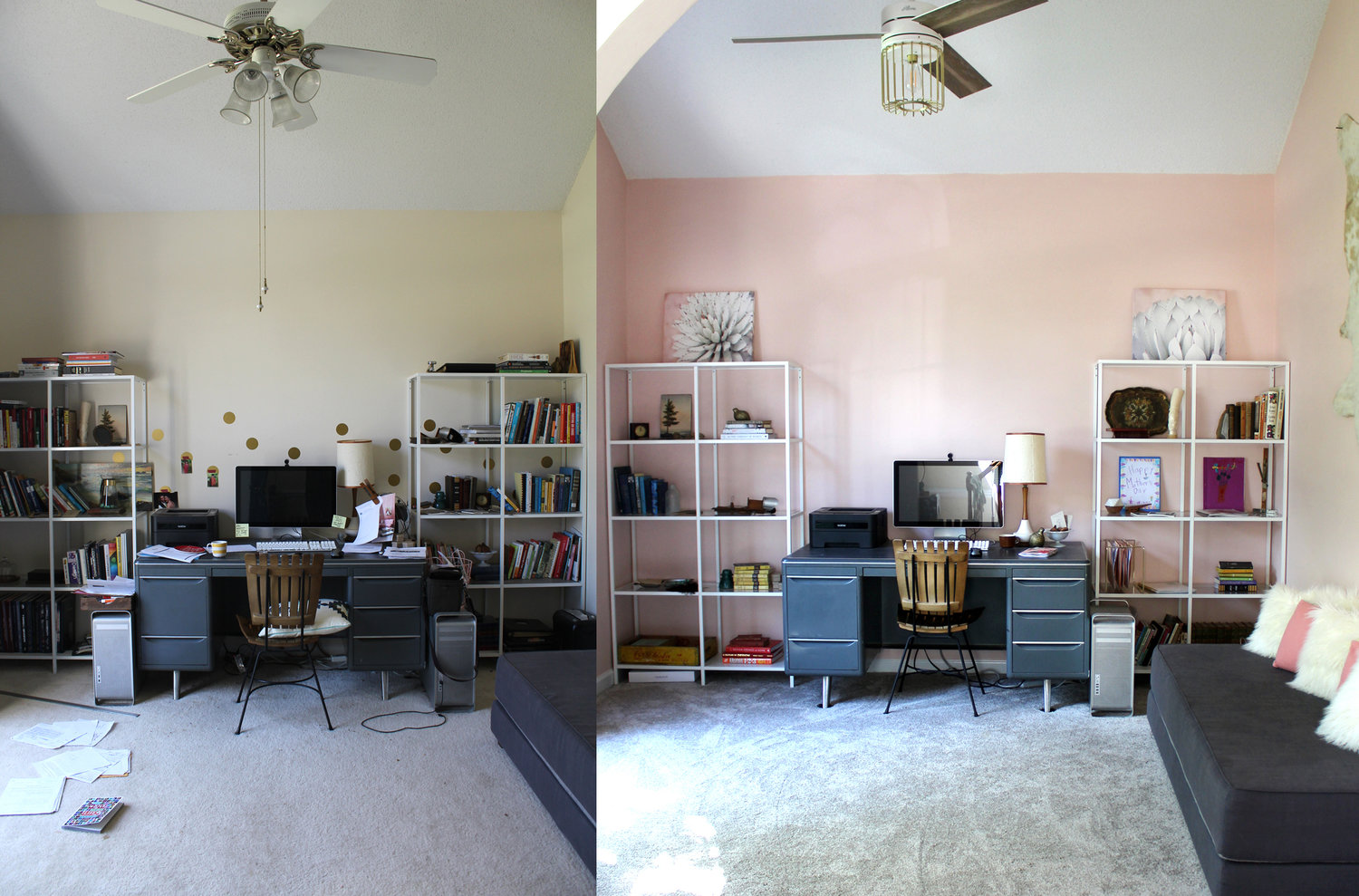 The Importance of Accessories
Accessories go such a long way in making a space personal and welcoming. Artwork, pillows, rugs, and tabletop accesories all add character and texture to a room. I spotted the Agave Blooms set of artwork at World Market last month and knew its colors and style would go perfectly in the space! I mixed together a few Rose Herringbone Lumbar Pillows with Ivory Mongolian Faux Fur Pillows on my sofa to turn it into more of a daybed. The White Parker Curtains have a nice woven texture and soften the pink wall color while still providing privacy.
My favorite new feature in the room is the Ivory Faux Cowhide Rug hung on the largest wall. We used vintage nails to attach it to the wall–adding some extra rustic charm. For under $150, adding a large rug to a blank wall is an affordable way to add personality to a space!
This article contains affiliate links, you can read my full disclosure here.
---
Office Makeover Product List
Sherwin-Williams Emerald Interior Paint, Matte Finish in Romance
Ivory Faux Cowhide Rug on wall
Agave Blooms Artwork set of 2 over bookshelves
Herringbone Linen Lumbar Pillows x2
Ivory Mongolian Faux Fur Lumbar Pillows x3
White Parker Grommet Curtains Set 108″
Silver Whale Accent Lamp Base with Aqua Linen Accent Lamp Shade on kids' table
White Metal Pencil Cup on kids' table
Wood and Marble Geometric Paperweight
---
Kids' Homework Area
Our two kids do their homework in my office in the evenings. Both of our kids have focused-ness challenges with homework 🙂 We've tried a few different places (the dining room/craft room, the kitchen…) and have found that a quiet space with minimal distractions is best. So I purposefully don't have any toys or busy artwork near their table. I did purchase two wobble cushions for their chars so they can have some sensory input while they work. Both of our kids seem to really enjoy them!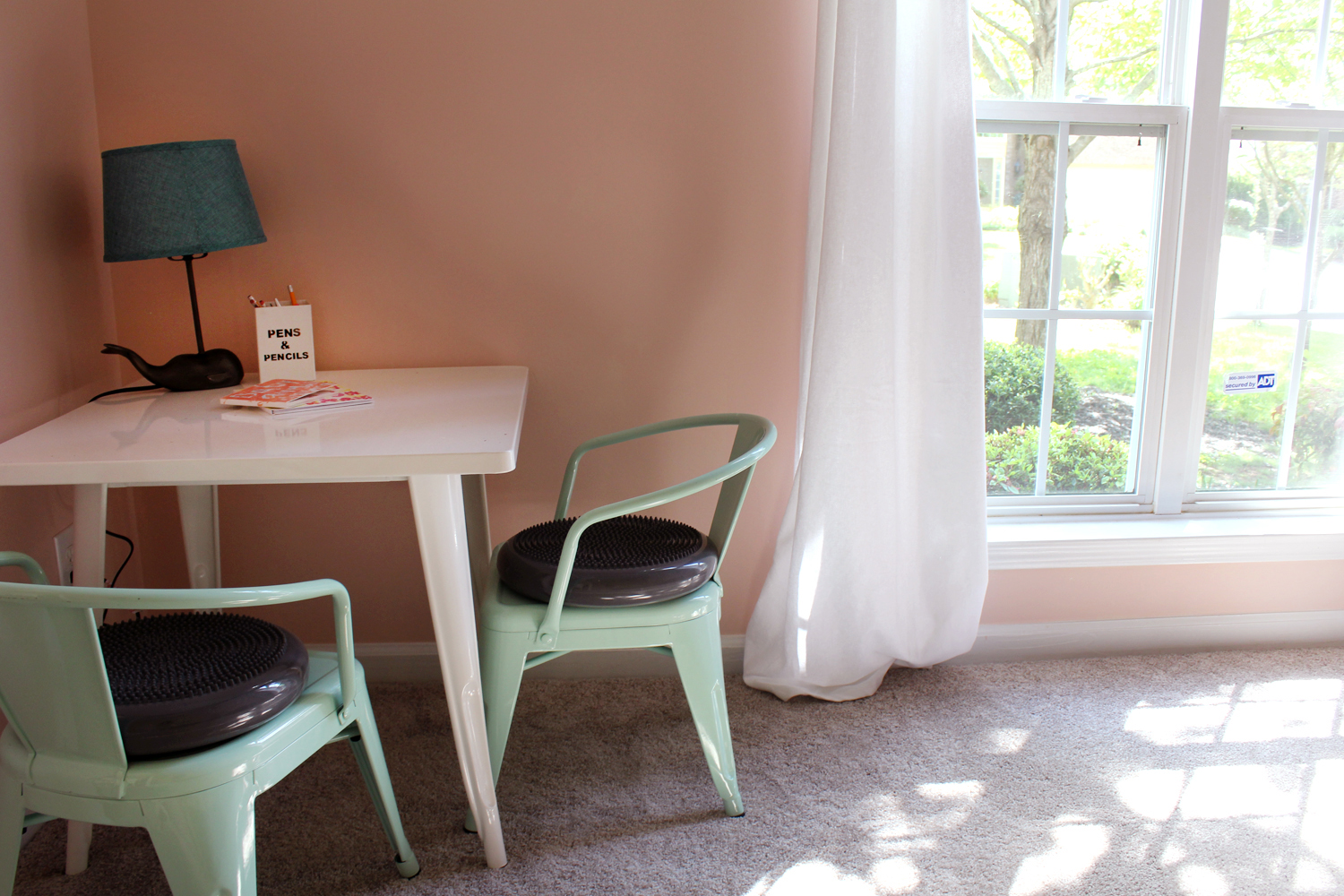 ---
Behind the Scenes DIY…
As always, this room was 90% DIYed by myself and my husband. I did all the painting, and my husband helped hang the faux cowhide rug on the wall. I did hire an electrician to install the ceiling fan. He and his partner took down our old fan and had a new one up in less than an hour–it would have taken us a LOT longer than that!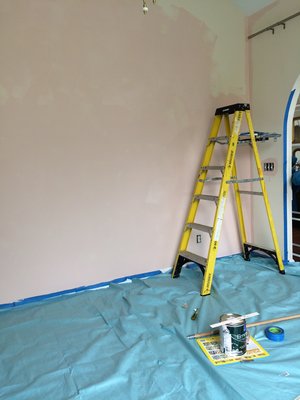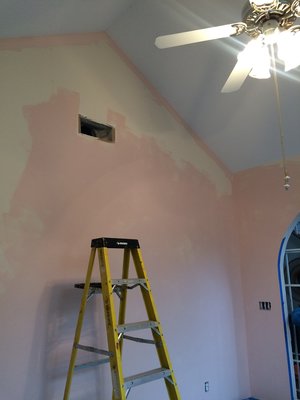 ---
Thank you for reading, I hope you come away from this post inspired and ready for your next DIY project!
This blog post was written in partnership with World Market and Sherwin-Williams. I received paint from Sherwin-Williams and room accessories from World Market as compensation for this post. All opinions expressed in this article are my own!