Coat Closet Makeover with Practical Storage Ideas
Last month I looked in our hall closet and realized what a disaster it was! I could barely reach the back of the space to grab boots, our gloves were mismatched, and all kinds of things like roller skates just didn't belong. It took an afternoon to sort items, and later I purchased a few coat closet organization items that improved the function of the space.
Hall coat closets are often small, and it is easy to fill the space with products that don't quite fit. Below I share practical small closet organization ideas for homes and will help you maximize your coat closet space and decide what should go in your coat closet. All of these ideas are rental friendly so if you have an apartment or townhouse–please keep reading!
---
This article contains affiliate links, please read my full disclosure here.
---
Remove items from your closet and sort. Relocate what you don't use daily or weekly.Decide what you want to remove from the closet to declutter. Only store items you use daily or weekly in your coat closet. Consider placing items you want to relocate in containers in the garage, attic, or a closet in a different part of your home. If you find jackets and gear you no longer wear- sell or donate!
For our family I removed sleeping bags, winter snow gear (we live in NC where it doesn't snow often), the vacuum, a portable poker table, and roller skates. We moved our sleeping bags to an upstairs closet, snow gear went into a plastic storage container in the garage, and the roller skates and other sports equipment also moved to the garage.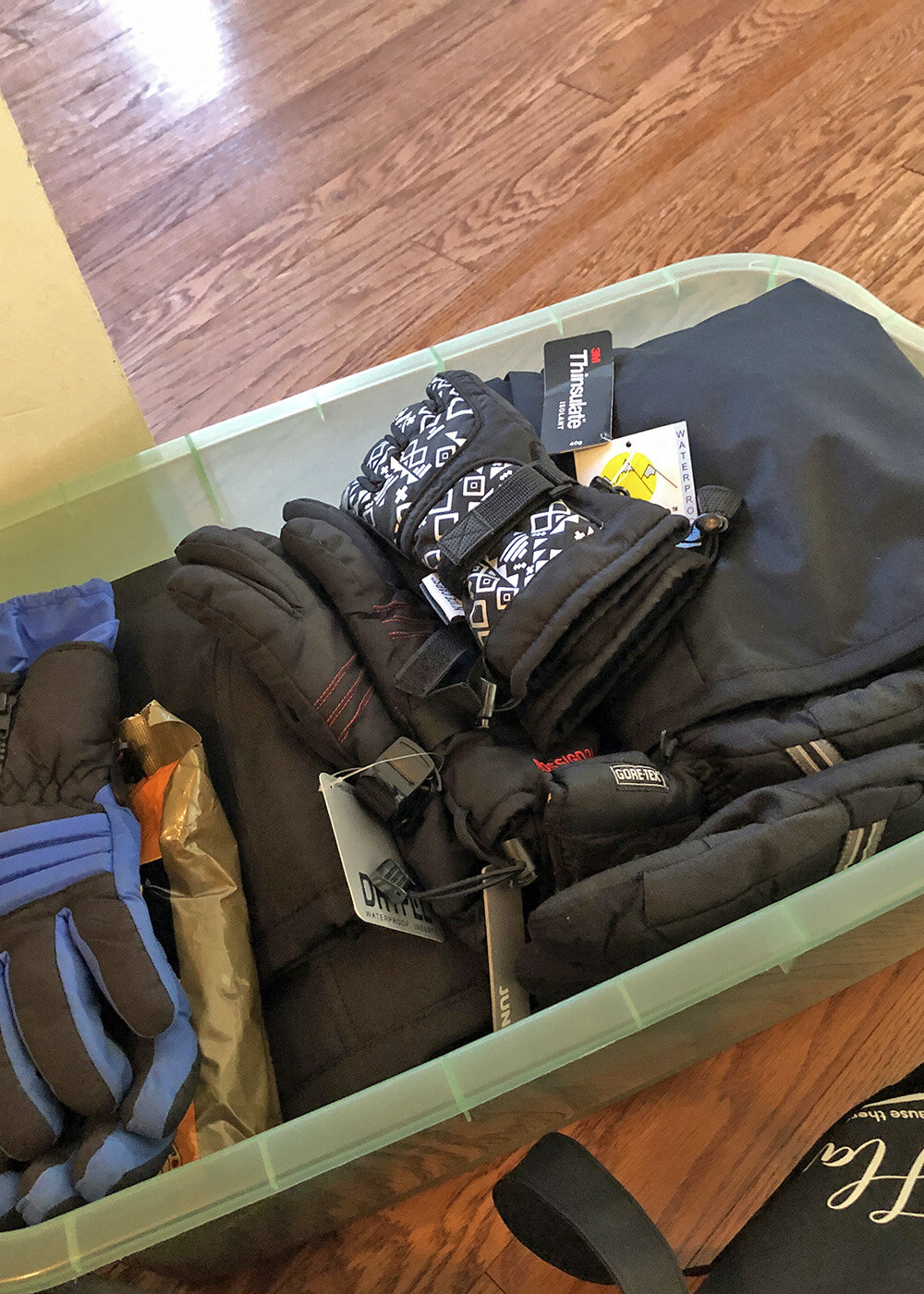 ---
2. Add a storage solution for boots and shoes.
Measure the width and depth of your hall closet to make space for a shoe rack. Consider the length of your coats and jackets when selecting a shoe rack's height, and how many pairs of shoes you want to store. I shopped online and in stores for shoe racks and found several options, but not many were made for tall boots.
Our family needed a dedicated space to store rain boots and our daughter's riding boots and helmet. On Amazon I purchased a birch plywood storage cabinet with 5 cubbies. At 36" wide the cabinet fits in our 41" wide closet with a few inches to spare, and stores all of our boots and riding gear.
If you want a more permanent solution, my friend Erin of the DIY Nuts designed helpful plans for shelving in a small coat closet.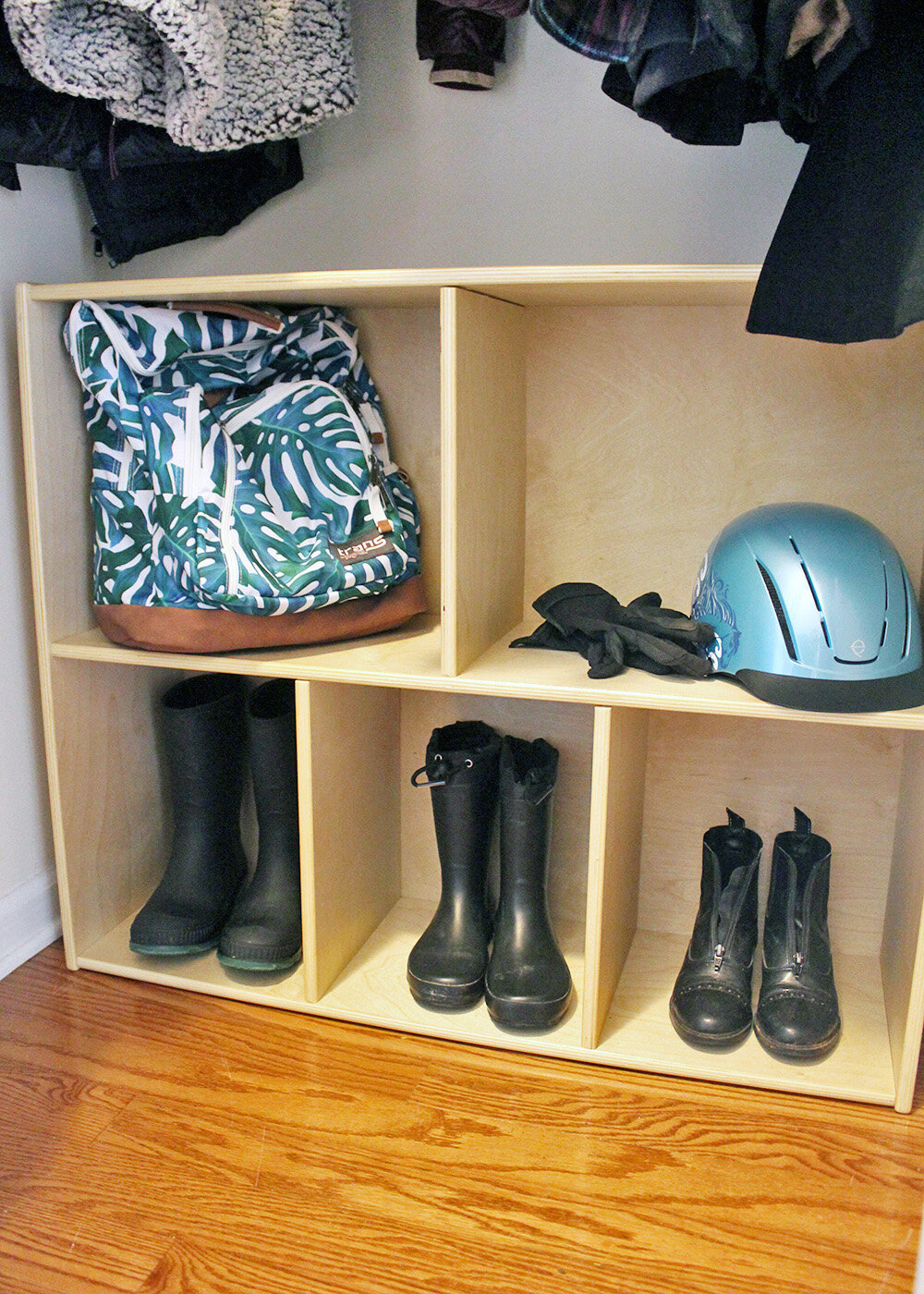 ---
3. Organize the Accessories.
Hall closets are a great spot to store gloves, scarves, and hats in winter. There are many closet door organizers available online and in stores. After using a shoe style organizer and ending up with a lot of empty slots, I ordered a gray pocket organizer with clear windows that hangs over the door.
Now each family member gets a few pockets for their hats & gloves and each pocket is easy to see through. When it gets warmer outside we will swap gloves and hats for goggles, sunscreen, and swim gear in each pocket.
---
4. Add Overhead Bins.
Many hall closets have a rod for jackets with a wire shelf on top. You can improve the functional space by adding storage baskets. Measure the width of your closet and the height above the jackets. Because overhead bins aren't as visually accessible they are a good solution for items you need weekly, but don't need access to daily.
The width of our closet is 41," so I added three basic 11" bins from Target. I purchased chalkboard hang tags and labeled them with our weekly needed items: Winter, Summer, and Travel. Other bin ideas include baby gear, workout gear, rain gear, and pet supplies.
---
5. Make the most of vertical wall space.
Utilize the vertical unused space in your closet. We used an accordion style wall coat rack (similar here) to hang easily accessible kids' jackets on one side of the closet. Other ideas for a vertical rack include storing dog leashes, umbrellas, and scarves.
---
6. Install a light in the closet.
In a dark closet it is impossible to find jackets and shoes quickly. If you don't have a light in the closet, they are easy to add without changing any wiring! We installed a battery operated, motion sensing light in our hall closet. It brightens the space and helps us spot boots and accessories faster (though I still hear frequently, "Mom I can't find my helmet!").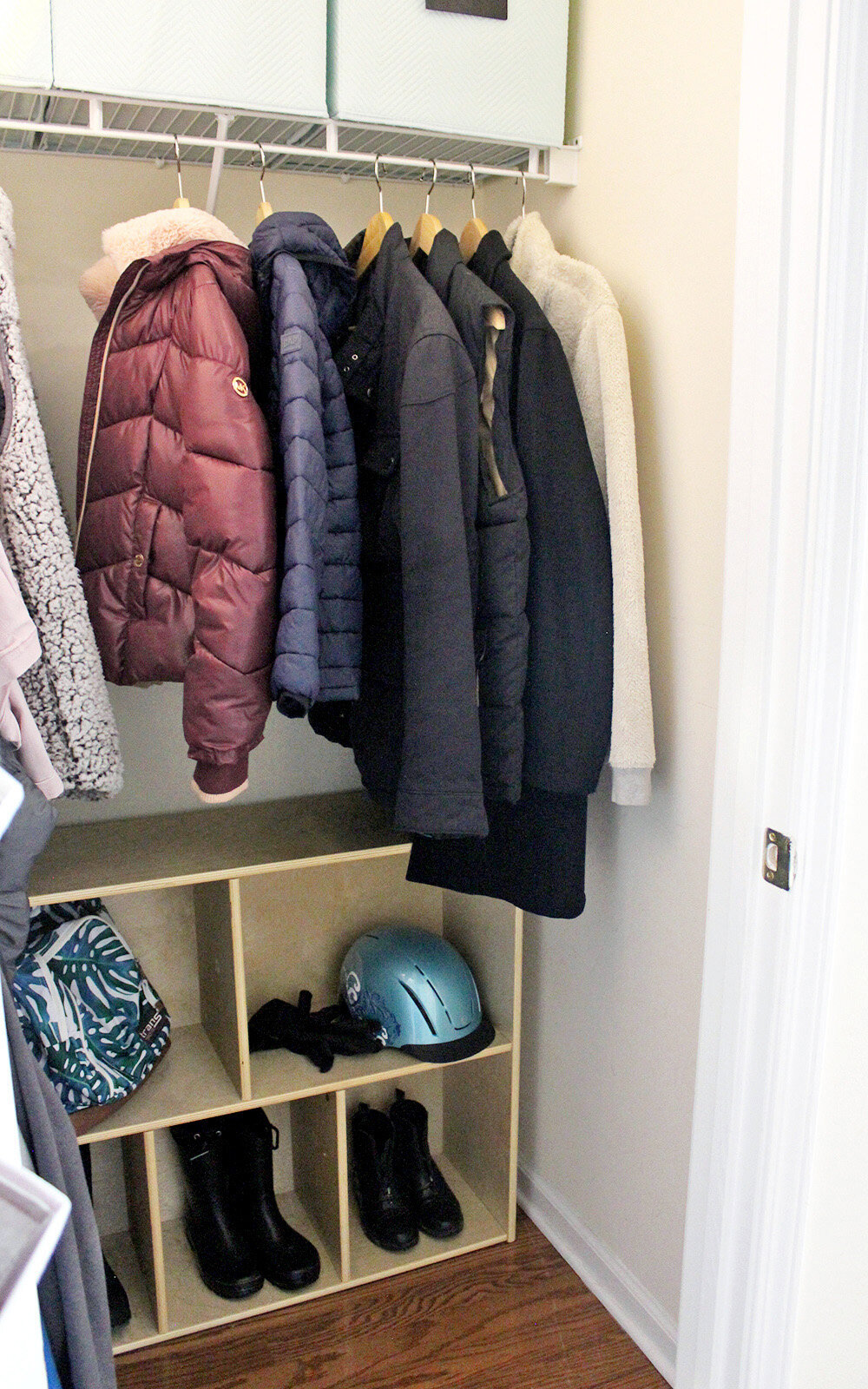 I hope this article gave you ideas for how to organize a small closet! In total I spent $176 on a birch plywood storage cabinet ($130), gray pocket organizer with clear windows ($16), and three fabric bins ($10×3) with tags.
Looking for more help organizing your hall closet? I do in person and virtual consultations related to styling and organization. More information here!