Faux Marble Contact Paper Tabletop
A few months ago we headed to our local Habitat Restore to find storage for all of our kids' craft supplies. We wanted the furniture piece to look like it belonged in our dining room, and we wanted hidden storage (mesh baskets are cute but hard to keep organized!)
We came across a vintage buffet style piece for about $40. It was in solid shape but the formica top had a lot of scratches and wear. We swiftly purchased and added it to our furniture family. For under $10 we added contact paper with a marble pattern to the top of our dresser.
This article contains affiliate links, please read my full disclosure here.
---
Marble Contact Paper Tabletop Supplies
-A flat surface
-Credit card or similar
---
Step 1
Measure how much contact paper you will need. Then gently peel back a bit of backing paper. Starting at a bottom edge gently press smooth to surface.
---
Step 2
Continue the process on flat top part of surface. I recommend pulling backing paper off slowly as you press down the contact paper.
---
Step 3
Use a credit card (or smoothing tool) to get a smooth surface without bubbles.
---
Step 4
Using the grid lines on the back of the contact paper, measure and cut a thin strip of contact paper for the front of the faux marble tabletop. Apply using steps 2 and 3.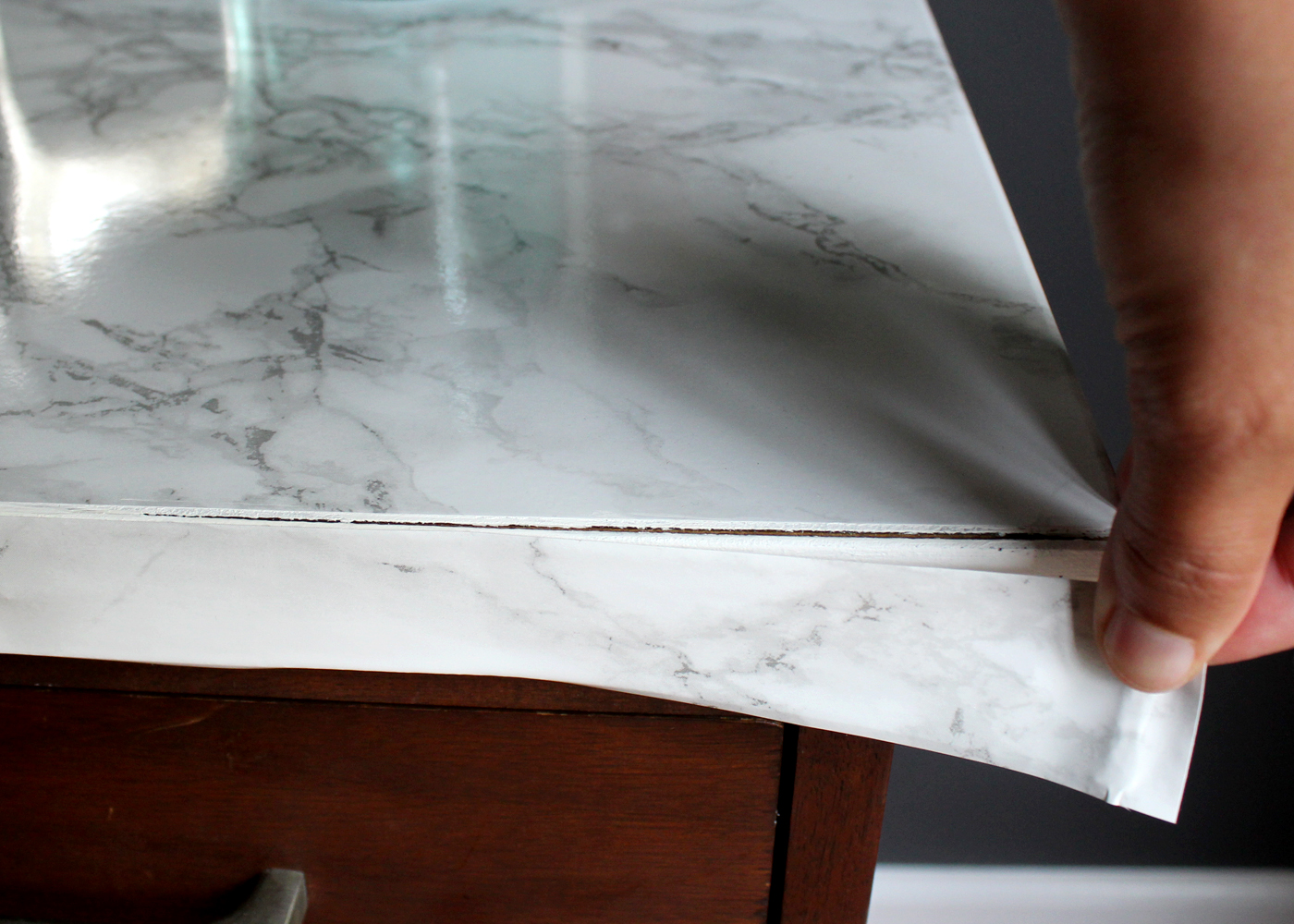 The result is beautiful and refreshes even the most dated furniture! I'm really happy with how the piece turned out in our space. The contact paper covered the formica scratches and lightened up the furniture piece. This faux marble tabletop project took under $10 and can be completed in about 30 minutes.
Let me know if you decide to try it, I would love to see a picture!