How to Make a Modern Faux-Succulent Wreath
Do you put wreaths on your front door? I grew up in the Southeast (Beaufort, South Carolina and later near Savannah, Georgia) and wreaths on the front door are just about as polite as offering iced sweet tea to unexpected visitors. They symbolize a cheerful "hello!" to guests.
I made a cotton wreath for Charlotte Home+Garden in December, and later a copper heart wreath (that stayed on our front door wayyyy past Valentine's Day!). This time I wanted to add something that could stay out in the spring and summer months. Modern but still welcoming.
I happened across faux succulents at Hobby Lobby a few weeks ago and knew they would work perfectly for the project! Read below for the supply list and a simple tutorial!
---
Faux Succulent Embroidery Hoop Wreath
+ 4-5 sprigs of faux succulents (affiliate link)
+ 18″ embroidery hoop (affiliate link)
+ Stain with brush (optional)
+ Cloth Ribbon
// Tips
If you select a color range of succulents the wreath will look more vibrant and less modern. If you go for all green with varying texture it will give the wreath a more modern feel.
Because the weight of the succulents is on the side, the ribbon will pull to the side. If you prefer the ribbon in the middle, decorate succulents along bottom center of wreath!
---
Step 1:
Using a painter brush stain all sides of the embroidery hoop. Air dry for about 30 minutes.
---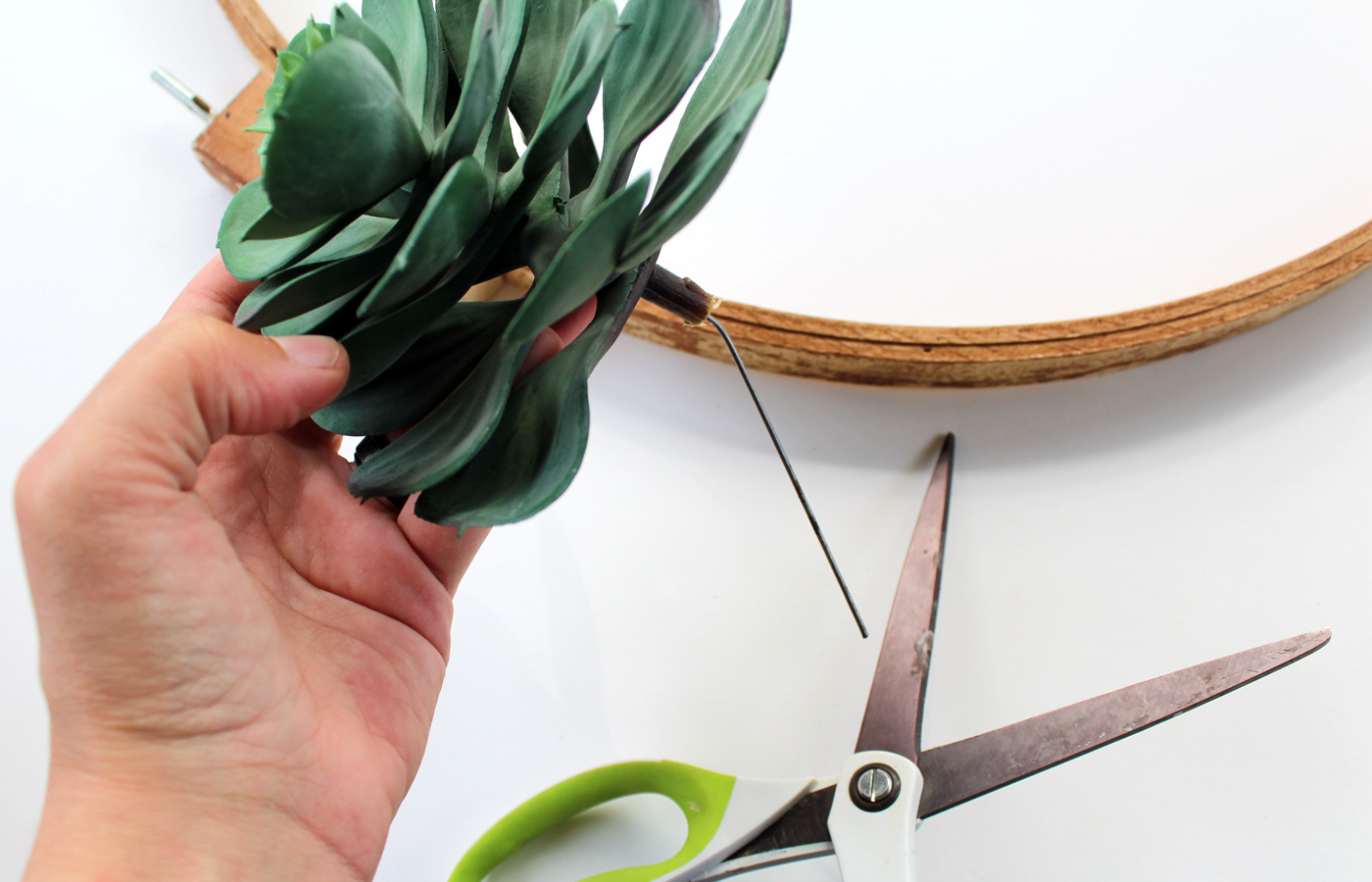 Step 2:
Using scissors cut plastic stem off close to base of plant, leave metal wire intact. Repeat for each succulent.
---
Step 3:
Starting with the largest succulent wrap wire around embroidery hoop, covering up screw closure area. Repeat with smaller succulents and arrange in a cluster.
---
Step 4:
Add ribbon to top of wreath and hang on door!
---