DIY Fall Wreath Dollar Tree
This article explains how to create a cheerful fall wreath with Dollar Tree supplies for $15. This autumn wreath was made with an orange ribbon, turquoise velvet ribbon, dark faux berries, wood squirrel, and wreath form. Scroll down for the supply list and step by step directions for how to create your own dollar store fall wreath for your front door.
Why DIY a Wreath?
Seasonal wreaths are often expensive. Autumn wreaths at World Market and Target typically cost between $30-45. This wreath is budget friendly and was made for only $15, and can be made for $10 if you already own craft paint and glue.
Designing and crafting a wreath is fun! By making your own wreath you can customize colors and texture to match your door and decor. This wreath design uses a squirrel on the front, but you could easily change that to an acorn or pumpkin.
A variety of Fall craft supplies found in store at Dollar Tree including pumpkins, ribbon, paint, rope, small and large berry sprigs
---
DIY Fall Wreath Dollar Tree
Supply List
14" Metal Wreath Ring $1.25
Orange Ribbon-3yd to wrap wreath $1.25
Velvet Ribbon-1 yd to tie bow- 1 yd to tie bow $1.25
Dark Red Berry Sprigs- 2 packages $2.50
Tic Tac Toe Squirrel & Acorn MDF pieces $3
Acrylic Paint (White Black, Orange) $3.75
Paint Palettes (set of 6) $1.25
Tacky Glue $1.25
Hot Glue Gun (optional)Wreath Supply Total $15.50
*If you already own glue and paint you can make this fall wreath for under $10.
How to Make a Fall Wreath Step by Step with Pictures
---
Step 1: Tightly wrap the wreath ring with orange woven ribbon
Use a spool of at least 3 yards to tightly wrap ribbon around the whole wreath. Overlap the ribbon slightly as you go around the wreath.
---
Step 2: Glue the end of ribbon to back of wreath
Use tacky glue or hot glue to adhere woven ribbon end to back of the wreath. Press gently until secure.
---
Step 3: Tie velvet ribbon in a knot to orange wreath
I opted for a knot instead of a bow since I was working with 1 yard of velvet ribbon. A knot also gives you a flat spot on the front of the wreath to attach the squirrel decorative piece in step 7.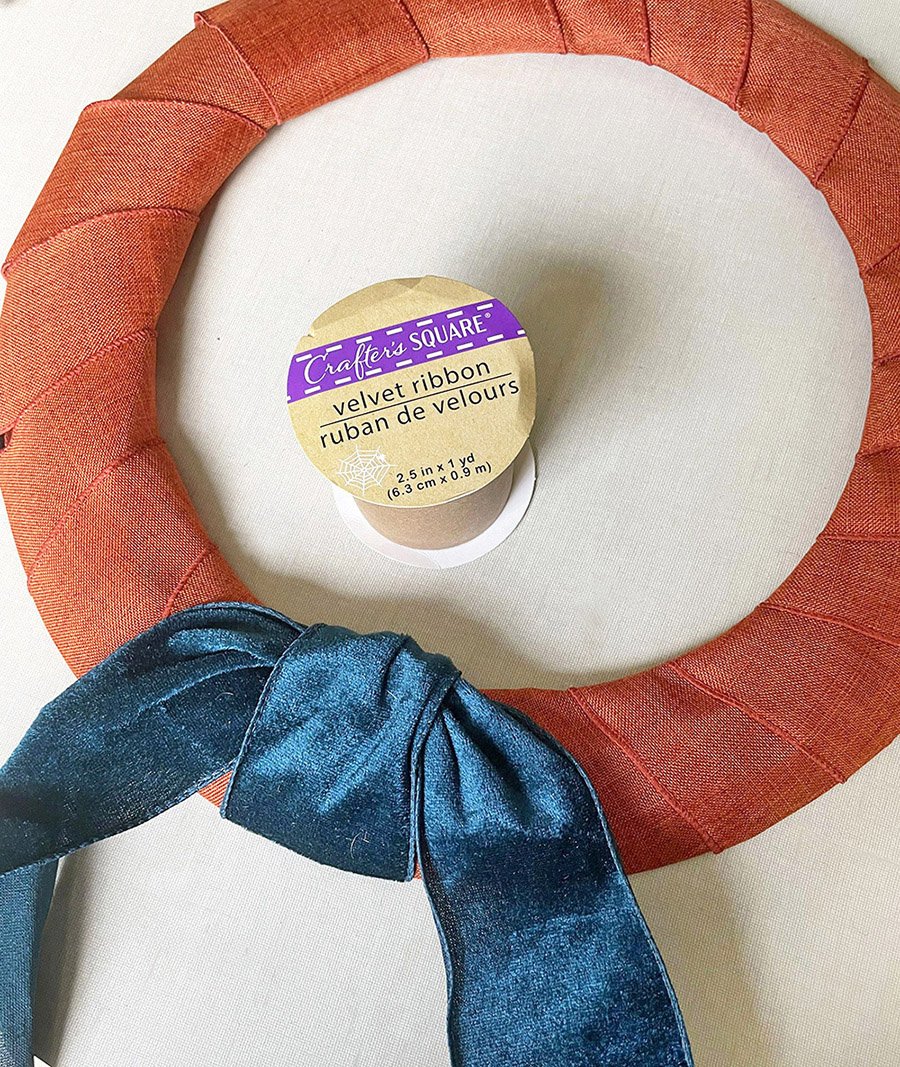 ---
Step 4: Slide berry sprigs into wreath
The wreath ribbon should be tight enough to secure berry sprigs underneath the edge of ribbon near the velvet knot, but if needed you can also secure the berries using hot glue. I also purchased smaller berries, but they fell apart easily and decided to just use the larger, more sturdy berry sprigs.
---
Step 5: Paint mdf squirrel from tic tac toe set
I painted the mdf squirrel brown using a mixture of orange, black and white paint. Allow to Dry. The tic tac toe set also comes with acorns, an acorn can be used on the front of the wreath instead of a squirrel.
---
Step 6: Hot glue or use tacky glue to secure velvet ribbon knot in place on wreath
This step will strengthen the velvet knot so the squirrel craft piece will stay in place when it is glued on in step 7.
---
Step 7: Hot glue squirrel to velvet knot on wreath
Gently press down on the squirrel craft piece until glue sets and is secure. Your new wreath is now ready to hang!
DIY wreaths are easy to make, perfect for beginners, and budget friendly. All supplies used on this wreath were from the dollar store fall decor section (with the exception of the glue gun I already owned).I used a wire wreath frame, colorful ribbon, faux berry sprigs, and a mdf painted squirrel for a one of a kind wreath for my front door.
You could easily modify the colors and change the squirrel to a different shape like a pumpkin for a different look. You could even follow the steps this winter with different colors and create a holiday wreath.
I hope this wreath tutorial inspires you to make your own!
Pin this post for later!
In the mood to craft more wreaths? Check out these designs:
How to Make a Cotton & Berry Wreath
Air Plant Wreath with Seashells on Grapevine Wreath