Holiday Birch & Glitter Cloche DIY
This is a sponsored conversation written by me on behalf of Hobby Lobby. The opinions and text are all mine.
I love to create my own holiday decor! There is something to personal and warm about homemade crafts. And I also think it is really important for the DIYs to be simple to make. Bonus points if they are versatile! I am so excited to share this craft project with you today because it is both simple and versatile! Wood slices are easy to work with, come in a variety of shapes and sizes, and add instant warmth to a space.
For this DIY project I designed a home decor craft that can be used during Autumn and Christmas by flipping over the wood slices to the current season. The glitter adds a fun sparkle, and with simple ingredients like glitter & glue this would be a fun weekend craft to do as a family.
Cloche is French for "bell" and is typically used to describe a glass cover used to protect plants. In this craft I have chosen to cover flameless candles for an extra holiday sparkle. Scroll down for step by step directions with a supply list!
---
Supply List
3 Woodpile Birch Coasters
Glass Clock Domes, Two 3″ x 5″ and One 2″ x 3″
Gloss Mod Podge
2 1/4″ Mod Podge Brush or Paint Brush
Ivory LED Flameless Pillar Candle Set
Extra Fine Glitter, Disco
Extra Fine Glitter, Copper Penny
---
Step 1
Apply a thin layer of Mod Podge with a brush over entire face of wood slice. Wipe off any excess glue on sides of birch wood slice.
---
Step 2
Shake white disco glitter on wet glue, gently shake off any excess glitter onto scrap paper.
Tip: I chose white glitter because I love neutral Christmas decor. But if you'd prefer more color, try using green or red glitter!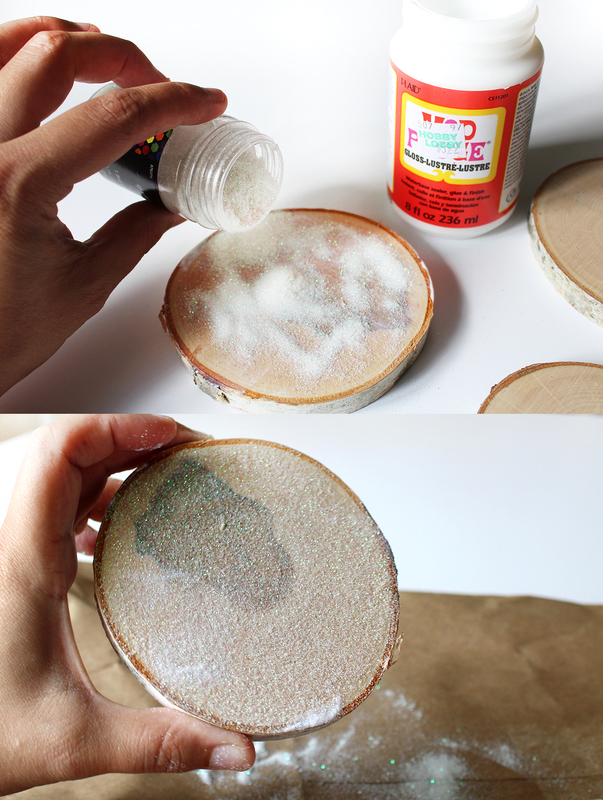 ---
Step 3
Repeat glue & glitter steps for each birch wood slice. Allow wood slices to dry for at least 30 minutes.
---
Step 4
Gently flip each wood slice so that the white glitter side is face down.
---
Step 5
Brush on a layer of glue to each wood slice top. Shake on copper penny glitter. Gently shake off excess glitter. Repeat glue & glitter steps for each wood slice. Allow glue to dry for at least 30 minutes.
---
Step 6
Gently place each LED flameless candle on center of each wood slice. Then place a glass dome over each candle. The shorter 2″ x 3″ dome will go over the smallest flameless candle.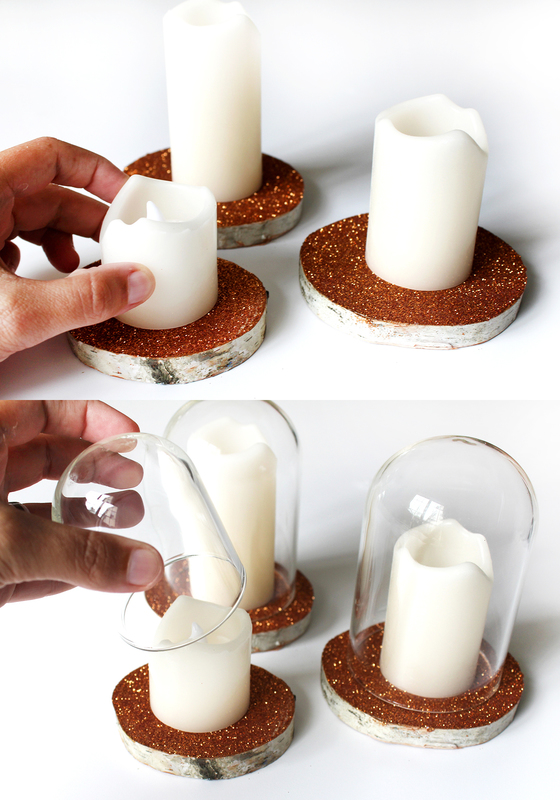 Add a few favorite Autumn decor accessories along side your Autumn cloches and enjoy with the flameless candles on or off!
Decorating Tip: I accessorized my Autumn Birch cloches with these brown & copper pinecone ornaments.
When Autumn transitions to Winter, simply remove the glass dome & flameless candles for a few minutes. Flip over the copper penny side to white. Place candles & glass domes on the white wood slices. Add a few favorite Christmas accessories or ornaments along side the cloches.
Decorating Tip: I accessorized my Christmas Birch cloches with this metallic acorn cluster ornament and a reindeer ornament.
Visit your local Hobby Lobby to buy supplies and recreate these birch & glitter holiday cloches! They are are a fun and easy weekend craft the whole family will enjoy.