Make This Air Plant Wreath with Seashells
I needed a new wreath for our front door, and wanted to go with something light & airy for spring through summer. I ended up mixing faux air plants with seashells we've collected at the beach on a disk style wreath. I made the wreath for $25—its modern and fresh, and something I can keep up from now through the end of August.
When I design a new wreath I go to a craft store and wander around for an hour. I lay out options on the floor of the store until I'm happy with the general look and price point of the supplies. Then when I get home I lay everything out and play around with the design until it has the feel I want!
Scroll down for details on how to make this air plant wreath with seashells, and instructions on how to hide a wreath hook with ribbon!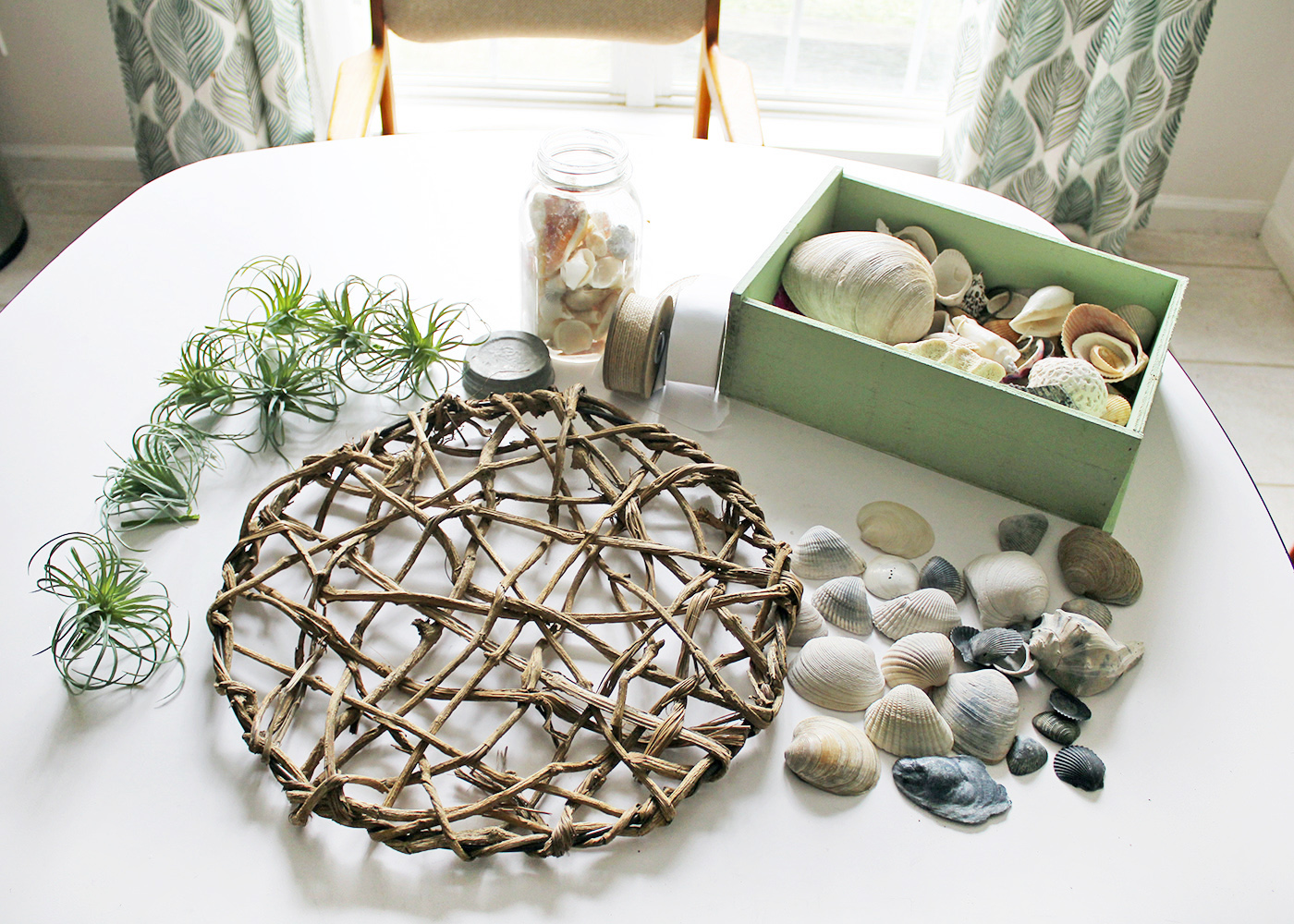 This article contains affiliate links, please read my full disclosure here.
---
Faux Air Plant Wreath with Seashells
Supply List
-15" Vine Disk Wreath
$7.19 (after 40% off coupon)
-5 Faux Air Plants
$14.95 ($2.99 x 5)
–White Grosgrain Ribbon
1 roll for $3.49
-Various Seashells
(already owned)
-Wreath Hook & Tape
(already owned)
Wreath Total:: $25.63
---
Step 1: Attach an air plant to the bottom of the vine disk (at a 12 o'clock position) by twisting the wire until secure.
---
Step 2: Attach second air plant to the right side of the vine disk at a 3 o'clock position, twisting wire until secure on wreath.
---
Step 3: Attach the remaining 3 air plants between the first two faux plants (see image below).
---
Step 4: individually wedge 4 seashells above faux air plants.
If you are concerned about the shells' security on the wreath you could hot glue them to the vine disk. Personally I skipped gluing because I'm lazy about that kind of thing-haha. The air plants also help hold the shells in place.
---
Step 5: Hang the air plant wreath on a wreath hook. Then take a long piece of ribbon and wrap it in front of the hook (see image below).
---
Step 6: Use a thin piece of tape to secure ribbon to top of door.
Our door closes without a problem when ribbon is attached to top of door. Covering the hook will work best with thin ribbon & tape.
This faux air plant wreath with seashells was easy to make (less than 30 minutes) and didn't require any glue. It is modern with a touch of coastal, and it can stay up on my door all summer long. And at $25 in supplies it wasn't expensive to make.
Do you make your own wreaths? It is a fun hobby!
A more traditional design
If you are looking for a more traditional wreath design, you could purchase 2 more faux air plants and stagger seashells with air plants around the outside of the wreath. Have fun with it. Happy designing!