10 Unique Backsplash Ideas For The Kitchen
A few months ago we replaced our original laminate countertops with leathered granite, and next we plan to install a backsplash in our kitchen. We want to avoid the high install cost of a traditional backsplash and are exploring all the creative options.
In this article I answer why a backsplash is useful in the kitchen, how to narrow down which backsplash to choose, and give suggestions for easy install backsplashes. In this article I also share 10 inspiring kitchen backsplash ideas: everything from sharpie to peel and stick, copper to faux brick.
---
Why is a backsplash necessary in a kitchen?
Backsplashes are not 100% necessary in a kitchen (for years we had a short 4" laminate backsplash in our kitchen), but backsplashes are useful and visually appealing. They protect walls from cooking grease, soap, and food splatters in the kitchen—especially behind the stove and sink. And a backsplash also protects walls from moisture.
How do I choose a kitchen backsplash?
Before deciding on a specific material or design, define your budget and how long you plan to enjoy the backsplash (is it a temporary or long term solution?).
Next define the look you want to achieve. Do you want a bold & colorful look or something neutral and understated? I use Pinterest to save favorite kitchen images before selecting colors and materials. Subway tiles are popular and easy to wipe down, but you could also install an alternative material like wood planks or faux brick with a glossy, wipeable paint finish.
What is the easiest backsplash to install?
If you want to DIY install a backsplash consider what tools you are comfortable using. Have you installed tile in the past? Installing a subway tile backsplash could be a good fit. Do you have experience with a saw? Installing wood planks could be a simple install. If you want to avoid power tools, add a peel & stick backsplash. Peel & stick backsplashes are affordable, install in a few hours, and can be cut with a utility knife.
Does backsplash have to match countertop?
If you are adding a new countertop to your kitchen (for example, granite or a solid surface) you can request to have the same material added as a backsplash. But as a designer, I would recommend adding a different tile or material for your backsplash. Generally you do want the colors of your backsplash and countertop to complement each other. For example if you have a white kitchen with a white carrara marble countertop, you could install a grey or white toned backsplash. Or try a bit of color and make the backsplash a focal point in the room!
---
10 Inspiring Backsplash Designs
This blogger got permission to paint her rental kitchen with a sharpie pen. The sharpie drawn design adds style to the room, compliments the white cabinets, and makes this modern kitchen bright and cheerful. This is a great idea for apartments!
---
While I am fairly certain this is a traditional tile backsplash, you could achieve a similar look by installing peel and stick Moroccan tiles. This design really compliments the white cabinetry.
---
3. Fish Scale Tiles | Image Source: House Beautiful
Adding a similar green tile to your kitchen would give the space color and a focal point, and the gray grout compliments the stainless steel appliances.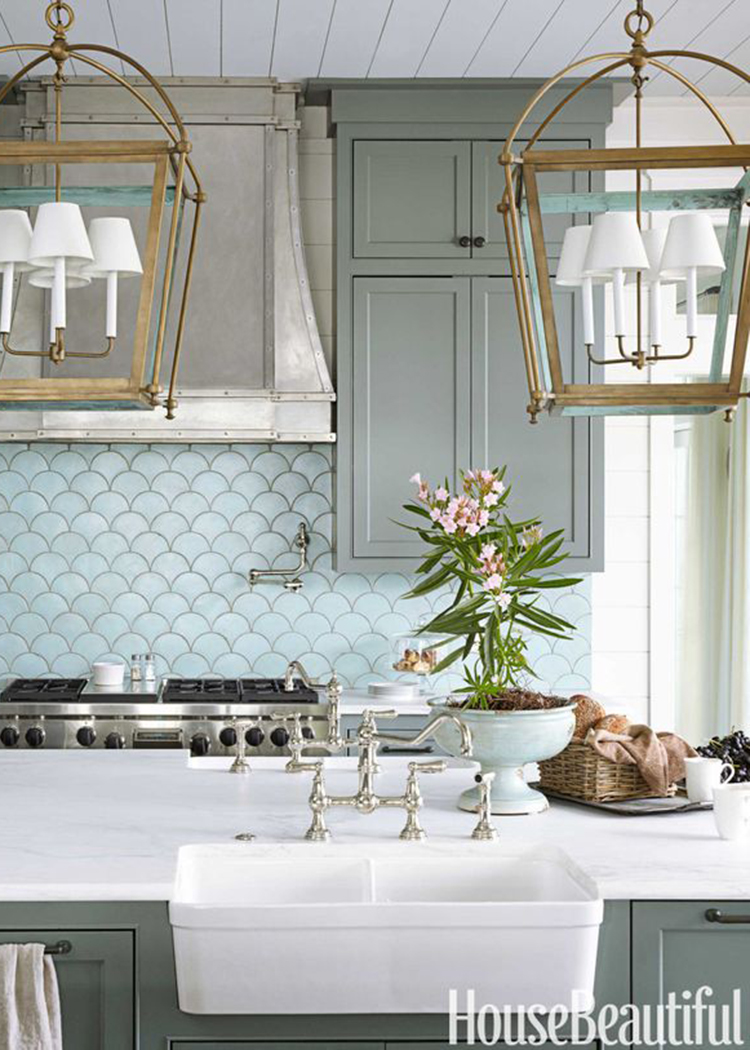 ---
A metal sheet product like brass bounces light around the room and gives the space a truly classy look, it is stunning in Cameron Diaz' Manhattan home.
---
When it comes to peel and stick tile there are a range of options. This kitchen features a glass tile backsplash (no mortar but you still have to cut the glass). We installed a flexible peel & stick tile in our kitchen that only required a utility knife to cut the material.
---
Wallpaper can be a beautiful option in a kitchen, and there are endless style options. When selecting wallpaper keep in mind that a backsplash area is relatively small. The repeating pattern should be small so you can see the wallpaper design on the wall. I recommend applying a varnish over the wallpaper to make it waterproof near the sink and oven.
---
7. Copper tiles | Image Source: HGTV Smart Home
This copper tiled wall is a fun alternative to traditional white subway tiles and goes well with the modern range hood.
---
On a small budget? Wood planking gives a kitchen a rustic beach look and is a fraction of the price of installing a traditional backsplash. You could also achieve a similar look using reclaimed wood or barn wood.
---
Subway tile backsplashes are the standard in kitchens. Change the layout of subway tiles into a herringbone pattern for a fun backsplash design. You could achieve this look using budget friendly ceramic tiles.
---
Faux brick is another small budget friendly backsplash idea. Most home improvement stores carry faux brick as a sheet material and you can paint it to your favorite color (cover the faux brick with a high gloss paint for easy wiping).
I hope this article helped you decide how to pick a backsplash, and inspires you to think creatively for your backsplash update project! Did you find a favorite kitchen backsplash idea? After researching all our small budget options, we installed a peel & stick faux subway tile in our kitchen for under $125.