How to Make a Planter From a 5 Gallon Bucket
Hey you guys!! I'm finally getting around to gardening this year. A few strawberries popped up in our raised bed again, and we still have herbs. But I bought two new tomato plants and a pepper plant. This will be our third year growing tomatoes, and every year I learn something new…
I like to grow our tomatoes and peppers in containers so I can move them around to adjust sunlight, ect. And while I could have gone out and purchased new planters for this project, I prefer to upcycle things when possible (and save a few dollars!)
We had a set of 5, 5-gallon buckets stacked in the corner of the garage. Which piqued my interest. I managed to get 3 to try out my planter experiment and I'm thrilled with how they turned out!
Scroll down for a list of supplies you'll need to make your own 5-gallon bucket planter with step by step directions. I promise these planters are easy to make!!
Below is a supply list for a set of three planters. Feel free to adjust your product list to make more or less planters! Note: this post includes affiliate links, you can read more in my disclosure.
---
DIY Garden Planter from a 5-Gallon Bucket
Supplies
3 5-Gallon Buckets (total cost: $8.91, if purchasing)
2 Cans of Outdoor Enamel Spray Paint. (total cost: $8.50)
Fine Sandpaper (I used 400 grit, already owned)
36 ft of Sisal-Style Rope, cut into three 12 ft pieces (total cost if buy per ft: $9.72)
Drill with 1/4″ Drill Bit
Your choice of rocks and high quality garden soil
-Total project cost for 3 planters: $27.13
-Price per planter: $9.04
---
Step 1
Remove the handles from each 5 gallon bucket by pulling on them until they pop out.
---
Step 2
Roughen up the bucket surface with a fine-grit sandpaper. Nothing fancy, just rub it down and brush off the dust after. This will help the paint adhere to the plastic bucket.
---
Step 3
Set your buckets out in a well-ventilated environment, preferably in a spot where you can spray the buckets from all sides.
---
Step 4
Spray paint each bucket with light coats, according to your spray paint can's instructions. Don't worry if the words show through after a coat or two! You will likely need 3 or four light coats for full coverage of the bucket.
---
Step 5
Allow paint to dry, and I recommend then flipping over the buckets face up to check for any spots you may have missed. Touch up with spray paint.
*Note: I chose not to spray paint the interior of my buckets because I was concerned with spray paint interacting with gardening plants.
---
Step 6
Now for the fun part! Wrap a 12 ft piece of rope around the top diameter of the bucket, just inside the outer lip. You could be fancy and glue the ends to the bucket, but I'm a lazy DIYer and chose to tuck each rope end into itself.
It makes for 1 "ugly side" but 3 pretty sides. And I'm good with that.
---
Step 7
Drill 1/4″ holes in the bottom of each planter bucket. This will help the soil drain properly.
---
Step 8
Fill your planter buckets with gravel or lava rock (optional) then gardening soil. Then add your plant! And take a step back to admire the lovely planters you've upcycled!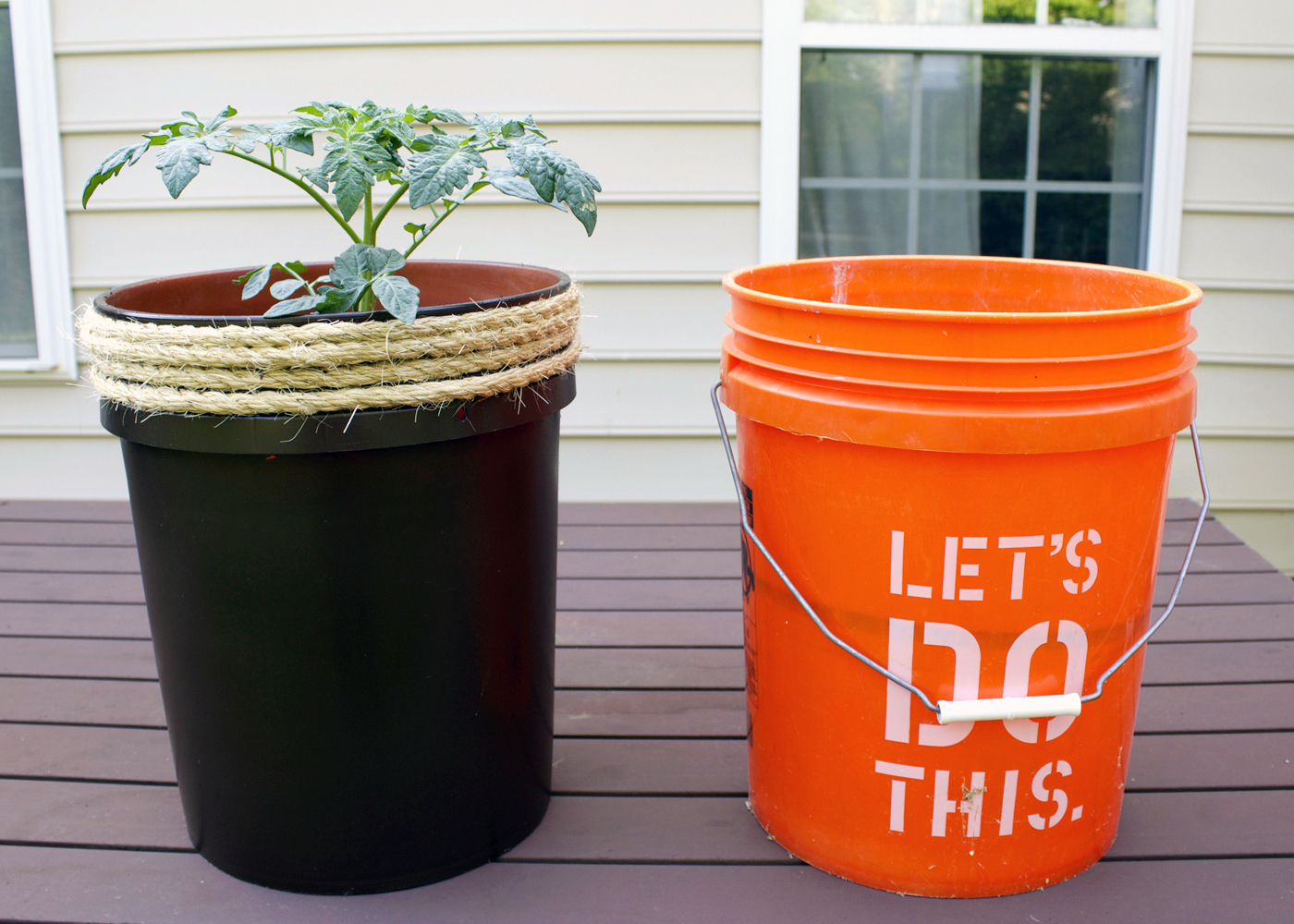 End of Summer Update
We really enjoyed our 5-gallon upcycled planters this summer and got a good bit of tomatoes from them! We did add stakes to the pots as the plants grew.
The rope mildewed in the rain–we went with its rustic look. But as an alternative you could try adding nylon, polyester, or polypropylene rope as an alternative to the sisal.