DIY Small Laundry Closet Makeover on a Budget
A laundry room closet is an enclosed space that houses a washer and dryer, useful for homes and apartments with a small square footage. While practical for small spaces, laundry closets do not provide much space for storage. This article shares seven practical hallway laundry closet ideas for maximizing space and adding character.
When I moved into my home a few months ago the laundry closet was the first space I tackled. I considered installing a front load washer and dryer but found them to be deeper than a traditional top load washer. And when you have a small laundry room, every inch counts.
Scroll down for tips on adding character and functionality to a small laundry closet. As a bonus, each of these laundry room ideas are rental and apartment friendly!
This article contains affiliate links, full disclosure here.
my laundry closet, before!
---
7 Laundry Closet Makeover Ideas
Install Peel & Stick WallpaperPeel and stick wallpaper is an easy way to add personality to a room on a small budget. When selecting wallpaper I recommend buying from a reputable brand or a product with a decent amount of reviews. You want a product that will be easy to remove when you redecorate or move. I also recommend using wallpaper smoothing tools when installing the paper in a laundry room.It was my first time working with wallpaper, and with the help of my mom it took a few hours to install in the laundry closet. I purchased 2 rolls of this cheerful navy print, and ended up with plenty of leftover paper.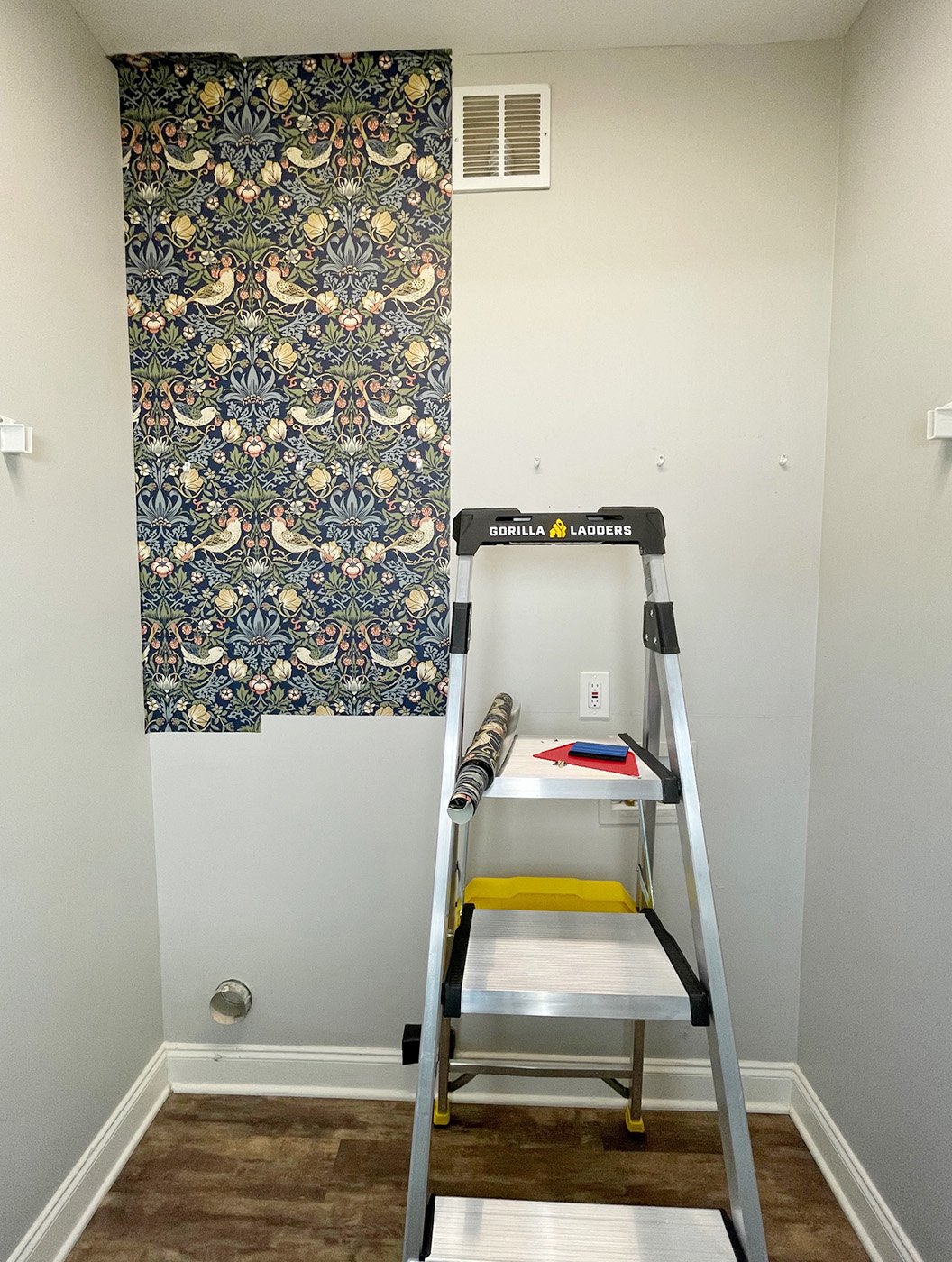 ---
2. If Doors Are In the Way-Remove Them!
Laundry closet doors can be cumbersome in a narrow hallway when several other doors are nearby, or due to the size of front load washers & dryers. Use a drill to remove hinges and store the doors in a closet, attic, or garage.
Label and group the hinges and screws together. Should you decide to reinstall the doors at a later date, you can easily reattach doors with hinges and screws using a drill.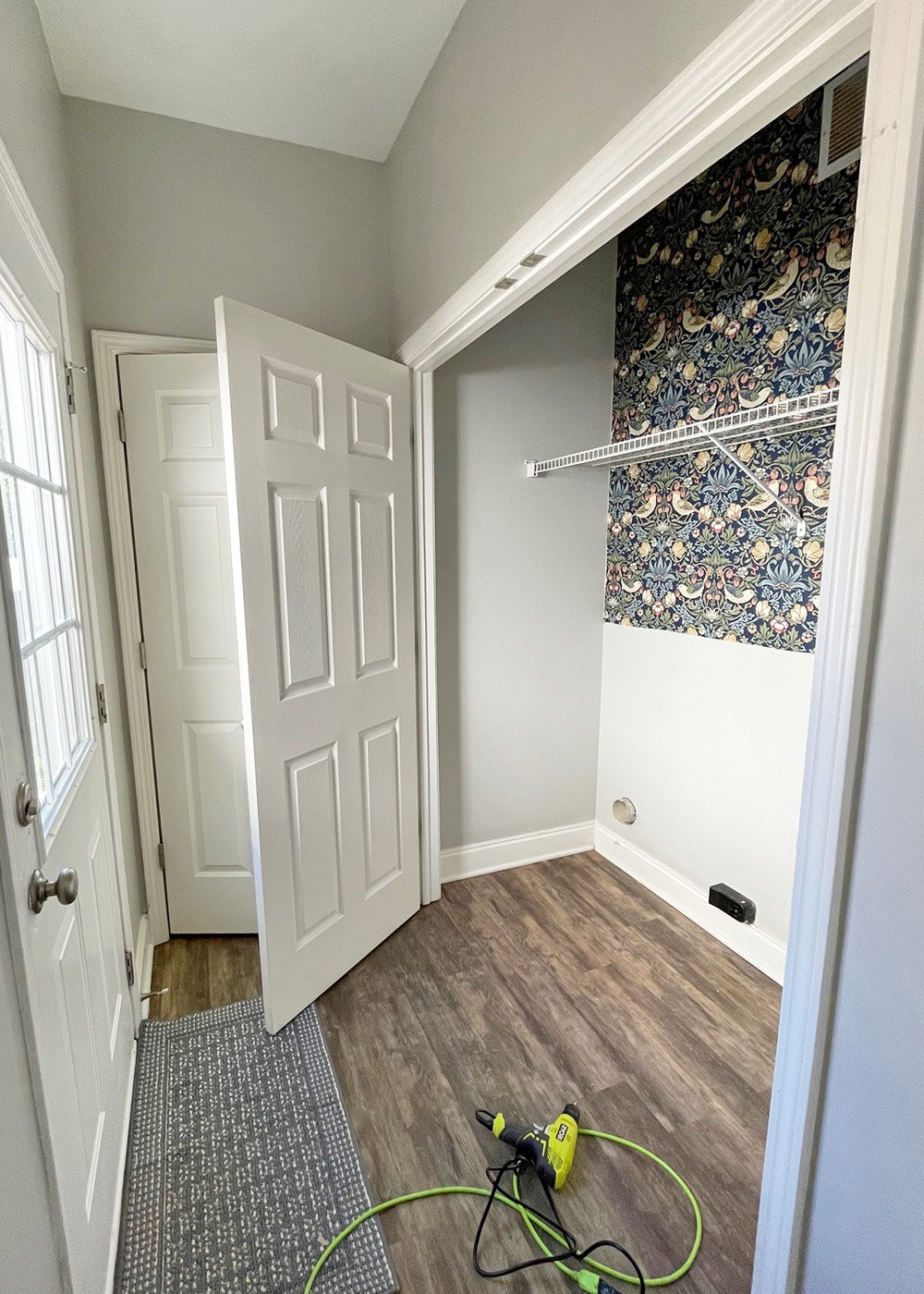 ---
3. Install a Removable Chair Rail
To save time and money, skip on installing wallpaper to the floor of the laundry closet. Most of the lower wall will be covered by the washer and dryer. To finish the bottom edge of wallpaper you can add removable chair rail molding.
I purchased white PVC molding at a local home improvement store and had it cut to size in store. I then attached several 16 pound picture hanging strips along the back of the molding. After making sure the molding was level, I pushed the hanging strips firmly against the wall.
My chair rail was installed 4 months ago with no adherence issues.
---
4. Add Door Hinge Covers
Often laundry closets are a tight space and it makes sense to remove the laundry doors (see tip #2). But the place where hinges lived are often left unpainted. And if you are renting you do not want to permanently cover where the hinges used to be.
To solve this issue I found metal hinge blanks on Amazon to cover where the door hinges were. They give the space a finished look and can be easily unscrewed when the doors need to be reinstalled.
---
5. Place Deep Floating Shelves Over the Washer and Dryer
Laundry closets often have a high wire shelf useful for items you need a few times a week. But a high shelf is not ideal for storing items needed everyday like detergent. For everyday use consider installing lower shelves near the top of your washer and dryer.
Home Depot had the best in store shelving options and I like the 12" depth. I purchased two 36" wide by 12" deep laminated shelves. I also purchased four white wooden shelf brackets to support the two shelves.
Complete transparency, the plastic drywall anchors included with the shelf brackets weren't very strong on the right shelf. I purchased larger drywall anchors for the left shelf and was able to find a stud for one side.
A bonus to extra shelving is space to decorate. I pulled pieces from around my home, and added a bowl for dryer balls.
---
6. Add Baskets to Wire Shelving for Extra Organization
Baskets help ensure small items won't fall through a wire shelf. If your laundry closet lacks natural light and your primary light source is from the ceiling, I recommend leaving some space between baskets so you don't block all light going down toward the washer & dryer.
Don't overfill your baskets, you don't want them overly heavy to pull down from a high shelf. I filled my baskets with light bulbs, emergency candles, and cleaning supplies.
---
7. Make the Most of Open Wall Space
In a laundry closet you don't have much floor space so use any and all of the vertical space you have. I have my ironing board, bag, broom on one side and a duster on the other. I attached my broom and duster to the wall using Command Broom & Mop Grippers. And I often slide a stool between my washer and dryer.
I really enjoyed making over my laundry closet. It is more functional than ever, and as a bonus it is pretty to look at. It makes laundry day much more enjoyable! Though honestly everyday is laundry day at my house. When you have a small laundry room it is so important to save space and use every inch of wall space you can!
---
Pin the article for later: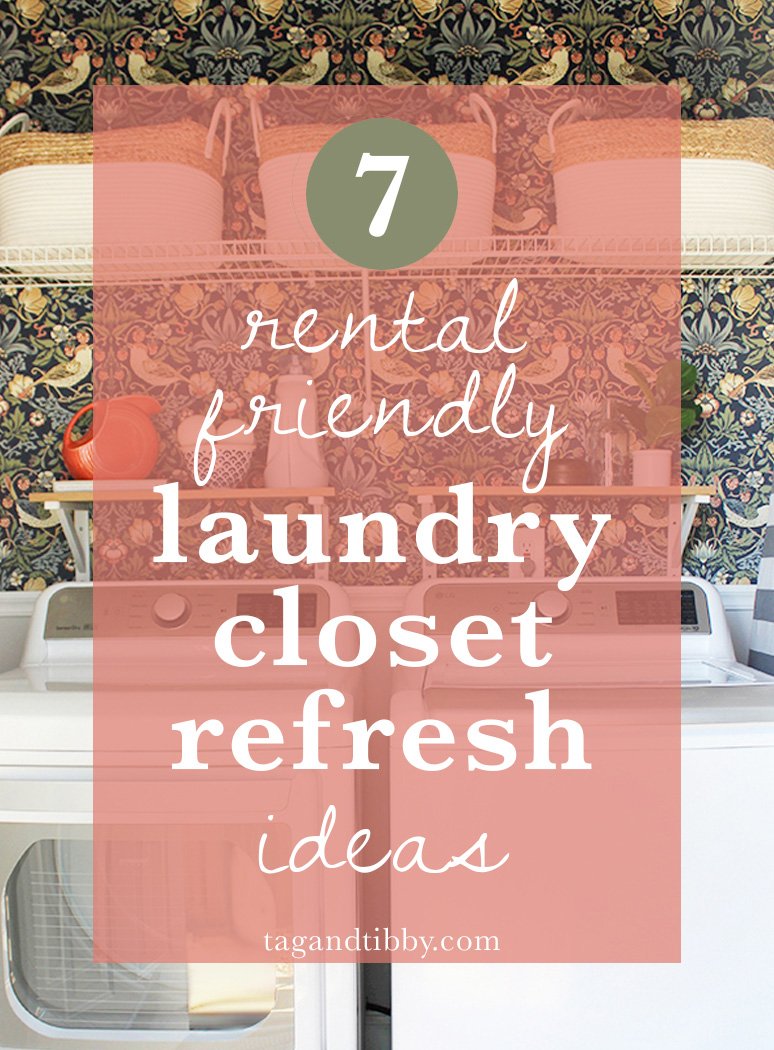 Now check out this article with 18 small laundry room makeover ideas!