12 Ideas for a Small Organized Laundry Room
Whether you have a small laundry closet, a stacked washer and dryer, or a laundry area in the basement—these tips will improve your laundry room organization.
Last year we changed our laundry room design. We took our time and thought through what storage solutions would work best in our small space. Below I will share some of the tricks that worked to make our space more functional—including double barn doors, collapsible clothes hangers, a rolling storage cart, and improving the lighting. Scroll down for 12 practical small laundry room ideas.
---
Our laundry room is from the 1990s and the layout is TINY. The space is roughly 62" wide and 66" deep. For four years we lived with a barely functional laundry space. We had no place to hang clothes or fold them, and the open wire shelves were cluttered with extra food from our pantry. Laundry was always backed up and the pedestals weren't used and took up too much space.
This article contains affiliate links, please read my full disclosure here.
---
Double Sliding Barn Doors We added barn doors to our laundry room because the hallway was cluttered with doors and it gave us better use of space in the hallway. Double barn doors also add presence and character to a small room, and can make it feel larger and more open.Get the Look: GRIMO Door ($30 each, IKEA) with Double Door Sliding Barn Door Hardware Kit $70, Amazon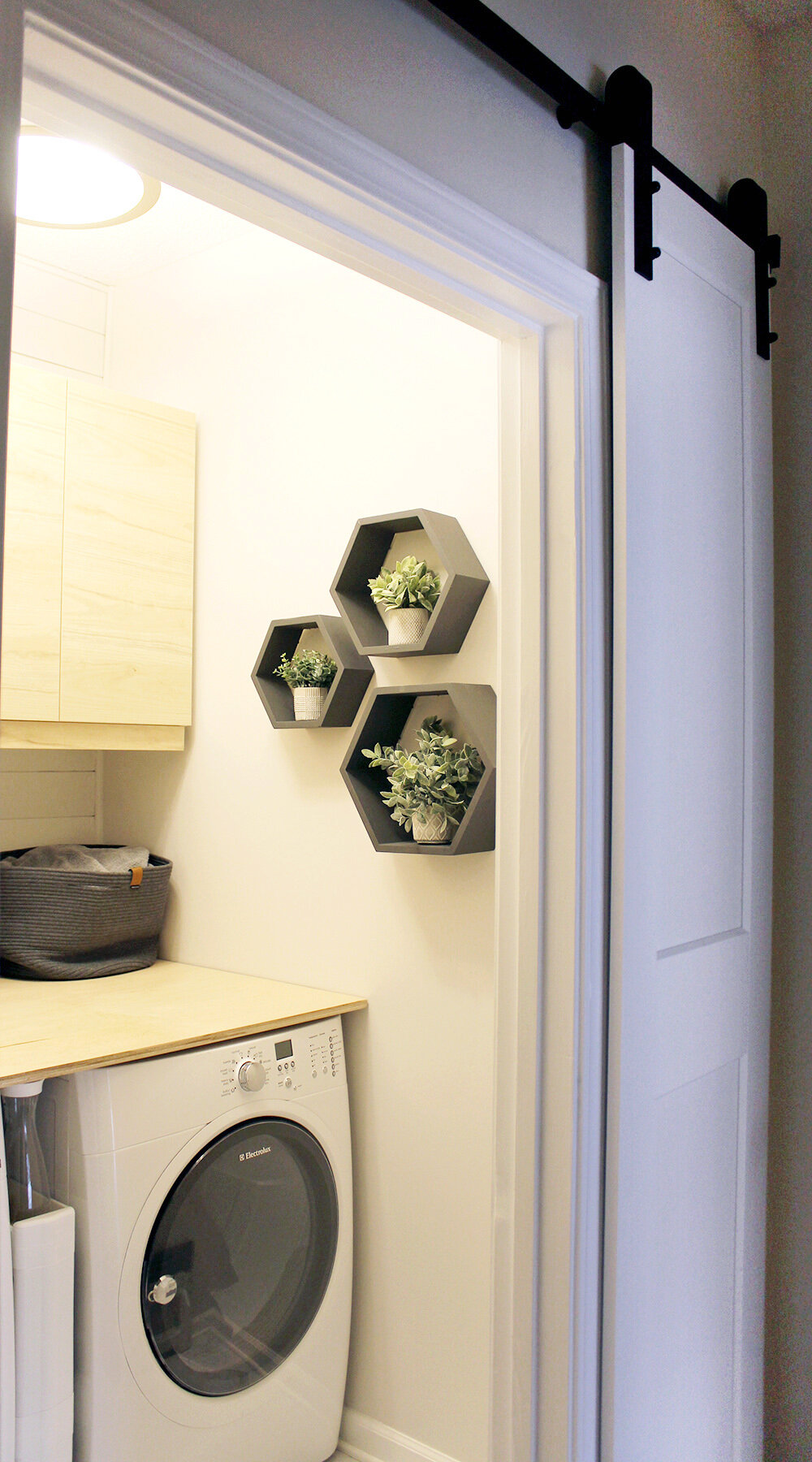 ---
2. Maximize Space with Collapsible Clothes Hangers
When you don't have much wall space hanging clothes can feel impossible. I recently discovered metal collapsible clothes hangers that fold when not in use. They easily hold at least 10 clothing items per hanger, take up very little wall space, and could work well in bathrooms and closets, too.
---
3. Install a Bright Light Fixture
Laundry room lighting is important-you need to see stains on dirty clothes and whether a shirt is wrinkled or ready to wear. Switching out our old light fixture with a strong, bright fixture immediately made our space more functional. If you can't switch the light fixture, check what max wattage the fixture can take, you may be able to swap the bulbs for a brighter LED light.
---
4. Squeeze in a Storage Cart
We slid our washer and dryer a few inches away from each other to make room for a narrow rolling storage cart. This three tier cart holds daily items including bottles of detergent (I keep detergent in juice containers so it is easy to pour), dryer sheets, cleaning wipes, and more. At just over 4" wide the cart creates great storage space.
---
5. Use a Light Paint Color
When you have a really small room that needs to function well, paint the space a light color. I painted our laundry room SW Eider White because it is a neutral white and a good match to our hexagon flooring. You can add personality in the space with pops of color and texture while keeping the walls light.
Get the Look: Paint Color SW Eider White, more here: 10 Best White Paint Colors
---
6. Keep a Folding Step Stool
To create countertop space we removed our washer and dryer from their pedestals. Honestly it was challenging to lean over to wash & dry clothes, so I purchased a 13" step stool.
Now I sit on the stool while removing clothes from the dryer up to the countertop. I also use it to access our cabinets over the washer & dryer. The stool is stored against the wall when not in use.
---
7. Install Storage Cabinets
Wall cabinets with doors will hide all the clutter. We use our cabinets to store emergency supplies, extra lunch boxes, and cleaning supplies. If you are renting and have wire shelves you can't replace, add baskets and bins to improve organization over your washer and dryer.
Get the Look: Askersund Wall Cabinets (2, 30×30"), IKEA
*Spent $379 for 2 cabinets, deco strip, hinges, suspension rail, and shipping
---
8. Create a Place to Fold Clothes
If at all possible give yourself a small space to fold clothes. Now that we have a countertop I sort clean clothes on top of the washer and dryer, then our kids carry their clean clothes upstairs (when I remind them!).
---
9. Maximize Vertical Space with Hooks
Small laundry rooms don't have a lot of wall space, but use what you do have! Take advantage of vertical wall space and add hooks. I installed hooks near our washing machine to dry off wet towels so they don't smell musty in the dirty clothes basket.
---
10. Remember the Dirty Clothes
If you install a countertop over your washer and dryer you will have room for laundry baskets. We use two baskets for dirty clothes and one for clean towels & sheets. If you don't have space near your washer and dryer, laundry bags are a good alternative and can be hung along a wall or on a door knob.
---
11. Be Smart with Decor
A functional space can have cute laundry room decor–faux greenery can go over cabinets, or artwork along the wall. But when you add decor to the space, make sure you and family won't bump into it while washing clothes.
Get the Look: Hexagon Floating Shelves, set of 3 $48 Amazon, painted gray with SW Peppercorn
---
12. Understand Space Limitations
No matter how much you maximize the organization of your laundry room, when working with a small space there will be limitations. Identify what is important to you in the room.
How often do you fold clothes? Iron? Hang up wet clothes to dry? Identify what you do and don't need to access everyday. In our home we iron every other week, so I moved our ironing board to the nearby garage.
Looking for more ideas for storage in the laundry room? Check out these 25 simple laundry room storage ideas by Karo of Craftsy Hacks!