7 Best Black Paint Colors By Sherwin-Williams
When it comes to black paint, there are a range of color options. Some black paint colors are a charcoal gray, some are navy-black, others have a warm brown tone. If you are researching shutter colors, trim colors, front door colors, or moody dark interior colors this article will help you narrow down the best black paint to complement your home (before you paint your front door!).
While I worked to capture each swatches' true color, the colors below are a digital representation and will vary some from the actual paint colors. The finish of your paint (semi-gloss, satin, and flat) will also impact how the color looks on your walls or exterior.
Scroll down for more information about each black paint color with swatches and examples of colors on doors, shutters, and interiors.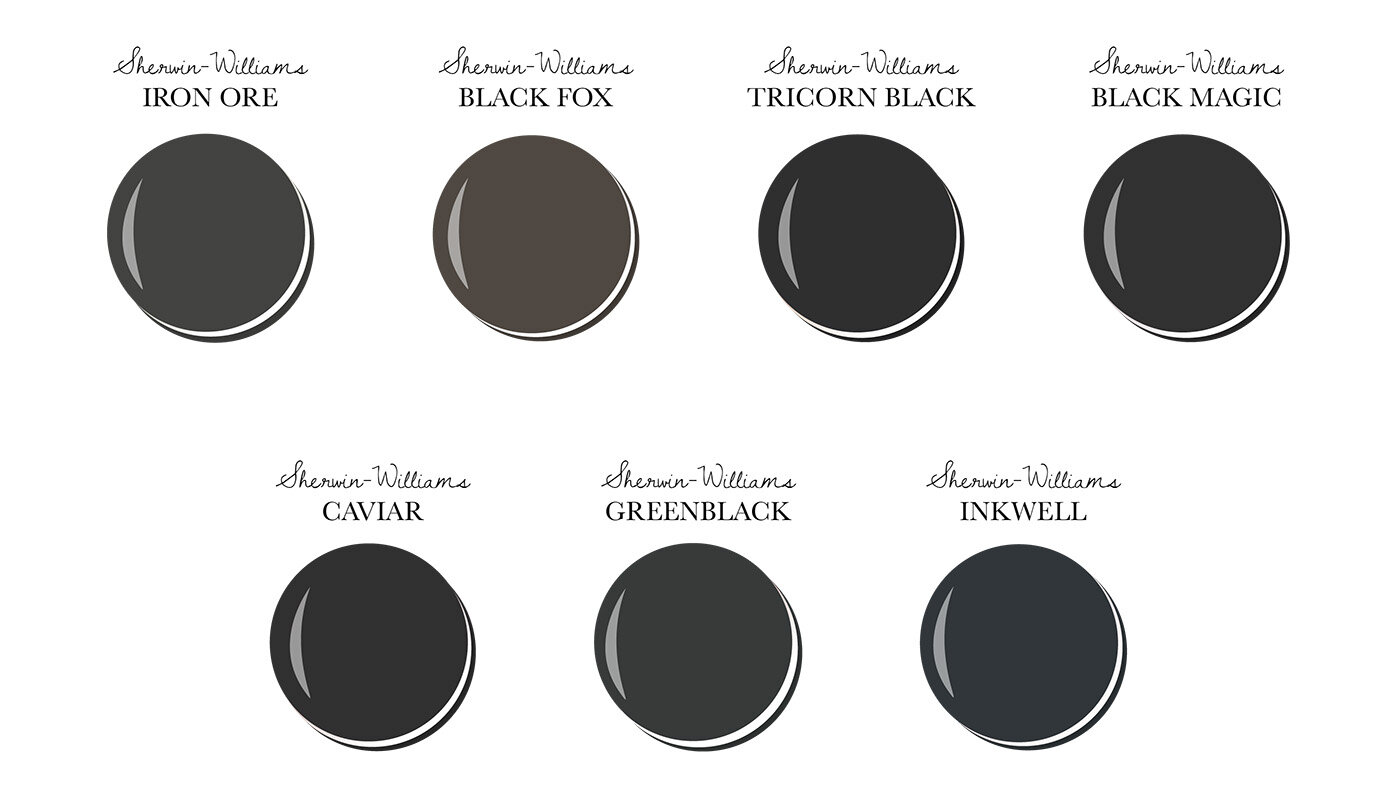 Quick Tip: This article includes the RGB and LRV value for each black paint color. RGB represents how much Red, Green, and Blue is in each color. On the LRV scale, O absorbs all light (black) and 100 reflects all light (white).
This article contains affiliate links. If you click a link and purchase an item, I get a small commission at no additional cost to you. Full disclosure here.
---
7 Best Black Paint Colors By Sherwin-Williams
1. Sherwin-Williams Iron Ore, SW 7069
SW Iron Ore is a popular dark gray charcoal paint color often used on doors, exteriors, furniture, and accent walls. Iron Ore is a lighter shade of black than Tricorn Black, Black Magic, and Caviar.
Iron Ore is part of the Pottery Barn Spring/Summer 2020 Color Collection.
R: 67 G: 67 B: 65 LRV: 6
below image source of SW Iron Ore on front door: Fox Hollow Cottage
below image source of SW Iron Ore on hand rail: Thistle Key Lane
---
2. Sherwin-Williams Black Fox, SW 7020
SW Black Fox lives on a different swatch than the majority of blacks I recommend in this article. Black Fox shares the swatch with Repose Gray, Mindful Gray, and Dorian Gray.
This chocolate color is a rich blend of black and brown, and would go well on garage doors, trim, and entryway doors. Black Fox is part of the Pottery Barn Spring/Summer 2020 Color Collection.
R: 79 G: 72 B: 66 LRV: 7
below image source of SW Black Fox on shutters: Painted by Kayla Payne
below image source of SW Black Fox in office: Rue Mag
---
3. Sherwin-Williams Tricorn Black, SW 6258
SW Tricorn Black lives in the neutral paint family and is a darker shade of black than Iron Ore and Black Fox.
This color is a true black with no strong undertones (if you want true black shutters, this is a good choice). Used frequently on exterior doors, window trim, furniture, and statement walls.
R: 47 G: 47 B: 48 LRV: 3
below image source of SW Tricorn Black on front doors: Home Made Lovely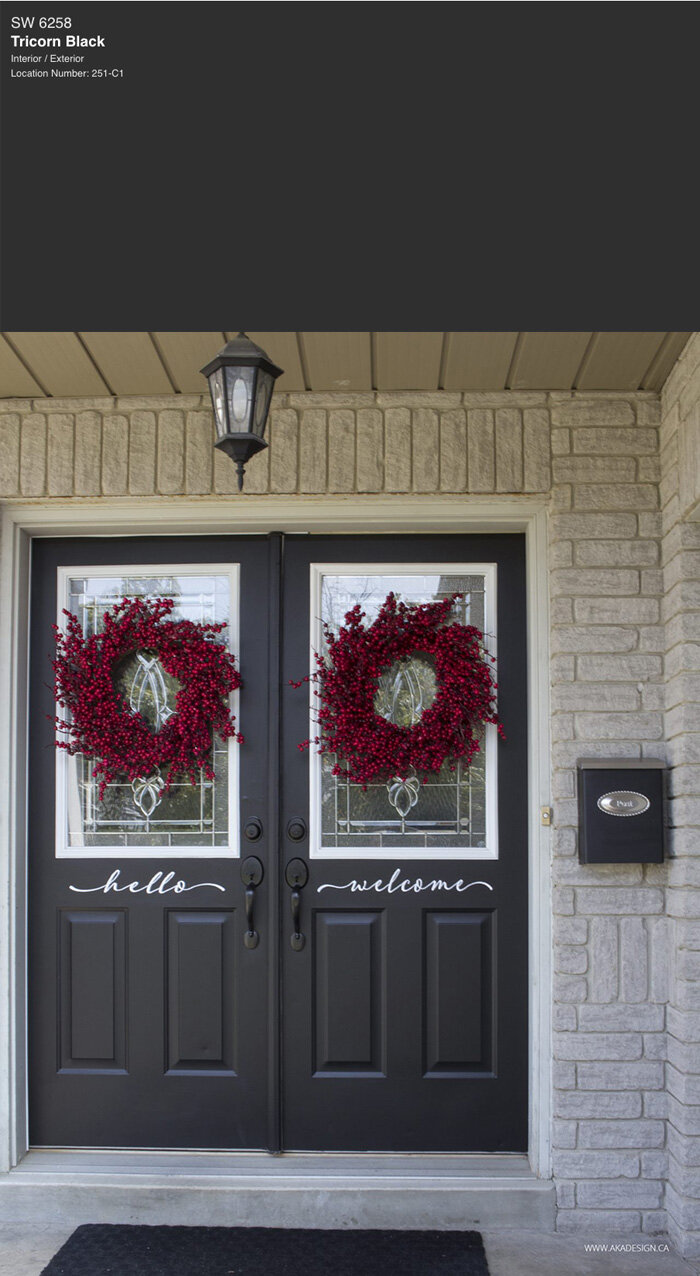 ---
4. Sherwin-Williams Black Magic, SW 6991
SW Black Magic has the same LRV score as Tricorn Black and Caviar, all three are a true dark black. Black Magic has a touch more red than Tricorn Black making it a feel a tiny bit warmer than Tricorn Black.
R: 50 G: 49 B: 50 LRV: 3
below image source of SW Black Magic on barn door: Angela Rose Home
---
5. Sherwin-Williams Caviar, SW 6990
SW Caviar lives up to its name as a dark inky black in the neutral paint family. Similar to Tricorn Black but with a little more brown. When I compared Black Magic & Caviar swatches they felt very similar.
R: 49 G: 48 B: 49 LRV:3
below image source of SW Caviar on front door: Our Hammock House
---
6. Sherwin-Williams Greenblack, SW 6994
SW Greenblack is a modern mix of black and green. A slightly lighter black than Caviar, Black Magic, and Tricorn Black. On a personal note, I selected this color as an option for our front door & shutters (currently painted green).
R:55 G: 58 B: 58 LRV: 4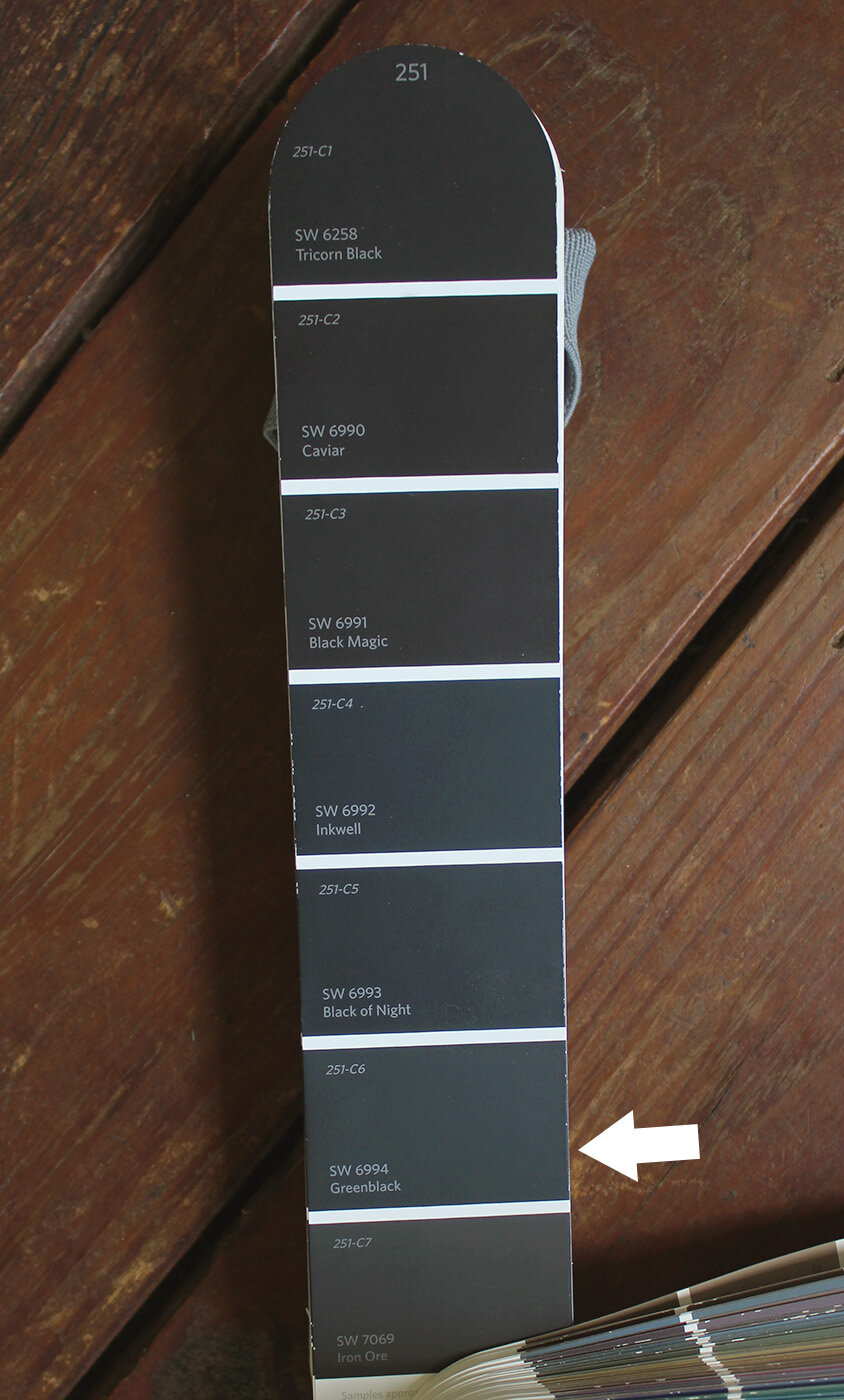 below image source of SW Greenblack in bedroom: Cassie Bustamante
---
7. Sherwin-Williams Inkwell, SW 6992
SW Inkwell has more blue than red and green, making it a cooler black paint color. This color could show up as a dark navy-black depending on lighting.
Inkwell would be a good fit for a room you want to go moody/dark like a library, living room, bedroom, or dining room.
R: 49 G: 54 B: 58 LRV: 4
below image source of SW Inkwell in office: Dear Lillie Studio
below image source of SW Inkwell on front door: Tag & Tibby
Samplize offers 12" x 12" peel and stick paint samples for Benjamin Moore, Sherwin-Williams, and Farrow & Ball colors. It is a fun way to test paint colors, and the material is flexible so you can wrap it around corners. I've ordered from Samplize for clients in the past, and we found the paint samples really helpful!
---
I spent several hours narrowing this list to 7 Sherwin-Williams black paint colors. Some black colors have a warm brown tone, others a cool blue tone.
This article was written to help you to narrow down the best color for your front porch, doors, shutters, exteriors, interiors and trim. Select a black paint color that speaks to your aesthetic and blends with your style!