The Best 5 Pink Paint Colors
Pink paint is complex and will shift depending on the lighting you have in your space. In this article I share 5 of my favorite coral, classic pink, and blush paint colors. I selected these colors with my home office in mind, and these pink paint colors will also look great in nurseries, playrooms, and guest bedrooms.
One of my main goals is to avoid pepto-bismol pink. Instead I hunted for a grown-up, soft, modern pink that will feel fresh and go well with carpet, tile or wood floors.
The pink paint colors I selected range from blush pink to corals. I spent several hours researching and narrowing the list down to these 5 pink paint colors by Sherwin-Williams.
Quick Tip: This article includes the RGB and LRV value for each paint color. RGB represents how much Red, Green, and Blue is in each paint color. On the LRV scale, O absorbs all light (black) and 100 reflects all light (white).
This article contains affiliate links. If you click a link and purchase an item, I get a small commission at no additional cost to you. Full disclosure here.
---
The Best 5 Pink Paint Colors by Sherwin-Williams
#1: Sherwin-Williams Intimate White
This light shade of blush falls in the neutral "white & pastel" category of Sherwin-Williams colors. If you are nervous about painting with color, Intimate White would be the perfect pink color to ease into.
R:240 G:225 B:216 LRV:77
Below image source of SW Intimate White in a nursery: Country Living
---
#2: Sherwin-Williams Angelic
Angelic is not a current color but they will still mix it for you on request. I picked it because I've seen quite a few rooms on Pinterest with this color, and it feels tried-and-true. Its RGB value is similar to Intimate White and but is slightly darker.
R:242G:220B:215 LRV:75
Below image source of SW Angelic in a bedroom: House of Jade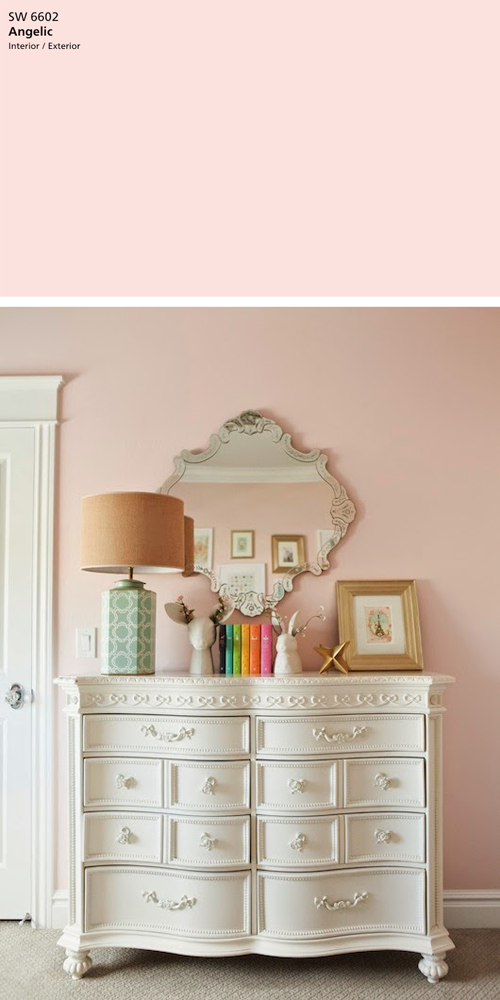 ---
#3: Sherwin-Williams Faint Coral
Faint Coral is a pleasant light, soft pink-coral (depending on lighting). It belongs in the "white and pastel" family of Sherwin-Williams colors and is a good choice for exterior doors, kids' bedrooms, and nurseries.
R:238 G:222 B:213 LRV:75
Below image source of SW Faint Coral in a nursery: Inspired by This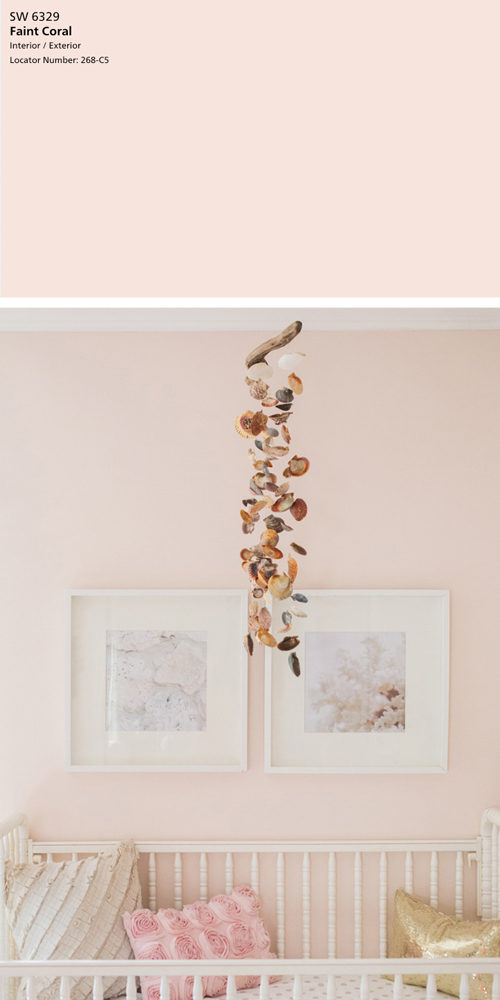 ---
#4: Sherwin-Williams Blushing
Blushing is more bold in color than the above 3 neutral-pinks, and is a little darker than the first 3 colors. Blushing is in the "red & orange" category of Sherwin-Williams paints.
R:240 G:209 B:195 LRV:68
Below image source of SW Blushing in a living room: Phoenix Restoration
#5: Sherwin-Williams Mellow Coral
This coral-toned pink is the boldest and darkest of the 5 paint colors. I recommend this color in rooms with a good amount of natural light or light-toned furniture to break up the color. It belongs in the "red & orange family of Sherwin-Williams colors.
R:227 G:181 B:168 LRV:52
Below image source of SW Mellow Coral in a dining room: Probably This
---
Samplize offers 12" x 12" peel and stick paint samples for Benjamin Moore, Sherwin-Williams, and Farrow & Ball colors. It is a fun way to test paint colors, and the material is flexible so you can wrap it around corners. I've ordered from Samplize for clients in the past, and we found the paint samples really helpful!
---
Pink Paint in Home Office
After much research I selected a shade lighter than #5 Mellow Coral and painted my office Sherwin Williams Romance. Check out the full office reveal here.
When it comes to pink paint colors there are a range of pink hues. I hope this article helps you to find the perfect color for your interior or exterior project.