10 DIY Outdoor Playset Ideas
We have two kids, and spending large amounts of time outside is not their first choice. At our house I sometimes have to set a timer to motivate them to be outdoors, and they run back to our screened porch at the sight of a bee!
A playground might not change a child's opinion of bees, but it will be a platform for hours of imaginary outdoor play! After searching around online for play structures I was shocked to find them starting at $600 and going upwards of $3000. Dropping a thousand dollars on a pre-designed playground is not our style.
So I asked bloggers to share their custom playsets and playground ideas. Scroll down for ten DIY playsets I found awesomely creative! From a DIY climbing wall, to a swing set, to tips for making an old set look new again-there is a project for every family.
---
Outdoor Playhouse with Set Plans | Image Source: Jennifer Maune This playhouse is incredibly charming and has some custom features (a higher ceiling and screened windows) that make it even better!
---
2. How to Build a Swing Set | Image Source: Create and Find
This DIY swing set is great for older kids and includes a supply list, steps, and cost breakdown. The platform swing hanging from the top beam is especially cool.
---
3. Rock Climbing Wall | Image Source: Abbotts at Home
Add a climbing ramp to your playground! The bright colors on this climbing wall are so fun and the angle is adjustable.
---
4. Tips for Restoring a Play Set | Image Source: The Lived-in Look
Sometimes you can find used swing sets on Marketplace that need some decorative TLC. Paint and cleaning can do so much, and the flower boxes on this playground add charm.
---
A small DIY project can inspire so much creativity! Check out this tutorial for creating a bucket and pulley for a treehouse or play set.
---
6. Playhouse for a Small Backyard | Image Source: Houseful of Handmade
This outdoor playhouse is perfect for a small yard! It has a sandbox underneath and a climbing wall on one side. Includes step by step plans.
---
This explains how to install a playground equipment kit the right way with landscape timbers. Really helpful instructions!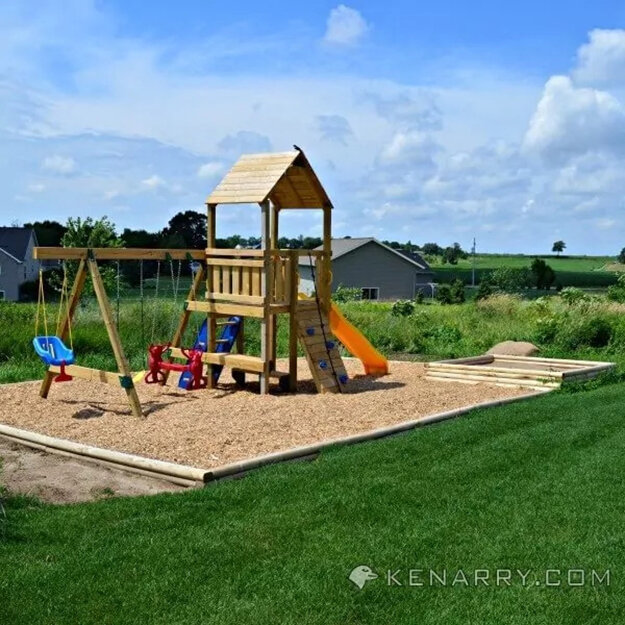 ---
8. Wood Playset Makeover | Image Source: Jennifer Maune
Paint goes such a long way in refreshing outdoor play equipment. This set went from stained to white and matches the nearby playhouse.
---
This charming elevated playhouse does not include the tutorial but it does include some pictures of their process.
---
10. Modern Cedar Playhouse | Image Source Dirt Digging Sisters
The cedar shakes and corrugated metal are nice details on this playground. And the interior is adorable too!
I hope these DIY backyard playsets and playhouses inspire your next home project. And I am curious…do your kids love to play outside or are they reluctant to spend hours in the backyard?