How to Easily Hang a Shelf & Hooks in the Laundry Room
I recently discovered a new line of products and was motivated to try them in our home. While I am capable of installing shelves and wall hooks, lining everything up and tracking down the correct hardware is intimidating (and then I tend to procrastinate on completing the home project). Based on the stories I hear from my readers, this is a common problem!
High & Mighty includes a full line of products including key rails, decorative hooks, hook rails, and floating shelves. What makes these products unique is their ease of install and strength! Everything in their product line installs in seconds. I was especially impressed when I installed a floating shelf in our laundry room. Each shelf includes a stick on template and a built-in level, so I didn't need to track down any extra tools. The only thing you need for the install of High & Mighty products are your thumbs and what comes in the box.
Our laundry room is small, but we have a lot of wall space and I wanted to make the most of it! So I chose to install an 18" black floating shelf and three oil rubbed bronze 25lb hooks along the left wall of our laundry room next to the washing machine. The three hooks help to dry wet towels and damp kid clothes before they go in the wash. And the shelf gave me a fun space to decorate and add greenery to a functional space.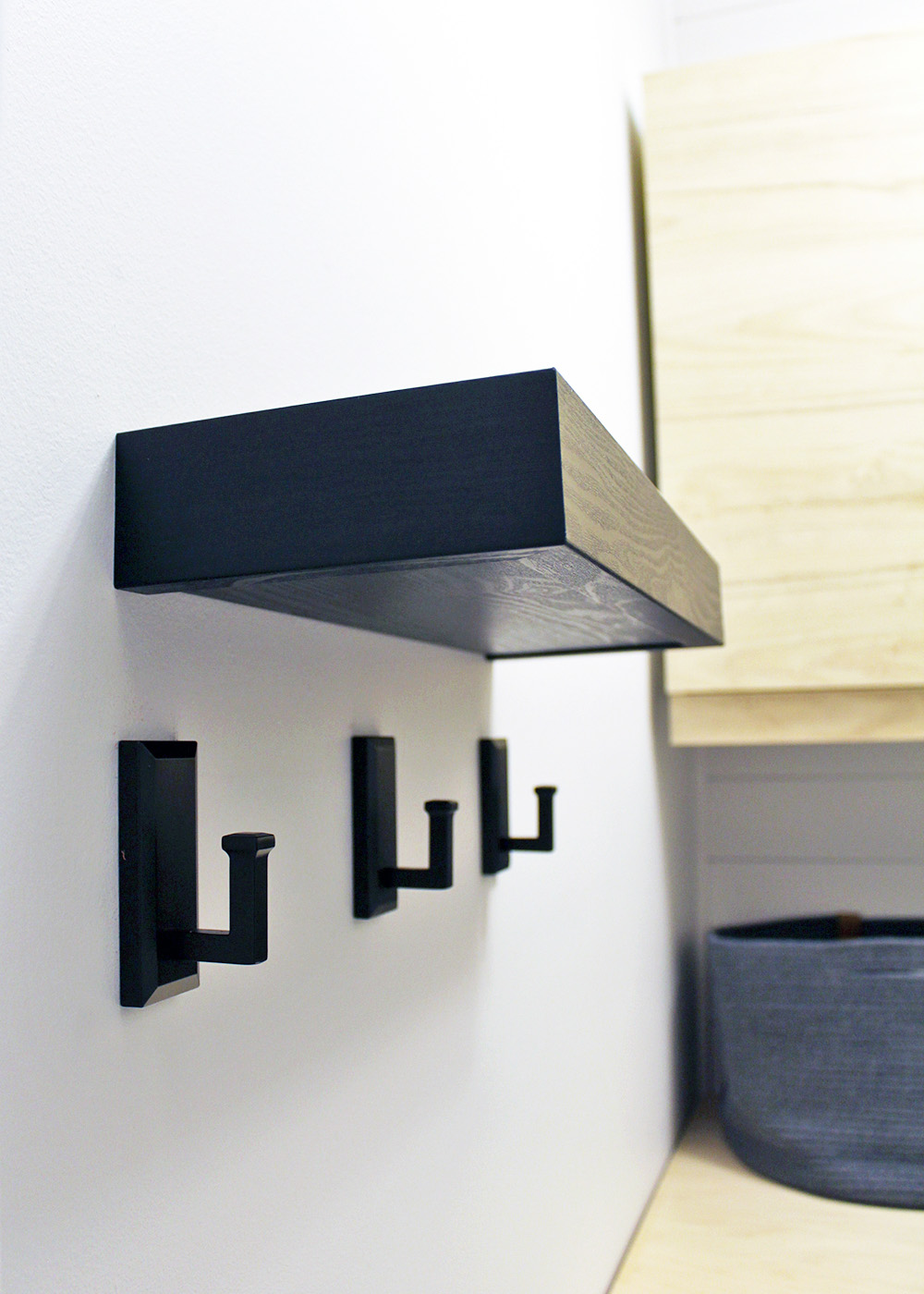 The first thing I noticed installing the floating shelf is that the directions are highly visible right on the box. While the install process is intuitive, if you want extra help the High & Mighty website includes helpful how to videos for each product. No additional tools are necessary, but if struggle to push in the bracket with your thumbs you can try a light hammer tap according to the FAQ page.
The three oil rubbed bronze hooks were just as easy to install as the floating shelf. I watched a video online first, then pushed the bracket in according to directions and then slid the hook over the bracket. I drew a line in pencil then installed the other two hooks (erasing the line afterward).
I am thrilled with how the floating shelf and decorative hooks work in our laundry room. They were easy to install without extra tools, and they add add function and style to the space. Plus the products are strong! I added glass and porcelain decorations to my shelf and feel 100% confident in the security of the shelf and decorative hooks.
Try High & Mighty products next time you want to add wall hooks, floating shelves, and key rails in your home. They are available at local hardware stores and online at Home Depot, Lowe's, True Value, Walmart, Michaels, Target, and Amazon.