How We Improved the Curb Appeal of Our Home
Improving the curb appeal of a home can feel like a daunting task. Our suburban home was built in the 1990s with faded green shutters and cream trim—not my ideal style and I knew we could personalize the exterior to make it feel more our own.
Last month I hired a local paint team to paint our exterior trim, shutters, and front door. I spray painted the doorbell, brass accents, replaced hardware, and added solar path lights. We replaced our dated brass lanterns with oil rubbed bronze modern fixtures.
Scroll down for details on paint colors and the products we used to improve the curb appeal of our house exterior!
This article contains affiliate links, please read my full disclosure here.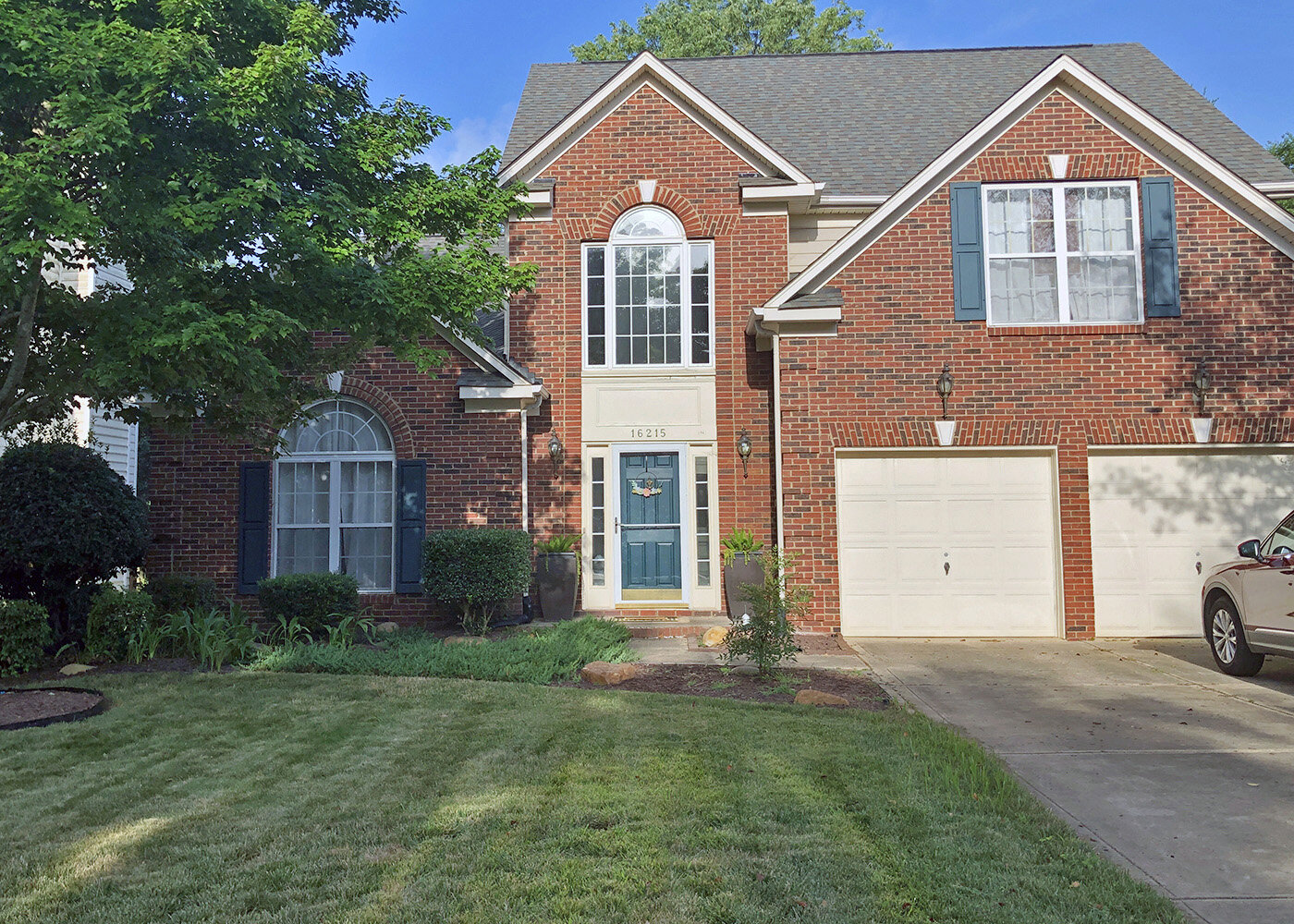 brick exterior before paint & exterior updates
We lived with our exterior house colors for several years before changing the paint color. Big expenses like car repairs, vacations, and medical bills came first. Until this year when we changed a strategy. We opened a checking account dedicated to house projects. We add a bit in that account each time we get paid, and it is separate from other life expenses.
front door before paint & updates
5 Things We Updated to Improve the Curb Appeal of Our Home
---
Exterior PaintChanging the exterior paint colors of our front of our house was the biggest change we made. We live in a neighborhood and can't paint our brick, but I received approval to change the trim color and door/shutter colors. We hired a local team to paint our exterior. They did great work and also painted our house numbers, door knocker, and garage handles a modern dark bronze.I chose SW Alabaster for our white trim and garage doors because it is white but has a touch of warmth. I wanted to eliminate the cream trim color, but needed to blend with the beige siding on the side of our house. If you are looking for the perfect white color, I wrote an article that reviews the most popular white paint colors (with examples and swatches).
For our front door and shutters I knew I wanted a dark color, ordered large swatches of several black paint colors, and held them up to our brick. I thought SW Black Fox would be the one, but after seeing the colors against the brick I chose SW Inkwell. Inkwell is a beautiful black that goes a little blue depending on the time of day.
If you are looking for a black paint color, check out the article I wrote on the best black paint colors.
---
2. Wall Lights
Our rusty brass lanterns were likely original to our house (over 20 years old) and needed to go! I researched lanterns online, but decided to shop in person so I could see the scale of the light. I ended up purchasing 4 of the Kichler Linford (17.25in) light fixtures in olde bronze.
The classic fixture works well in our traditional neighborhood and I am a fan of the straight lines and vintage-style wavy glass.
---
3. Storm Door Update
Our storm door was in functional shape but needed cosmetic updates. I replaced our brass handle with a new oil rubbed bronze handle set. If you go this route, keep your old hardware until the new handle is installed. We ended up needing lockset from the original (and didn't know this until I read the product reviews).
To match the brass kick plate with the rest of our exterior colors, I removed it using a drill (screwdriver would also work). Then I spray painted the kick plate with metallic oil rubbed bronze spray paint. The base was a little tacky after a few hours, so I let it dry overnight before reattaching the plate to our door.
---
4. Doorbell
I looked at the home improvement store and saw I could purchase an oil rubbed bronze doorbell button for around $18. Since I already had spray paint, I decided to try it and in the worst case scenario we would need a new doorbell! I was able to pull the doorbell out a bit from the wall, while the electrical wires were still attached. Painters tape is important to use if you are going to paint the doorbell while attached.
Overall the spray painted doorbell was an easy project! Spray paint is so easy to apply, and it saved me $18. I did get a small amount of overspray on the trim and touched it up with paint.
---
5. Solar Lights
We added solar LED path lights to our front walkway and can't believe it took us this long to try them. They are easy to install (includes a peg that goes in the dirt) and the lights charge during the day and turn on automatically in the evening. I picked a minimal light design that blends with our nearby dark brown planters.
Product List:
Kichler Linford Outdoor Wall Lights $80 each
Solar LED Path Lights $10 each
Rustoleum Oil Rubbed Bronze Spray Paint $7 each
Pella Door Oil Rubbed Bronze Handleset, $49
I hope this article inspires you to add style to your home exterior! Changing your house paint colors will make a dramatic difference to the front yard, and there are also many small changes you can make like painting the doorbell and changing light fixtures.