How to Paint a Ceiling Fan
My husband used a rug pad to create a checkered finish on the fan blades. The fan turned out great and looks like a new fan. Scroll down for directions on how to refresh a dated ceiling fan with spray paint! We spent under $25 on materials (new outdoor fans cost over $100). And while we took these steps for our outdoor fan, the same process would apply to an indoor fan, too.
This article contains affiliate links, you can read my full disclosure here.
---
Painted Ceiling Fan Supply List
-Damp Cloth
-Screwdriver
-Ladder
–Rust-Oleum Satin Enamel Spray Paint, Chestnut Brown
–Rust-Oleum Metallic Spray Paint, Pure Gold
-Materials for paint prep (tape, paper, plastic bag, flat surface or board)
–Non Slip Rug Pad, 2′ x 4′
---
1. Remove Fan Blades
Turn off power to the ceiling fan at the circuit breaker. Next remove fan blades using a screwdriver. We also removed the glass cover and light bulbs on the base of the fan for easier spray paint access.
---
2. Clean Things Up
Wipe ceiling fan base & blades with a damp cloth until free of dust. Allow materials to dry before painting.
---
3. Mask and Spray
For the ceiling fan base, mask with paper and tape. Use a trash bag and tape to cover the light area (see image below). Then spray paint the base with at least 2 coats of brown spray paint, coats spaced 30 minutes apart or according to directions.
---
4. Spray Paint Blades
Spray paint the fan blades with dark brown (we painted the visible side and edges) with 3 light coats of paint. It helps to have the blades off the ground on a stool or box. Air dry.
---
5. Cover Painted Blades with Rug Pad
After the paint dries on blades, lay out brown painted blades on a scrap material that is flat. Cover with 2′ x 4′ rug pad. Tape down rug pad to the scrap material, then spray fan blades with 2-3 light coats of gold spray paint (see image below).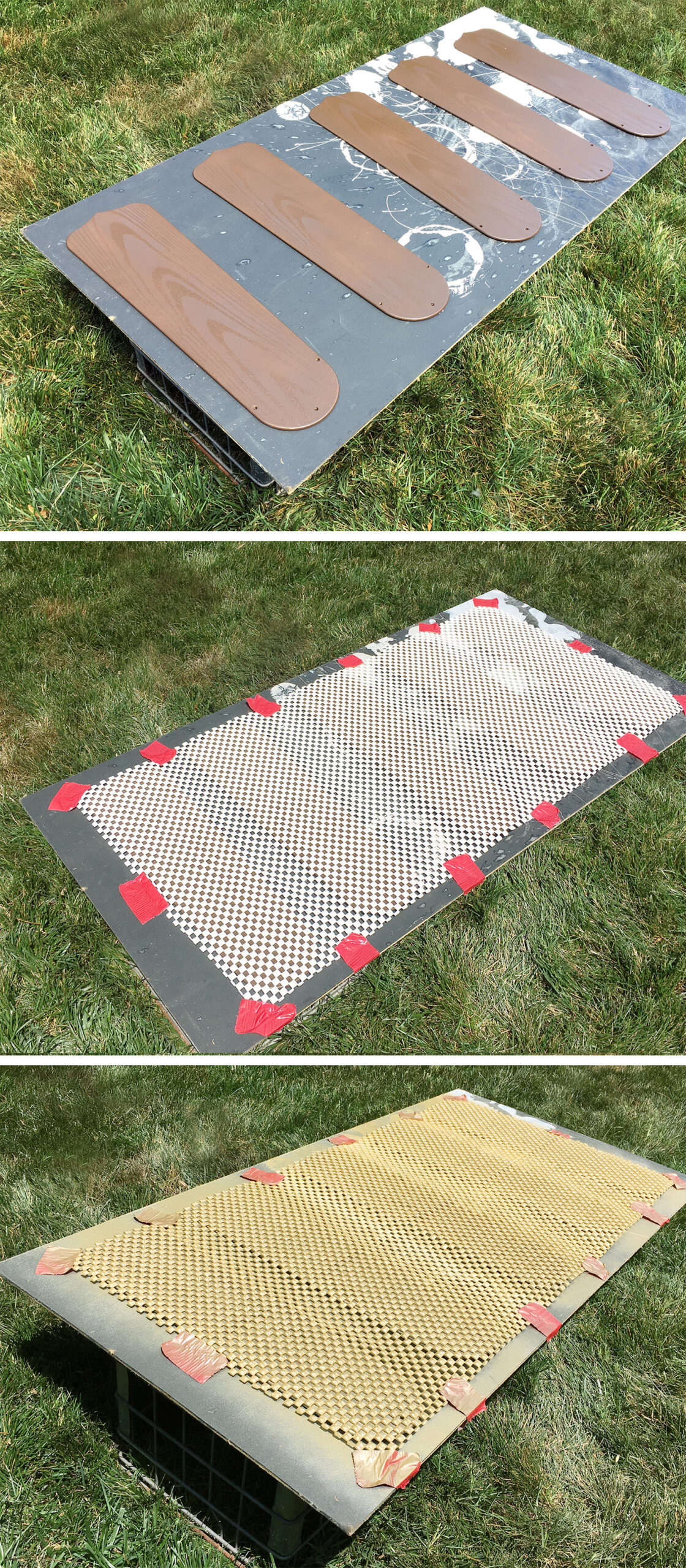 ---
6. Peel off Rug Pad
Wait for gold paint to dry, at least 1-2 hours. Then peel rug pad off all fan blades. Reinstall blades, bulbs, and glass to ceiling fan base and enjoy your updated ceiling fan!
This project took my husband an afternoon to complete, and the results are dramatic and fresh. I never would have thought of using a rug pad to make a checkered color finish on the blade but it turned out great!
Painting your ceiling fan is the perfect weekend project and costs a fraction of the price of a new ceiling fan. Its a great way to update things when the style of the fan is okay–but you want to update the color. We spent under $25 on spray paint and the rug pad and the gave the fan a custom, modern look!