A Donut Decorating Birthday Party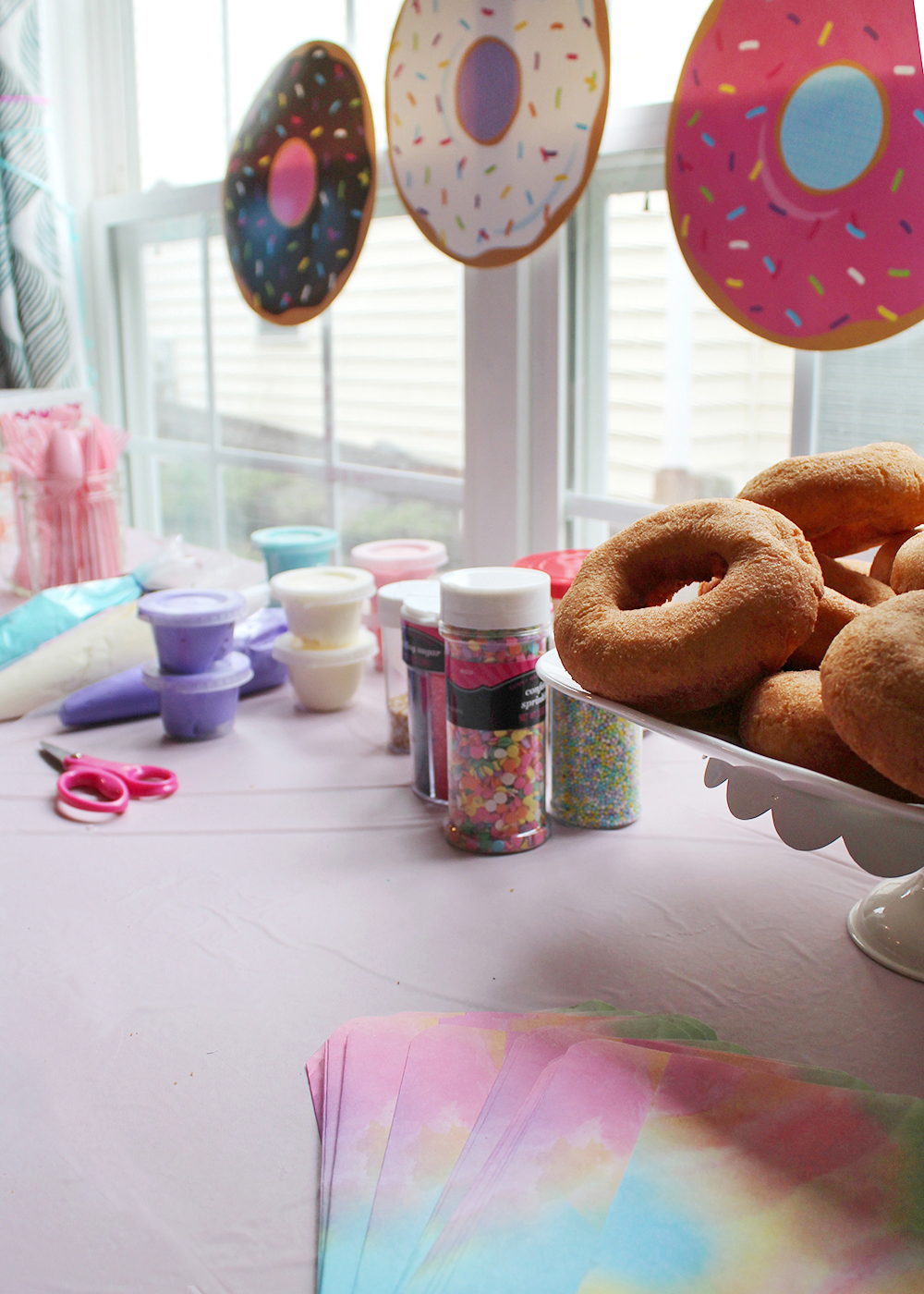 Our daughter turns 9 in a few days (!!!). Last weekend I hosted her birthday party in our home. I should mention that I am not a passionate party planner! While I love making my kids happy, organizing parties at home feels like a lot of prep work to me. But it was definitely cheaper to host her party in our home. And I hope by sharing our party theme and what products we used, we can help you organize your party simply…should you ever decide to host a similar donut decorating party!
Our daughter Kinsey saw pictures of my trip to Pinterest's headquarters last month and loved the idea of a donut decorating party for her birthday. To add to her theme we decorated aprons with fabric paint and stencils before the donuts. The aprons weren't dry in time to wear at the party, but they made great take-home party favors.
Scroll down to see pictures of our donut decorating party with custom painted aprons! The party was perfect for our crafty almost 9 year old.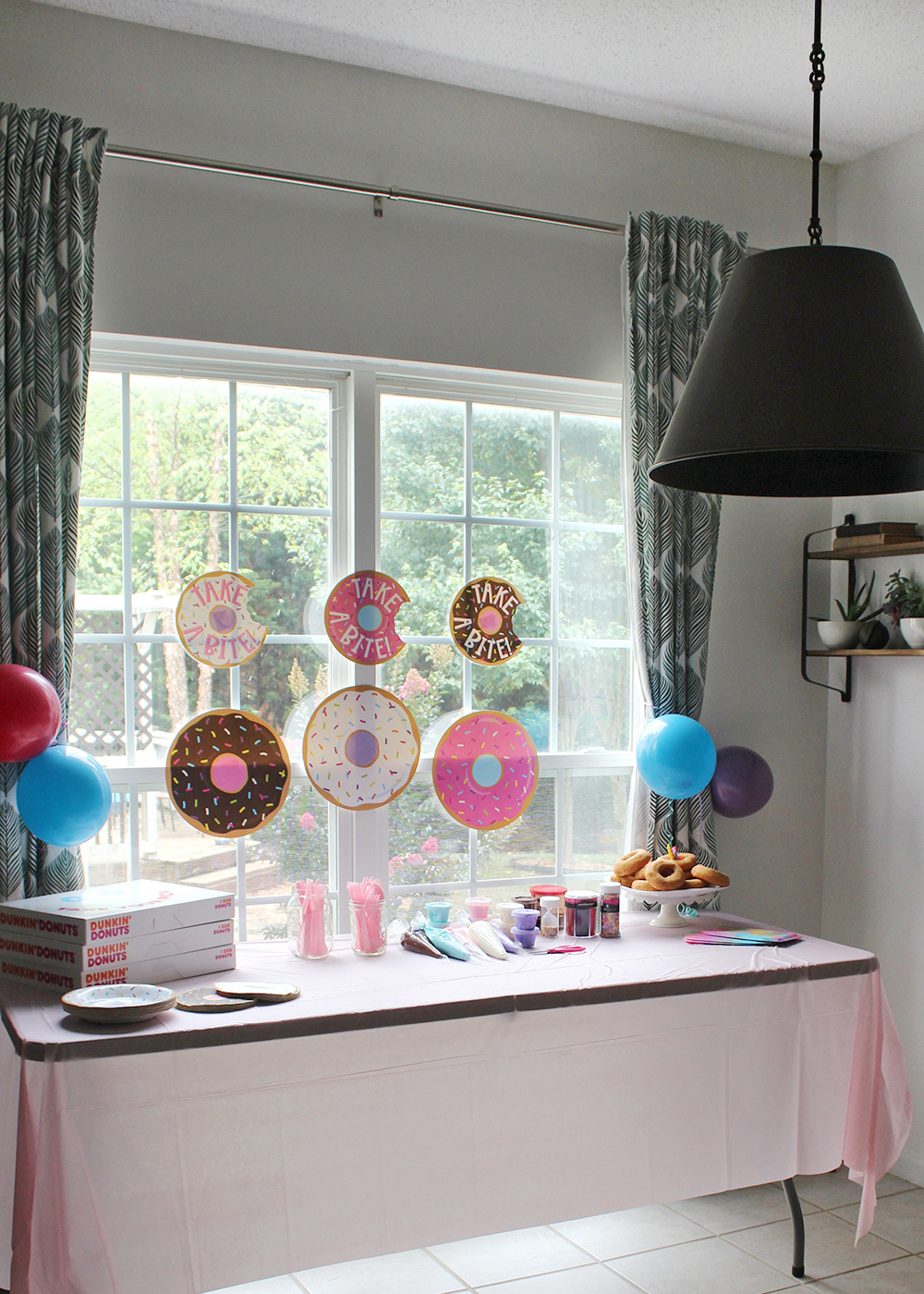 This article contains affiliate links, you can read my full disclosure here.
---
Before the girls arrived Saturday morning I set up a folding table as the donut decorating station in our kitchen. We pre mixed the icing colors and put the icing in piping bags and condiment cups so the girls could start decorating right away after designing their aprons.
We purchased small donut plates & donut shaped napkins from Hobby Lobby. And I was glad we purchased a pack of paper donut cutouts–she added them to the dining room and kitchen windows and they added instant cheer. And they were under $3 for the whole pack!
We purchased her pink tablecloths and pink silverware from the Dollar Store. The tablecloths were on the sheer side, but for a dollar they worked okay!
---
In our dining room we set up an apron decorating station the day before the party. We laid out a variety of fabric paints & stencils along the table in reaching distance for the girls. We decided to decorate the canvas aprons first before donuts to give the paint more time to dry. The girls spent 30-40 minutes painting, it was fun to see their designs!
Apron Decorating Supplies:
–Natural Canvas Aprons
-Squeezable Fabric Paint (we bought glow in the dark paint)
–Fabric Spray Paint
-Variety Pack of Paint Brushes
-Variety of Stencils (she picked flowers, unicorn, emojis)
-Damp paper towels for wiping stencils off
Note: I had planned to purchase children's size aprons but they were too small for 3rd/4th graders. I ordered adult sized aprons that run small, and can be tied at the neck to make smaller.
8 and 9 year olds are a wonderful age for this kind of art project. They were focused and knew what designs they wanted to try on their aprons. My Sister-in-Law and Mom helped wipe off stencils and clean up little spills of paint but the girls did a great job of keeping paint on the table.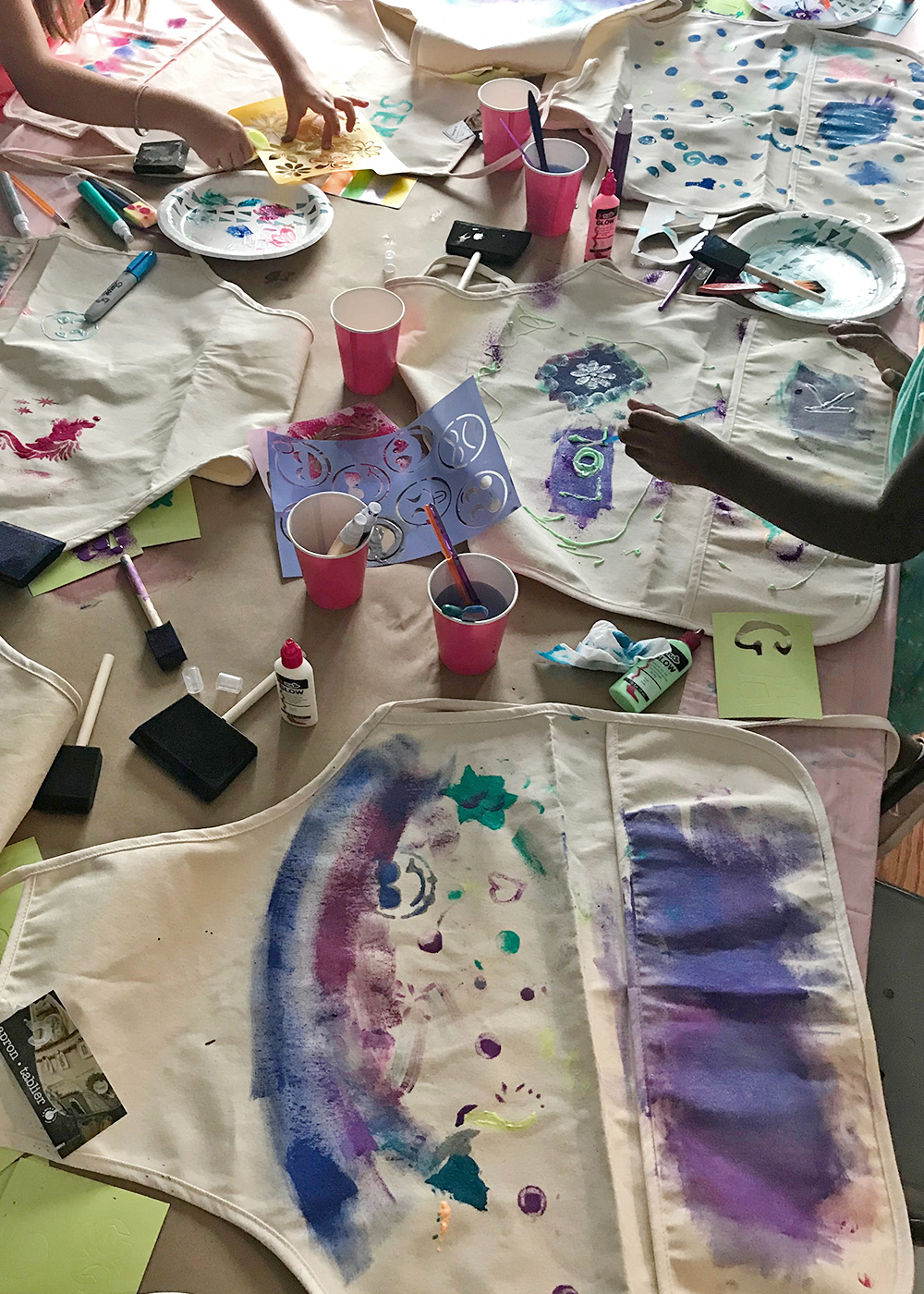 After they finished painting aprons, the girls had a snack and chilled until everyone was ready to decorate donuts.
I laid out squeezable yogurts and string cheese on ice along with some bacon and fresh fruit on our kitchen island. I tried to provide some healthy snacks with protein before they ate their sugar-filled donuts!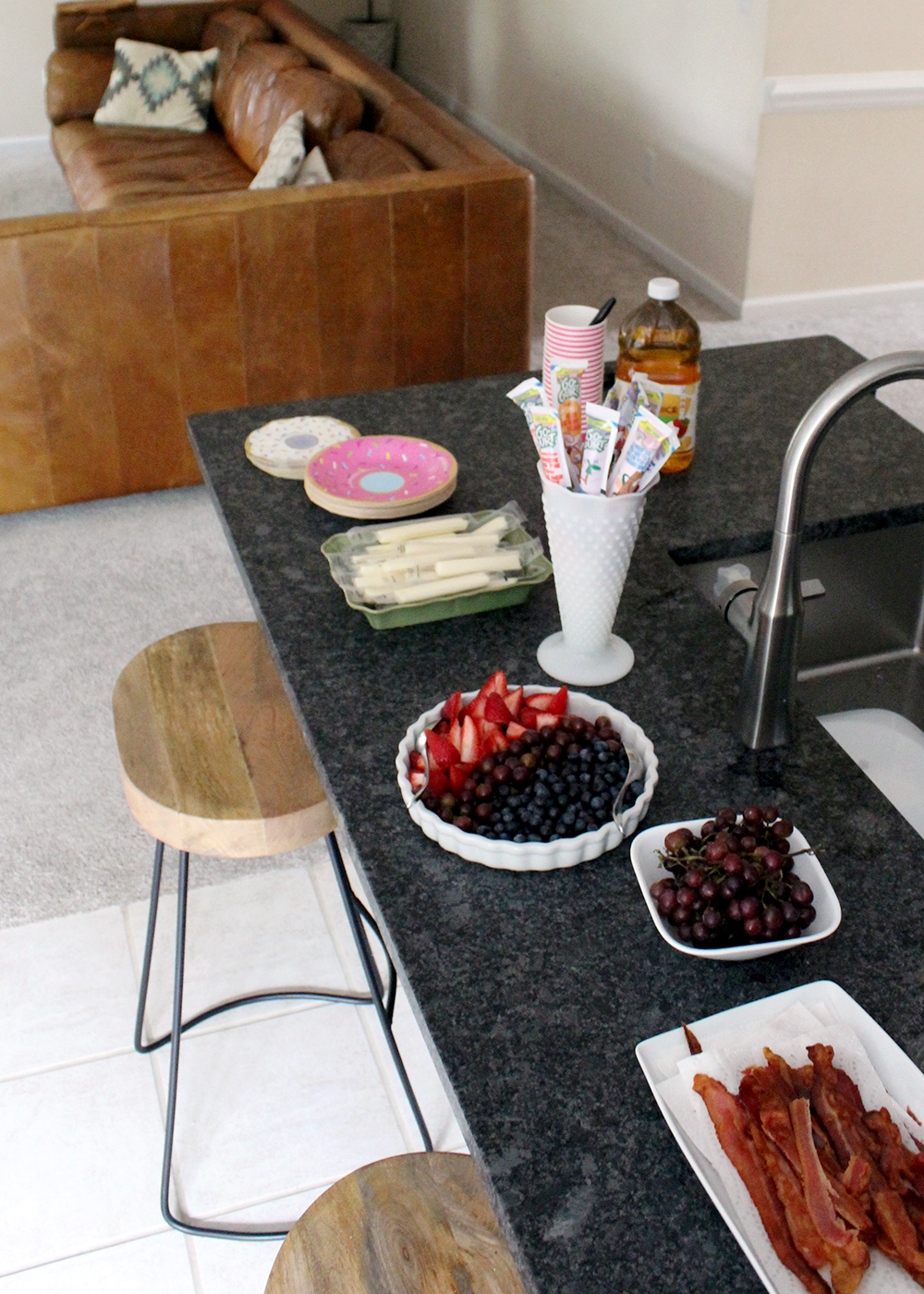 Donut decorating supplies:
-store bought cake donuts, at least 2 per guest (1 for the party and 1 to take home)
-store bought icing (vanilla and chocolate)
–icing piping bags
–neon gel food colors (for the icing)
-condiment cups for individual icing cups
-sprinkles in a variety of colors and shapes
-containers to take extra donuts home (I tried bags, would recommend small boxes)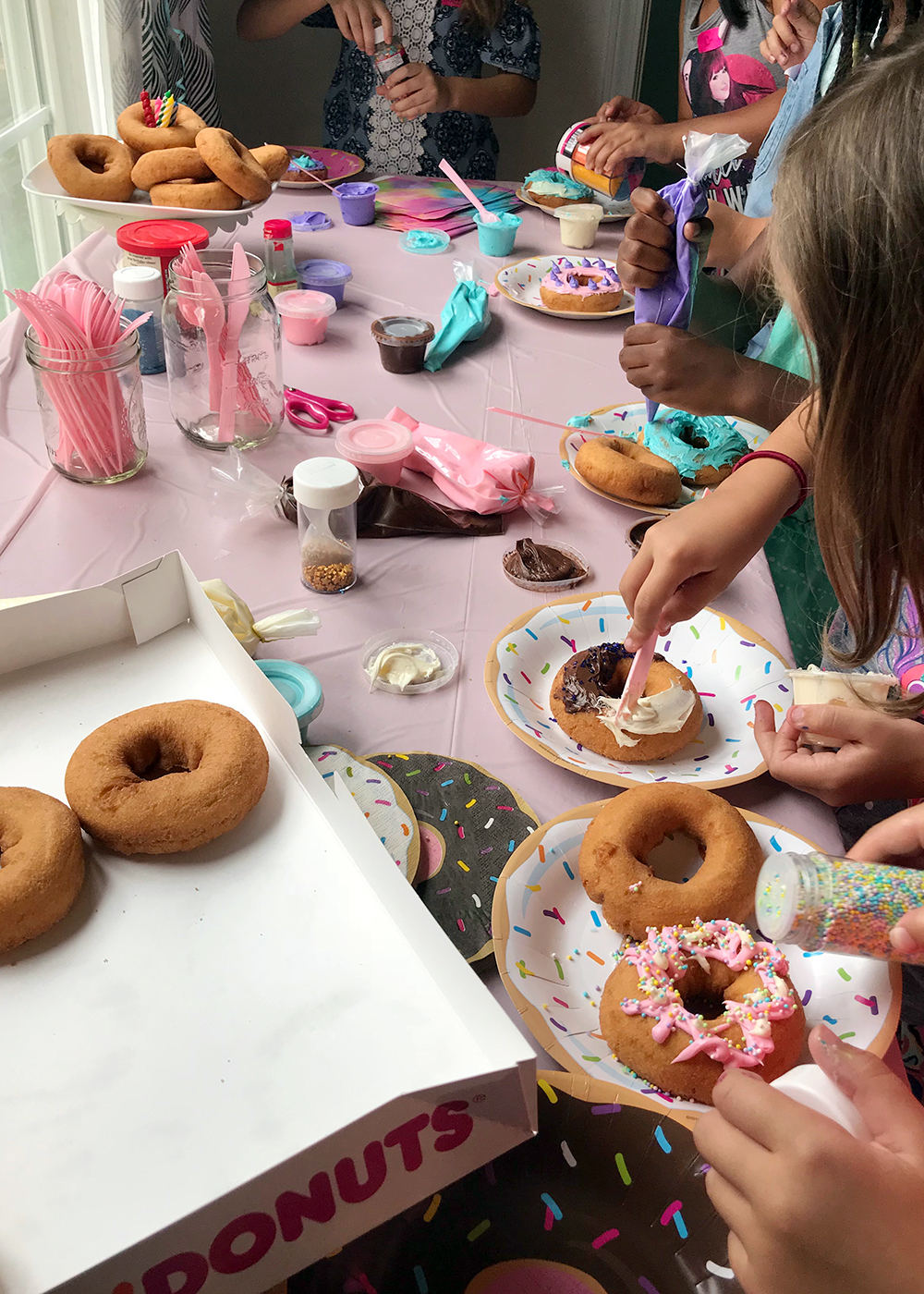 The girls did a great job designing their donuts. There were several two-toned designs and a few galaxy style. I am very much in the camp of letting kids be creative–there is no right or wrong in creating original art!
We also played some games with an inflatable donut we found at 5 Below, and the girls had time to play a few rounds of hide and seek around the house. Running was necessary after all the sugar!
Overall the party was a great success! Decorating the aprons in a separate room from the donut station helped the party feel spacious. We hosted the party for 2 hours and because we prepped the icing ahead of time, the girls had plenty of time to design aprons and decorate donuts.
I hope the pictures help should you ever decide to host your own donut decorating party in your home!