12 Ways to Decorate Above Kitchen Cabinets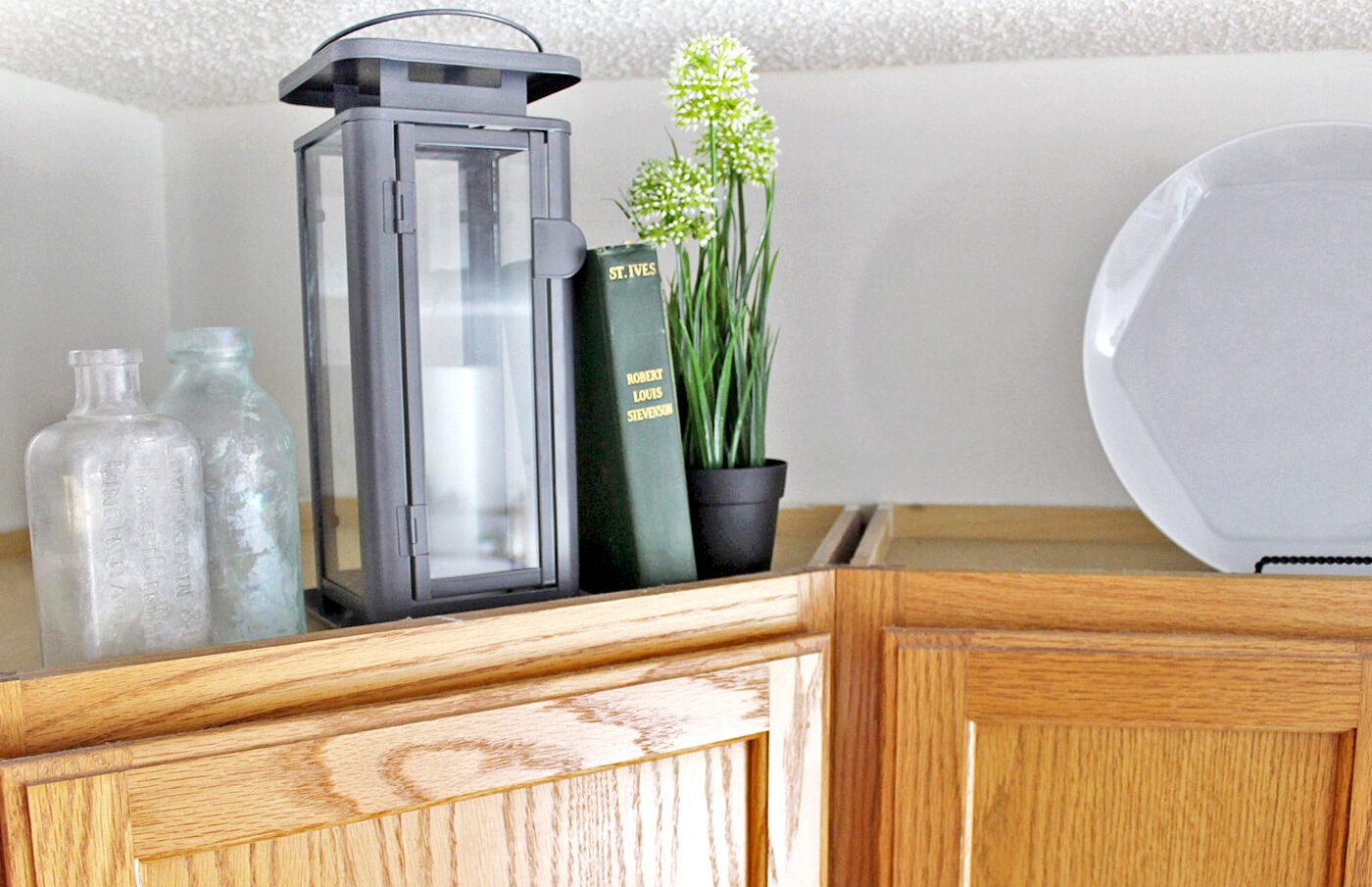 Our kitchen update is almost complete! But first I want to decorate above the kitchen cabinets. If we were completely redoing our kitchen I would have installed cabinetry to the ceiling. But this is a small budget update.
I am working with the layout we have, and spent time online looking at other inspiring kitchens who decorated above their kitchen cabinets. It helped me process my options and narrow down a design direction in my space.
Scroll down for 12 of my favorite ways to decorate above kitchen cabinets—including greenery, vintage bottle collections, baskets, and brick.
I hope this helps you decide how to decorate the top of your kitchen cabinets! The majority of these ideas are rental friendly and easy to complete in a day.
---
Glass bottles over cabinetry intrigues me. Apothecary and vintage bottles add instant color, texture, and history to a space.
---
2. Brick Texture Over Cabinets via Lark and Linen
You could install a similar brick look using sheets of faux brick, wallpaper, or brick veneer.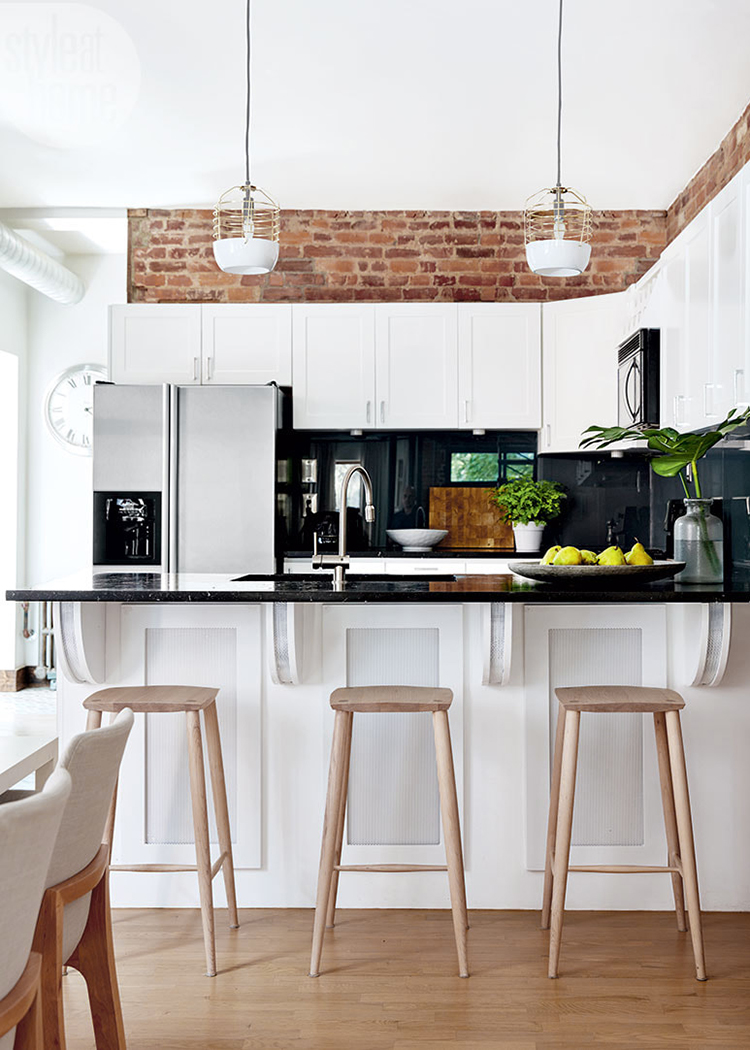 ---
3. Assorted Collection of Art via Emily Henderson
In this kitchen she used an assortment of art and baskets over kitchen cabinets. If you want a cottage-eclectic look, fill the whole upper cabinet with favorite pieces. For a more minimal, modern look just add a few favorite pieces.
---
4. A Pop of Green in Pitchers via The Everygirl
I looked around for a while online to find a modern look for plants over kitchen cabinetry. I love these in white pitchers. Consider faux plants to avoid having to stand on a ladder to water plants.
---
What Laura did to finish her cabinetry is genius! She enclosed the top portion above her kitchen cabinets using MDF and molding.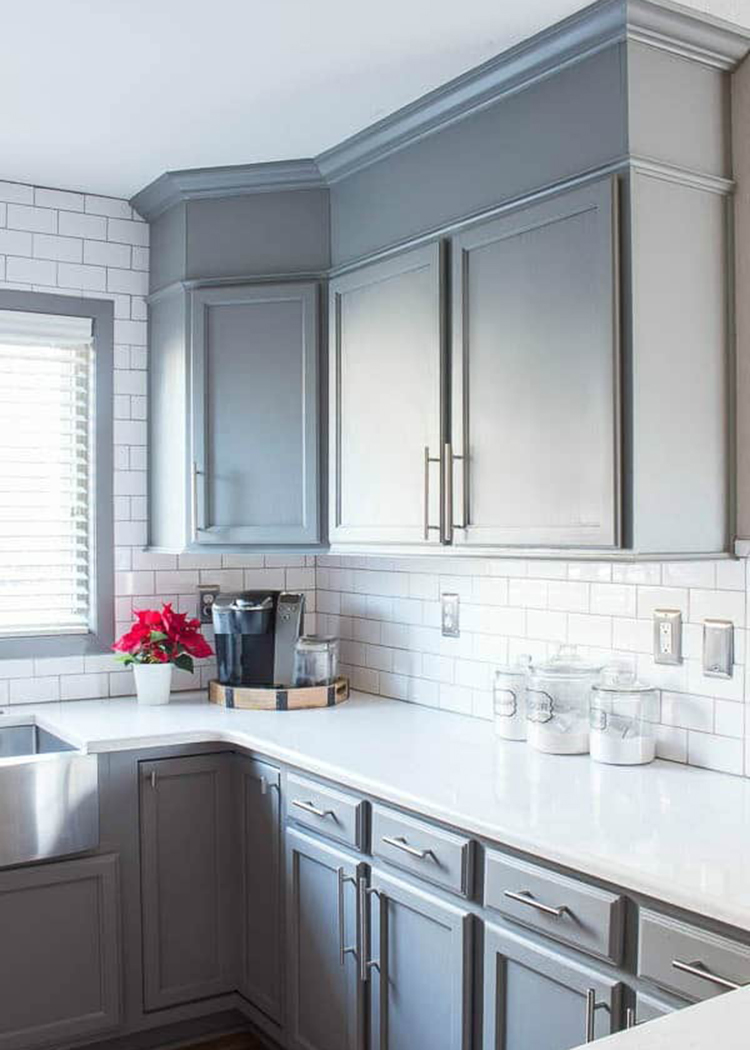 ---
Shop around for cute canisters online, or visit antique stores for unique options to create this look. Bonus—you can store occasionally needed items inside (think cookie cutters and seasonal cupcake liners).
---
7. Hang an Oversized Sign via Bless'er House
The large scale of this sign works perfectly for the space over her cabinets.
---
8. A Collection of Bowls and Plants via Desire to Inspire
This example shows shelving, but you could easily apply the style over cabinetry. Pick a few sets of bowls with similar patterns (or if you want to be more eclectic—vary the colors) and mix in a few small plants.
---
9. Glass Jars with Green Plates via TimeOut Lisbon
I love the green palm leaf plates in this picture along with with glass labeled jars.
---
10. A Small Collection via Magnolia
The cutting board with mirror make this small vignette unique. Play around with bowls, cutting board, plant and mirror for a similar look.
---
11. Wood Baskets Over Cabinets via Taryn Whiteaker
These wood stamped baskets are practical and attractive. Looking for a different material? Try a woven basket or chicken wire.
---
12. Antique Picture Frames via The Style Files
Buy a few pictures frames at the thrift store and remove the picture. Display over kitchen cabinets. Really fun idea and would be affordable to recreate.
I hope you found these 12 ideas for decorating above kitchen cabinets helpful! It helped me a lot to work through options for our own home.
The more color and texture you add, the more whimsical and cottage style the space will look. Use just a few textures and materials to give the space a more modern look. Happy decorating!
---
After processing my options, I added plates & a few vintage pieces over our kitchen cabinets. More here.