6 High Point Furniture Market Trends Spring 2023
High Point Market is a large furniture trade show that introduces the latest home furnishing trends in furniture, lighting, and accessories. The show takes place twice a year in April and October. The market brings in 75,000 interior designers, architects, and buyers and 2,000 exhibitors are spread out throughout downtown High Point, NC.
This was not my first time to the market but it had been a few years thanks to COVID. The event is only open to trade, but I am able to attend with a press pass. I brought my friend Amy (who is a fantastic graphic designer) to help with photography. A big thank you to her for taking some of these photos!
It would be impossible to see every building and exhibitor in one day. But we made it to several buildings and took a ton of photos. I like to attend the market to spot furniture and decor trends to better support my readers and interior decorating clients.
---
Six Furniture Trends 2023
Bouclé FabricBoucle is a French word for loop or curl. This eye catching fabric is both soft and textured and is usually made of wool, cotton, linen or silk. We spotted boucle fabric in so many exhibitions at the market. The furniture pieces were mostly in creams and white, but I did spot 1 darker taupe chair.
Misty Cream Boucle Sofa | TOV Furniture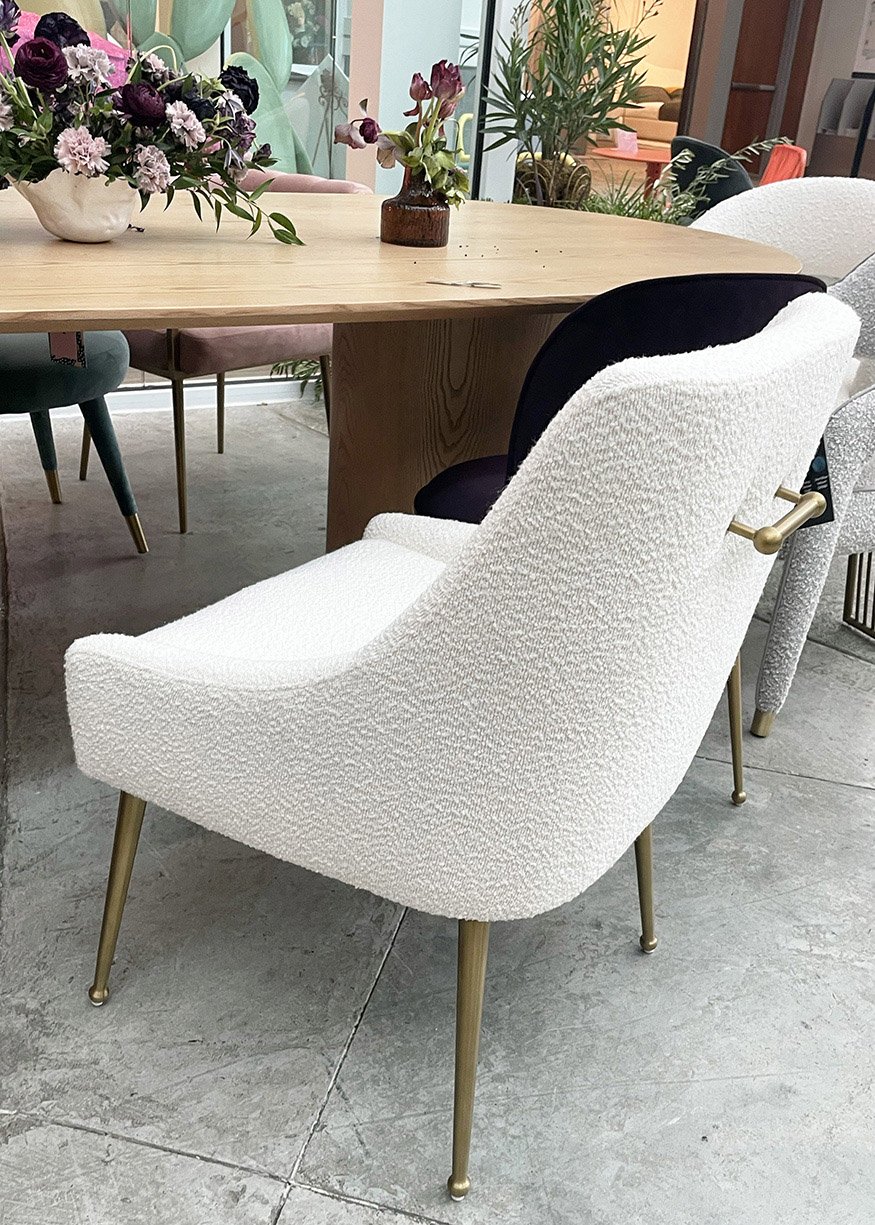 Beatrix Cream Boucle Side Chair | TOV Furniture
Cafe Boucle Chair | kalalou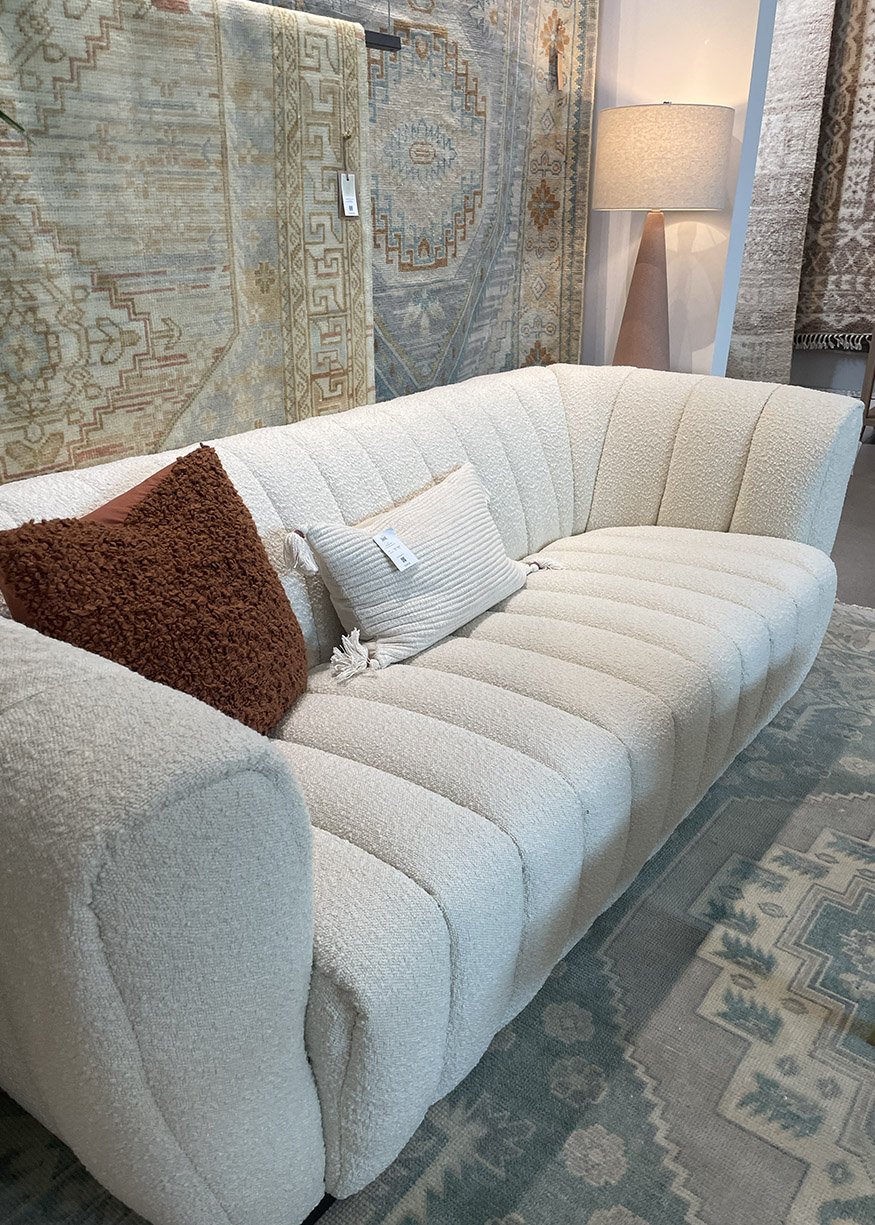 Surya Showroom
---
2. Bold Blends
From pattern mixing to jewel tones, maximalists will love the next 2 photos. As a designer it is not quite my style, but I admire it all the same! I adore almost all Rifle Paper Co. rug designs (the wisteria cream area rug is in my living room). And the bathroom cabinets are swoon worthy.
Ngala Trading
Rifle Paper Co. x Loloi
Burl Wood Vanity Cabinet and Navy Linen Vanity Cabinet | Worlds Away
---
3. Books as Decor Accessories
I'm a reader and love to collect books. Antique books often have beautiful covers and you can decorate with books even if they are falling apart.
We noticed a wrapped book trend in a few exhibits. According to Go Home they upcycle old library books and recover them.
Kalalou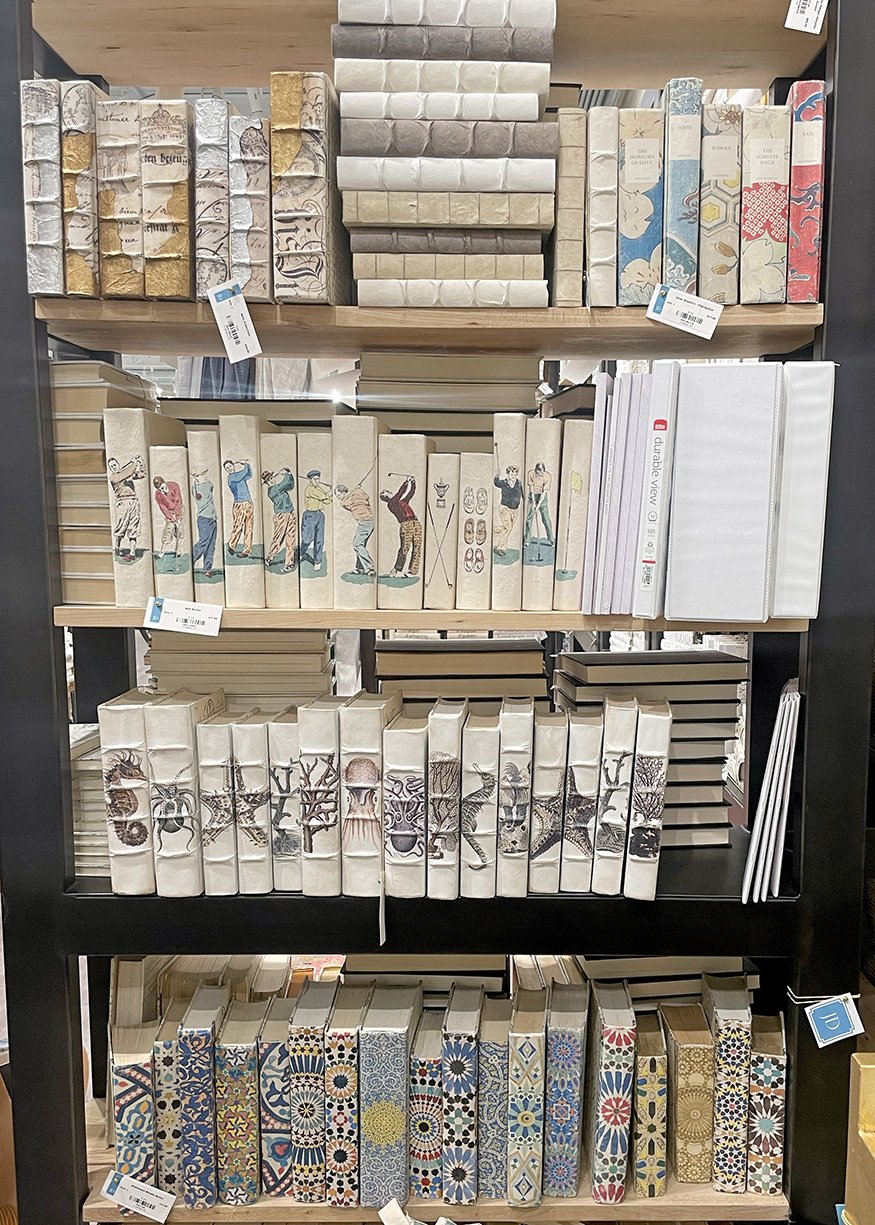 Books | Go Home
---
4. Lighting
While High Point is known for furniture design, I can't go to High Point and not notice the lighting trends. Overall Palecek had the most interesting designs. Beaded fixtures are still common, but more mixed with metal and colors.
Flush mount lights | Palecek
Recycled Glass Discs Floor Lamp | Palecek
Goose Neck Enamel Desk Lamp | Kalalou
Saturn Beaded Chandelier | Jamie Young Co.
---
5. Pillow Designs
Pillows are such an easy way to cheer up a plain room. They might feel a little splurgy, but all things considered pillows are a relatively inexpensive upgrade and are rental friendly.
Ryan Studio pillows
Ngala Trading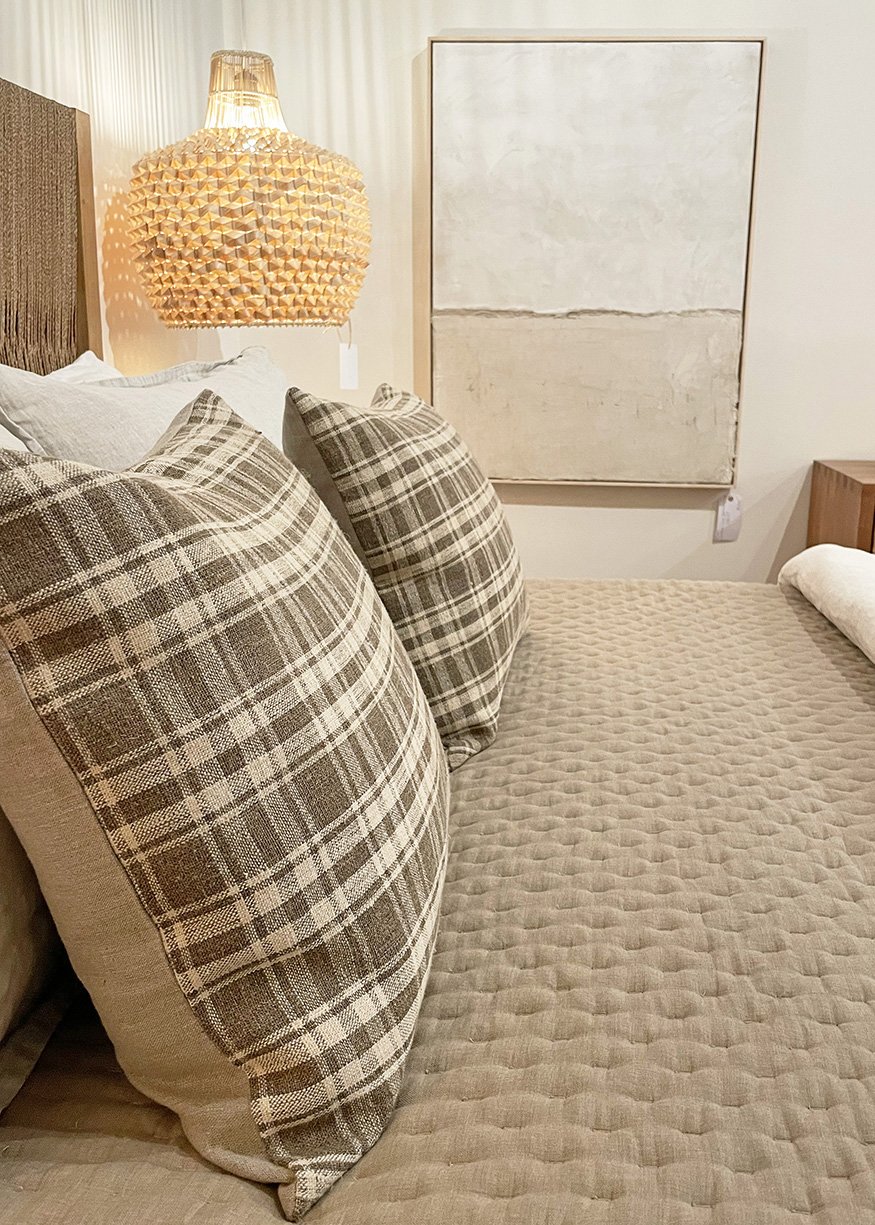 Plaid Pillows | Woven
Ryan Studio pillows
---
6. Eye Catching Textures
The vases in the next photo are gorgeous for their texture and color. The stools at Jamie Young Co. had beautiful patterns, and the woven chairs at Palecek were stunning. Also love the idea of framing a large rug as a piece of art. Depending on the frame cost, it would be much cheaper than buying a large piece of art in the same size.
Vases | Continental Home
Upholstered Ottomans | Jamie Young Co.
Strings Lounge Chair | Palecek
Loloi showroom
It was hard to narrow down what to share from all the photos we took, but that was my recap for the High Point Furniture Market 2023! Did you spot any furniture trends you love?
From the Archives: Favorite Trends Spotted at the High Point Market (2018)