10 Screened In Porch Ideas
Screened in porches are a great asset to a home. These porches protect from the elements and keep everyone cool in the summer with fresh air. With Spring almost here and temperatures rising, we will use our porch often as a second living room.
When looking through inspiration pictures I recommend finding an idea from each image: the ceiling color, the texture on the pillows, the scale of the rug. Looking at multiple image sources will help you define your porch design (instead of mimicking what you see in the image).
Would you prefer to have a light and bright, coastal screened in porch? Or would you prefer a dark and moody, cabin inspired outdoor area? Or blend a bit of both styles!
Last summer we purchased two new (to us) chairs from the thrift store, an outdoor rug on clearance, and painted our ceiling fan. I am always on the hunt for creative screened in back porch ideas to decorate our own porch and make it more usable.
Scroll down for 10 screened in porch ideas each decorated with their own style.
---
This screened porch looks incredibly relaxing. The blue rug gives a nice contrast to the warm wood ceiling. The space provides plenty of seating for guests…and pillows! This image makes me want to go out and buy more pillows for our screened in porch.
---
2. Cheerful Throw Pillows with Dark Walls. Image Source: Southern Living, Erica George Dines
The dark walls in this room give contrast to fun pillows in a lot of different patterns. The room is multi-use too—space for a dining area and lounging on the couch. A great use of space!
---
3. Rustic-Modern Porch. Image Source: Fazio Architects
This Austin, TX screened in porch has a rustic-modern feel with wood ceiling and concrete floors. I love the neutral, mid century style furniture in the room. Its rustic look would do well at a lake house, and full length screens bring in more of the outdoor air & light.
---
4. Moroccan Lantern Porch. Image Source: House & Home
The metal lanterns from Morocco and dark walls in this screened in porch add detail & character to the room. The wicker chairs with sofa look comfortable for guests.
---
5. White Screened in Porch. Image Source: Lynzy & Co.
The vintage boat oar in this screened in porch adds warmth & a focal point to this bright and cheerful space. I also like the shiplap on the lower half of the wall, and the little herb garden fits perfectly between the outdoor sofa and chair. The area rug gives the space a cozy feel.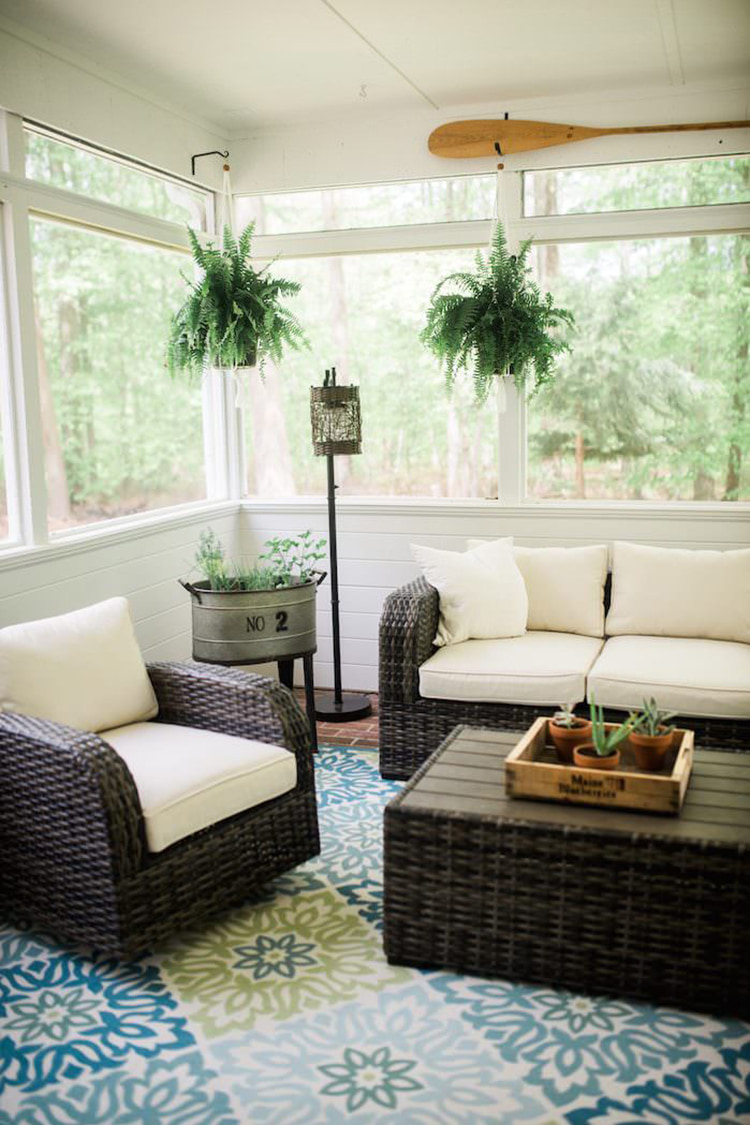 ---
6. Screened Porch with Fireplace. Image Source: HGTV, Thomas Espinoza
Would you use a fireplace on a screened porch? We don't have one, but it gives a nice focal point to the space and I'm sure a fireplace keeps the room warm on cool nights. I like the blue painted walls in this room contrasted with a few orange pillows.
---
7. A Colorful Screened-In Porch. Image Source: Rain on a Tin Roof
This screened porch is so cheerful. I like that this indoor outdoor space has a dining table, floor to ceiling window coverings, and the striped painted floor. The orange painted chairs are creative and fun.
---
8. Calm Coastal Screened Porch. Image Source: Coastal Living, Peter Frank Edwards
The porch swing on this screened in porch–swoon! I also love the pale blue painted ceiling and that the side chair pattern matches the pillows (I don't like furniture too coordinated but in this room it works).
---
9. Calm, Neutral Screened Porch. Image Source: Deeply Southern Home
This white porch has some warm accents with blue pillows, a nice blend. I love the large planters she built from cedar fencing! The plants and lanterns add character to the room, and the screen doors are practical and charming.
---
10. Warm, Breezy Screened In Porch: Coastal Living, Laurey Glenn, Stylist Heather Chadduck Hillegas
This Sulilvan's Island screened porch caught my eye for its unique wood frame sectional seating area and large fiddle-leaf fig plant. If you need a low-maintenance faux fiddle-leaf fig plant, check out World Market or West Elm (I have a faux from IKEA and it isn't very realistic).
Did any of these ideas inspire you to make changes to your screened in porch? Personally, I would like to tone down the warm colors on our porch and introduce more cool colors. But I need to convince my husband first–the screened in porch is his man-cave during the summer!